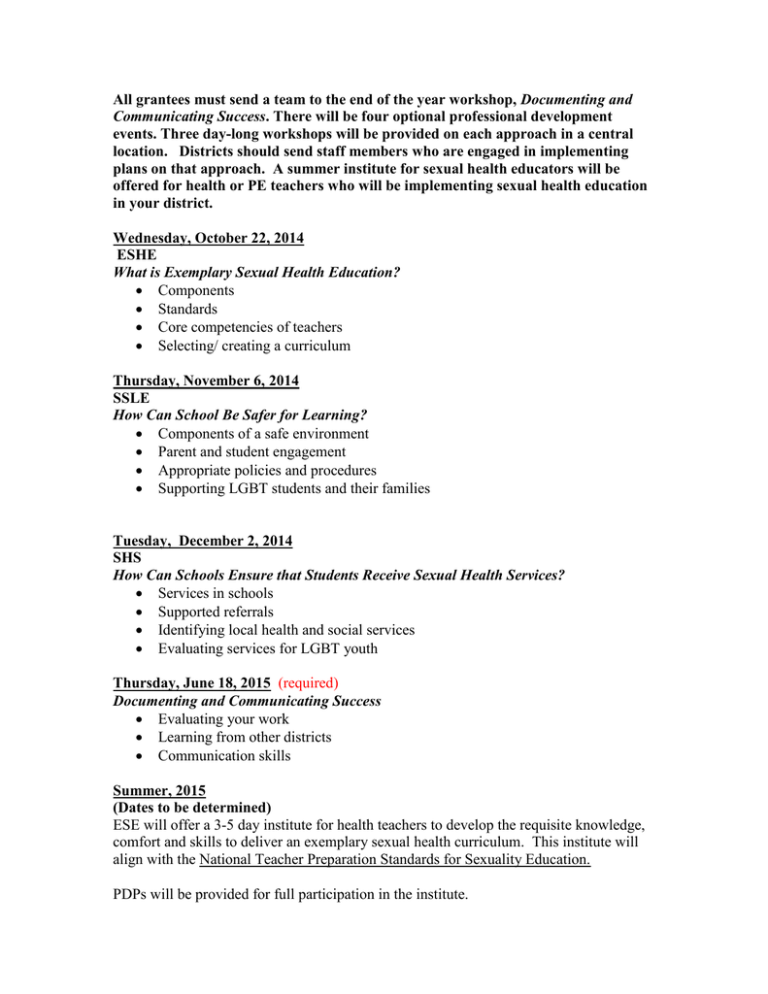 All grantees must send a team to the end of the year workshop, Documenting and
Communicating Success. There will be four optional professional development
events. Three day-long workshops will be provided on each approach in a central
location. Districts should send staff members who are engaged in implementing
plans on that approach. A summer institute for sexual health educators will be
offered for health or PE teachers who will be implementing sexual health education
in your district.
Wednesday, October 22, 2014
ESHE
What is Exemplary Sexual Health Education?
 Components
 Standards
 Core competencies of teachers
 Selecting/ creating a curriculum
Thursday, November 6, 2014
SSLE
How Can School Be Safer for Learning?
 Components of a safe environment
 Parent and student engagement
 Appropriate policies and procedures
 Supporting LGBT students and their families
Tuesday, December 2, 2014
SHS
How Can Schools Ensure that Students Receive Sexual Health Services?
 Services in schools
 Supported referrals
 Identifying local health and social services
 Evaluating services for LGBT youth
Thursday, June 18, 2015 (required)
Documenting and Communicating Success
 Evaluating your work
 Learning from other districts
 Communication skills
Summer, 2015
(Dates to be determined)
ESE will offer a 3-5 day institute for health teachers to develop the requisite knowledge,
comfort and skills to deliver an exemplary sexual health curriculum. This institute will
align with the National Teacher Preparation Standards for Sexuality Education.
PDPs will be provided for full participation in the institute.