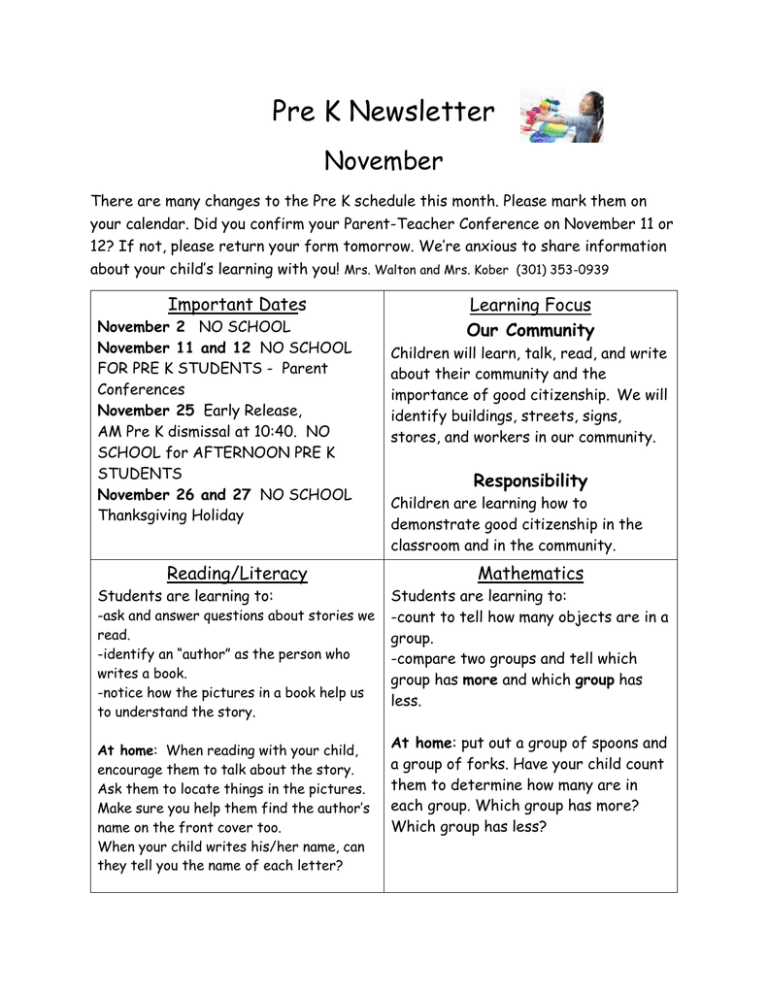 Pre K Newsletter
November
There are many changes to the Pre K schedule this month. Please mark them on
your calendar. Did you confirm your Parent-Teacher Conference on November 11 or
12? If not, please return your form tomorrow. We're anxious to share information
about your child's learning with you! Mrs. Walton and Mrs. Kober (301) 353-0939
Important Dates
November 2 NO SCHOOL
November 11 and 12 NO SCHOOL
FOR PRE K STUDENTS - Parent
Conferences
November 25 Early Release,
AM Pre K dismissal at 10:40. NO
SCHOOL for AFTERNOON PRE K
STUDENTS
November 26 and 27 NO SCHOOL
Thanksgiving Holiday
Reading/Literacy
Students are learning to:
-ask and answer questions about stories we
read.
-identify an "author" as the person who
writes a book.
-notice how the pictures in a book help us
to understand the story.
At home: When reading with your child,
encourage them to talk about the story.
Ask them to locate things in the pictures.
Make sure you help them find the author's
name on the front cover too.
When your child writes his/her name, can
they tell you the name of each letter?
Learning Focus
Our Community
Children will learn, talk, read, and write
about their community and the
importance of good citizenship. We will
identify buildings, streets, signs,
stores, and workers in our community.
Responsibility
Children are learning how to
demonstrate good citizenship in the
classroom and in the community.
Mathematics
Students are learning to:
-count to tell how many objects are in a
group.
-compare two groups and tell which
group has more and which group has
less.
At home: put out a group of spoons and
a group of forks. Have your child count
them to determine how many are in
each group. Which group has more?
Which group has less?