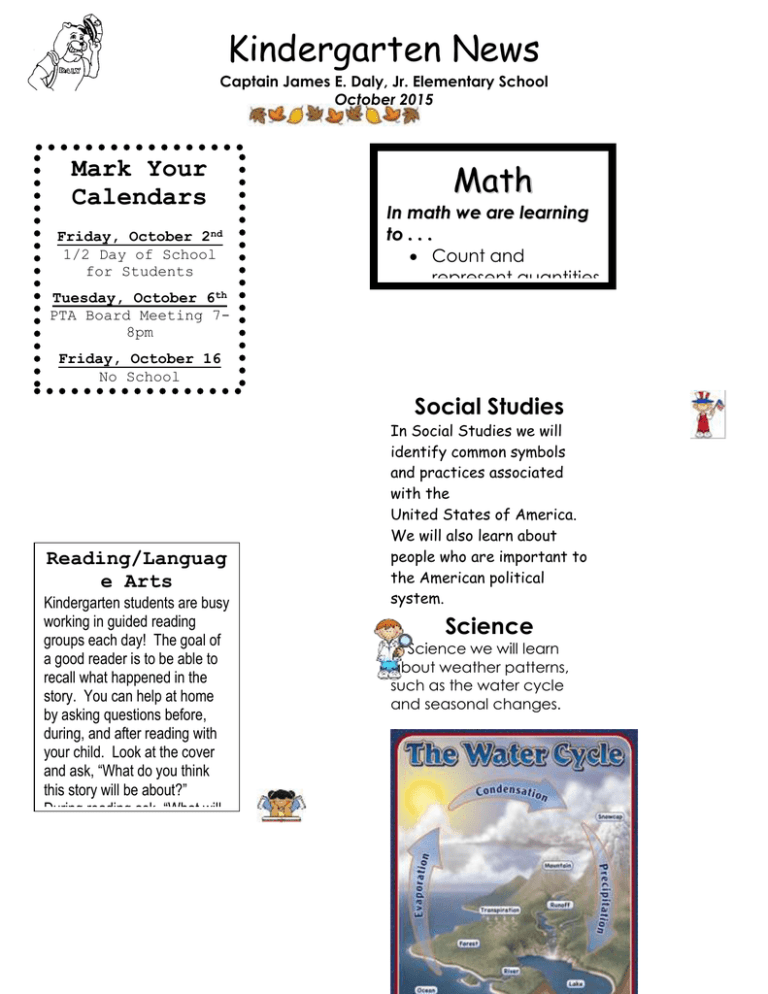 Kindergarten News
Captain James E. Daly, Jr. Elementary School
October 2015
Mark Your
Calendars
Friday, October 2nd
1/2 Day of School
for Students
Tuesday, October 6th
PTA Board Meeting 78pm
Friday, October 16
No School
Monday, October 12th
9:30-11:00 Parent
Tour
Wednesday, October
28th
Picture Day
Friday, October 30th
First Marking Period
Ends
Reading/Languag
e Arts
Kindergarten students are busy
working in guided reading
groups each day! The goal of
a good reader is to be able to
recall what happened in the
story. You can help at home
by asking questions before,
during, and after reading with
your child. Look at the cover
and ask, "What do you think
this story will be about?"
During reading ask, "What will
happen next?" and after the
story ask your child to tell you
about the characters in the
story or about the important
events in the beginning, middle
and end of the story. Read
some great stories and have
fun!
Math
In math we are learning
to . . .
 Count and
represent quantities
 Use strategies to
accurately count
sets
 Counting by 1s to
20
Social
Recognize
Studies
unfamiliar
In Social
Studies we will
configurations
of
identify
common symbols
sets to associated
5
and practices
with the
United States of America.
We will also learn about
people who are important to
the American political
system.
Science
In Science we will learn
about weather patterns,
such as the water cycle
and seasonal changes.