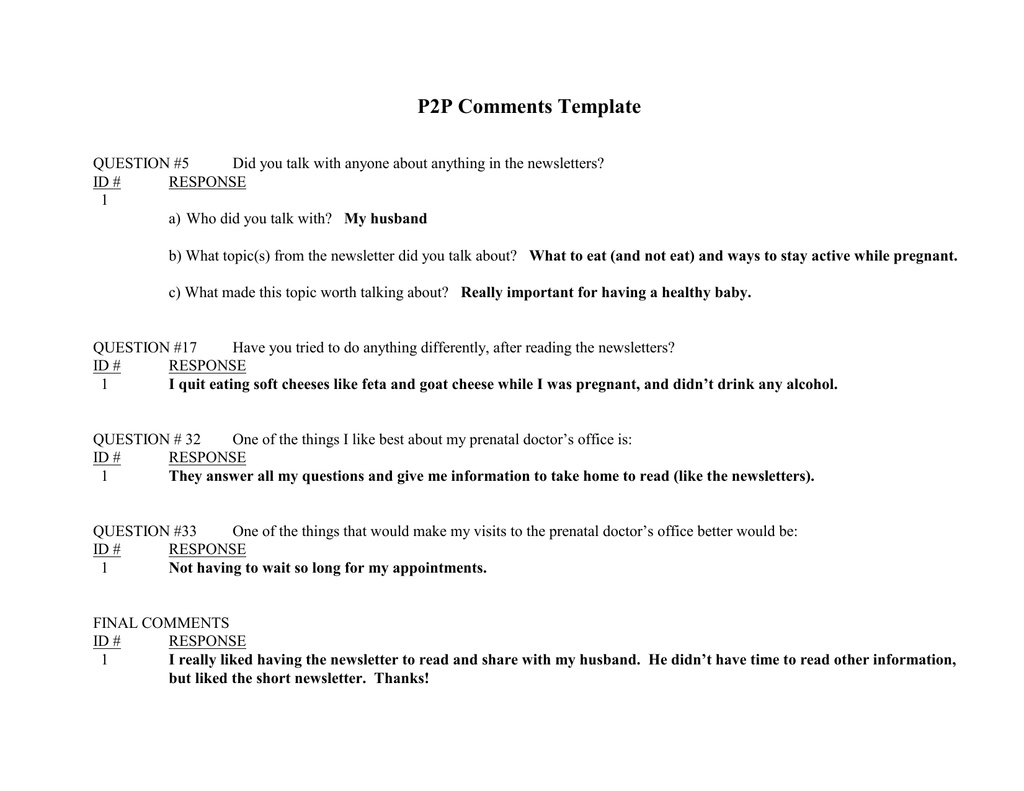 P2P Comments Template
QUESTION #5
Did you talk with anyone about anything in the newsletters?
ID #
RESPONSE
1
a) Who did you talk with? My husband
b) What topic(s) from the newsletter did you talk about? What to eat (and not eat) and ways to stay active while pregnant.
c) What made this topic worth talking about? Really important for having a healthy baby.
QUESTION #17
Have you tried to do anything differently, after reading the newsletters?
ID #
RESPONSE
1
I quit eating soft cheeses like feta and goat cheese while I was pregnant, and didn't drink any alcohol.
QUESTION # 32
One of the things I like best about my prenatal doctor's office is:
ID #
RESPONSE
1
They answer all my questions and give me information to take home to read (like the newsletters).
QUESTION #33
One of the things that would make my visits to the prenatal doctor's office better would be:
ID #
RESPONSE
1
Not having to wait so long for my appointments.
FINAL COMMENTS
ID #
RESPONSE
1
I really liked having the newsletter to read and share with my husband. He didn't have time to read other information,
but liked the short newsletter. Thanks!