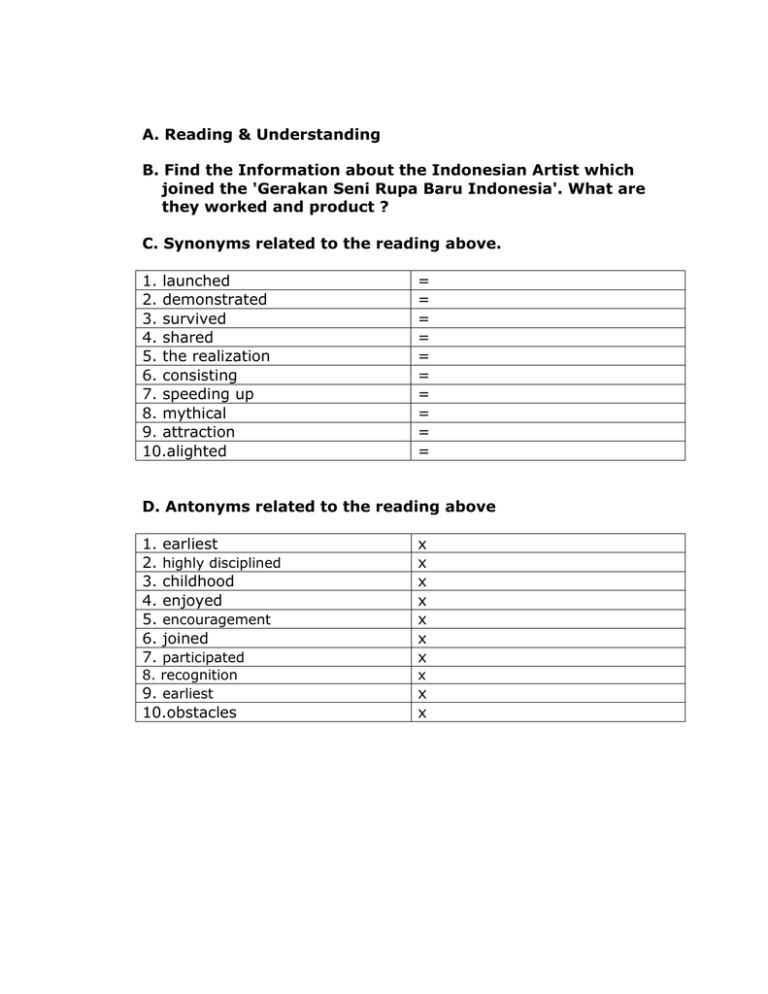 A. Reading & Understanding
B. Find the Information about the Indonesian Artist which
joined the 'Gerakan Seni Rupa Baru Indonesia'. What are
they worked and product ?
C. Synonyms related to the reading above.
1. launched
2. demonstrated
3. survived
4. shared
5. the realization
6. consisting
7. speeding up
8. mythical
9. attraction
10.alighted
=
=
=
=
=
=
=
=
=
=
D. Antonyms related to the reading above
1.
2.
3.
4.
5.
6.
7.
earliest
highly disciplined
childhood
enjoyed
encouragement
joined
participated
8. recognition
9. earliest
10.obstacles
x
x
x
x
x
x
x
x
x
x
E. Re-write those stories above with your own words.
F. Structure : Adjectives and Adverbs
Adjectives :
An Adjective tells us more about a noun. We use adjectives before nouns
and after a few verbs (especially be).
For example :
-
Tom is a careful driver.
Be quiet, please!
We didn't go out because of the heavy rain.
I was disappointed that my exam results were so bad.
Adverbs :
An adverb tells us more about a verb. An adverb tell us in what way
someone does something or in what way something happens.
For example :
Tom drove carefully along the narrow road.
Speak quietly, please !
We didn't go out because it was raining heavily.
I was disappointed that I did so badly in the exam.
Exercise :
A. Decide whether the underlined words are right or wrong. Correct those
which are wrong.
1. I waited nervous in the waiting room before the interview ____
2. Why were you so unfriendly when I saw you yesterday?____
3. It rained continuous for three days. ________
4. Alice and Stan are very happy married. ________
5. Tom's French is not very good but his German is almost fluent. _______
6. Eva lived in America
for five years, so she speaks very well English.
________
7. Everybody at the party was very colorful dressed. ________
8. Ann likes wearing colorful clothes. _________
9. Sandra is terrible upset about losing her job. ________
10. Derry speaks English perfectly. _________
B.
Choose the right word.
1.
I opened the door (slow, slowly).
2.
Why are you (angry, angrily).
3.
Tom didn't do very (good, well) in his examination.
4.
Don't eat your dinner so (quick, quickly). It's not good for you.
5.
Please be (quiet, quietly). I'm reading.
6.
Anne is studying (hard, hardly) for her examination.
7.
Do you feel (nervous, nervously) before examination.
8.
Don't go up that ladder. It doesn't look (safe, safely).