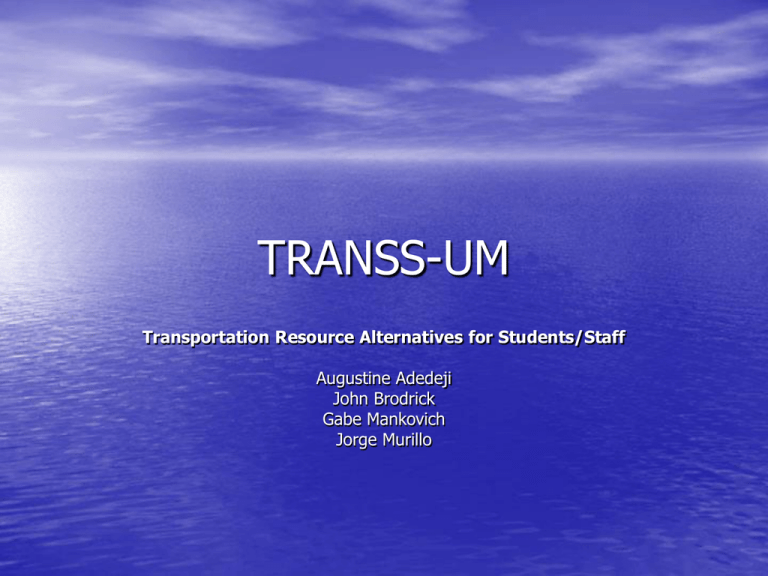 TRANSS-UM
Transportation Resource Alternatives for Students/Staff
Augustine Adedeji
John Brodrick
Gabe Mankovich
Jorge Murillo
Overview
• Problems with Current System
• Overview of Solution
• Demo
• Testing
• Lessons Learned
• Future Work and Conclusion
Problems With Current Systems
• Lack of integration between
Transportation Systems
– Trip Planner (across systems)
• Locate a Bus/Stop
– Not available on all systems
• Direction to Commuter Parking Lots
General Overview of Solutions
• Integration across multiple systems
• Graphical representation of results
• Design to meet 8 Golden Rules
– Consistency in Layout
– Strived for Universal Usability
General Overview of Solution
(cont.)
• Trip Planner
• Map/Timetable
• Locate a Bus
• Cost Comparator
• Commuter Parking
• Find a Stop
Demo
• Flash Demonstration
Testing Process
• Subjects
– Six college students between age of 18-22
• Subjects were given a list of 8 tasks to
carry out with the interface
• Subjects were given a questionnaire
afterwards so that they could provide the
team with feedback about the interface
Testing Results
• Overall, the interface seemed to be fairly
•
intuitive to use
Problems reported by users with the initial
interface
– Lack of prevention of user error
– Some had trouble getting input syntax correct
– Some users did not realize that results were not real
(plan trip doesn't really find real directions)
Interface Redesign
• Added Error Prevention
– Added help screens to every page
– Warnings if input is incorrect
• Gave Input Examples
– Helped user determine input syntax
• Gave More Realistic Results
– Ex: On map/time screen, routes listed are the
actual routes for the systems
Lessons Learned
• When testing, the interface should have
realistic inputs and outputs
– Make sure the interface is as realistic as
possible during the testing process
• Time management
– Staying on track
– Meeting deadlines
• Use a large enough testing group
Future Work and Conclusions
• Improve Interface
– Add more error checking
– Add in zoom feature for maps
• Implement mobile version for:
– PDA
– Cell Phone
• Continue to make data more realistic
Any Questions??