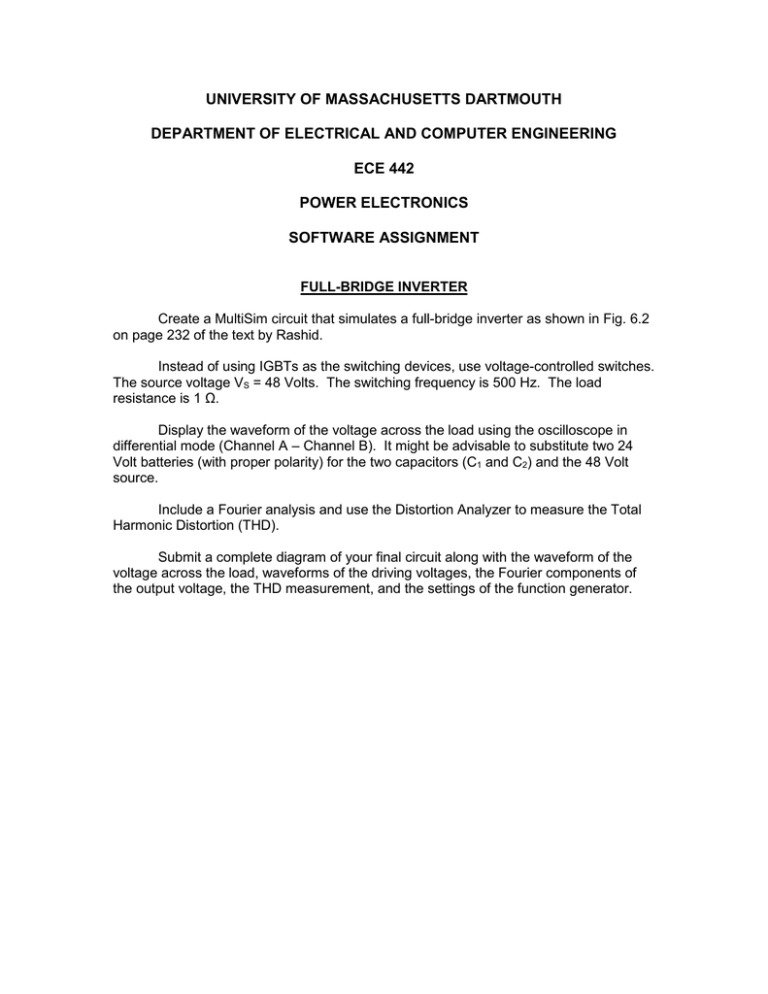 UNIVERSITY OF MASSACHUSETTS DARTMOUTH
DEPARTMENT OF ELECTRICAL AND COMPUTER ENGINEERING
ECE 442
POWER ELECTRONICS
SOFTWARE ASSIGNMENT
FULL-BRIDGE INVERTER
Create a MultiSim circuit that simulates a full-bridge inverter as shown in Fig. 6.2
on page 232 of the text by Rashid.
Instead of using IGBTs as the switching devices, use voltage-controlled switches.
The source voltage VS = 48 Volts. The switching frequency is 500 Hz. The load
resistance is 1 Ω.
Display the waveform of the voltage across the load using the oscilloscope in
differential mode (Channel A – Channel B). It might be advisable to substitute two 24
Volt batteries (with proper polarity) for the two capacitors (C1 and C2) and the 48 Volt
source.
Include a Fourier analysis and use the Distortion Analyzer to measure the Total
Harmonic Distortion (THD).
Submit a complete diagram of your final circuit along with the waveform of the
voltage across the load, waveforms of the driving voltages, the Fourier components of
the output voltage, the THD measurement, and the settings of the function generator.