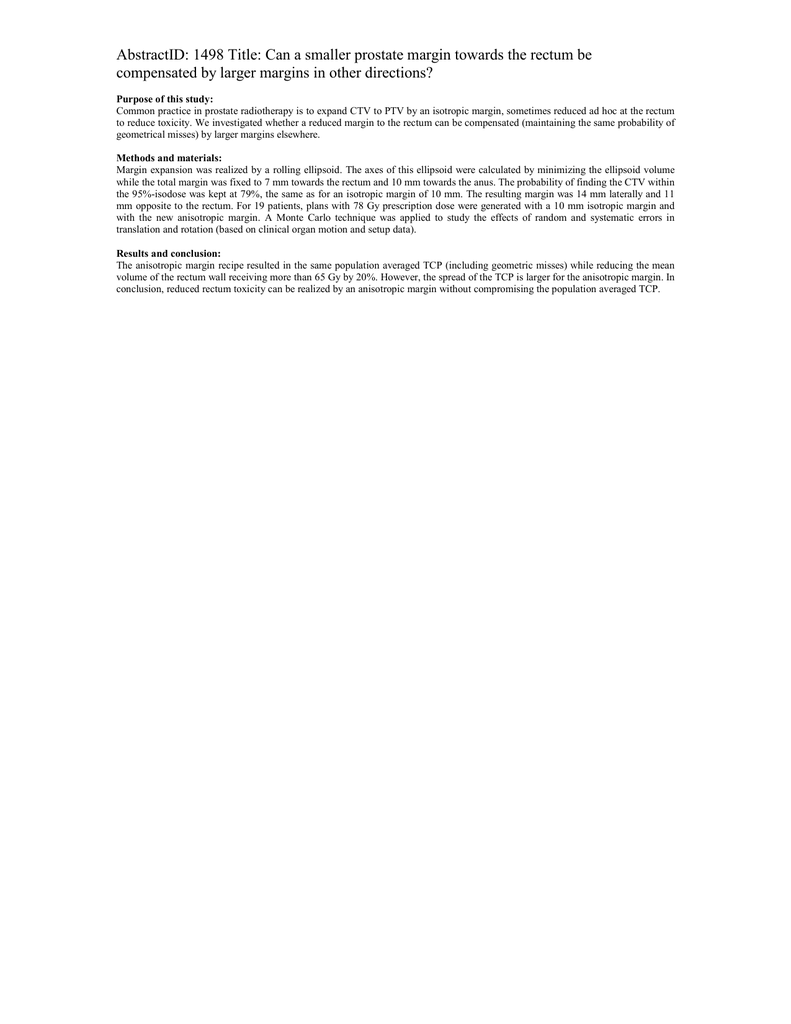 AbstractID: 1498 Title: Can a smaller prostate margin towards the rectum be
compensated by larger margins in other directions?
Purpose of this study:
Common practice in prostate radiotherapy is to expand CTV to PTV by an isotropic margin, sometimes reduced ad hoc at the rectum
to reduce toxicity. We investigated whether a reduced margin to the rectum can be compensated (maintaining the same probability of
geometrical misses) by larger margins elsewhere.
Methods and materials:
Margin expansion was realized by a rolling ellipsoid. The axes of this ellipsoid were calculated by minimizing the ellipsoid volume
while the total margin was fixed to 7 mm towards the rectum and 10 mm towards the anus. The probability of finding the CTV within
the 95%-isodose was kept at 79%, the same as for an isotropic margin of 10 mm. The resulting margin was 14 mm laterally and 11
mm opposite to the rectum. For 19 patients, plans with 78 Gy prescription dose were generated with a 10 mm isotropic margin and
with the new anisotropic margin. A Monte Carlo technique was applied to study the effects of random and systematic errors in
translation and rotation (based on clinical organ motion and setup data).
Results and conclusion:
The anisotropic margin recipe resulted in the same population averaged TCP (including geometric misses) while reducing the mean
volume of the rectum wall receiving more than 65 Gy by 20%. However, the spread of the TCP is larger for the anisotropic margin. In
conclusion, reduced rectum toxicity can be realized by an anisotropic margin without compromising the population averaged TCP.