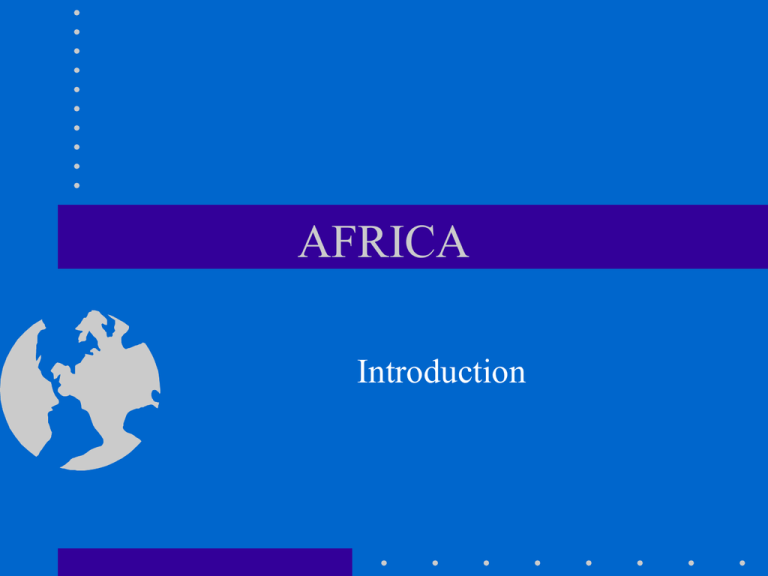 AFRICA
Introduction
The basic info
• Africa is a continent,
not a country.
• It is made up of many
countries
(approximately fifty).
• For centuries was
known as the "Dark
Continent."
• This nickname was a
result of lack of
knowledge about it.
Why was there a lack of
information?
Why has Africa historically been
behind the world in technology?
Natural Barriers restricted the
flow of information and limited
contact with other peoples
• The most important barrier of course was
the…
• SAHARA DESERT
How did the Sahara affect
Africa's development?
• Sahara Desert helped create an east-west
flow of information. New ideas, inventions
and technology did not spread south to
reach sub-Saharan Africa.
• Africans did not share in European and
Asian advancements until much later.
• Europe had limited contact with Africans to
gain information about them.
Other natural barriers
• Mountains
• Jungles
• Rivers that were
difficult to navigate
• Coasts with few
natural harbors
• Tropical diseases
Geographic disadvantages
• Lack of quality
farmland and
resources have also
plagued Africa
throughout history.
Africa's Physical Features
Sahara
Sahel
Tropical
Rainforest
Highlands
Geographic Regions
• Coastal – climate region along the Mediterranean and the
oceans
• Desert – in addition to the Sahara, there are also deserts in
southern Africa
• Sahel – area just south of the Sahara Desert that is semiarid and facing the problem of desertification (becoming
desert)
• Savanna – grasslands with few trees, abundant animal life
• Rainforest – tropical regions, mostly around Congo
Basin…Africa has far less tropical rainforest than desert
• Highlands – Eastern Africa, comfortable climate despite
being near equator
We will be studying sub-Saharan
Africa (below the Sahara)
Savanna
Desert Homes
Cities of Africa
• Capitals of Cameroon, Equatorial Guinea,
Mozambique, and Eritrea
Religion
Religion
• African religious beliefs vary.
• Islam is the dominant religion of the northern part
of the continent.
• Christianity is the majority of many of the
countries south of the Sahara, but Islam is still
present in a significant amount.
• Indigenous beliefs are still practiced – many
Africans combine indigenous beliefs with
Christianity.
Ubuntu
Africa Unit of Study
• The slave trade.
• Colonial period – European take over of
Africa and movements for independence.
• Post-independence and modern day
situations.
• Reading of novel.