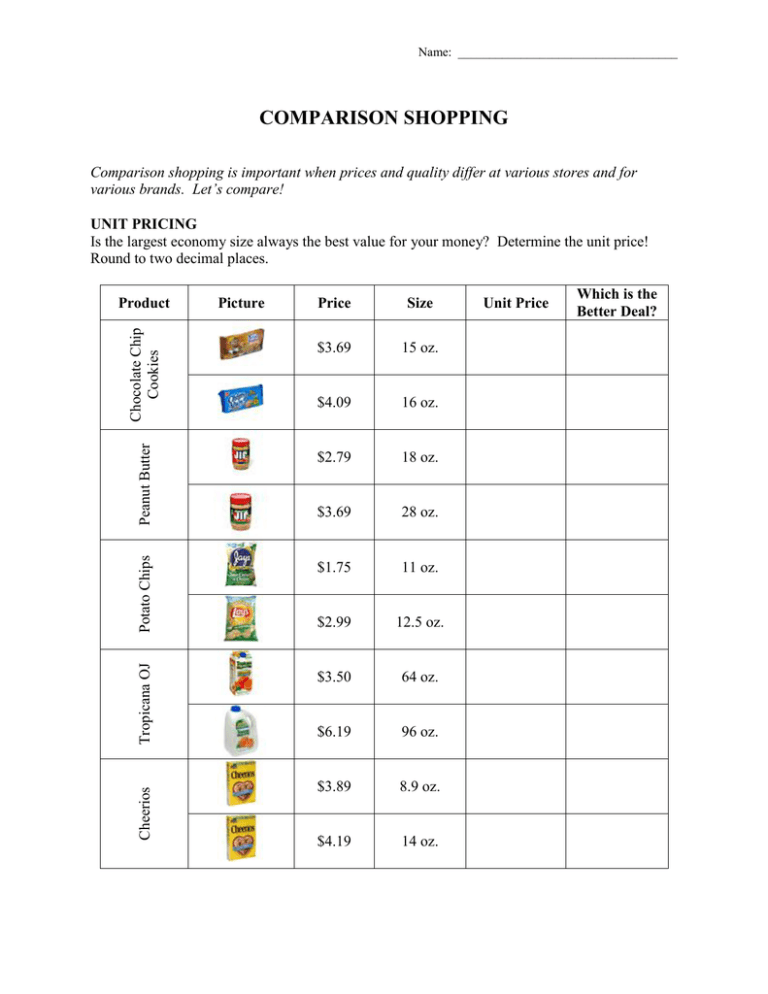 Name: ___________________________________
COMPARISON SHOPPING
Comparison shopping is important when prices and quality differ at various stores and for
various brands. Let's compare!
UNIT PRICING
Is the largest economy size always the best value for your money? Determine the unit price!
Round to two decimal places.
Cheerios
Tropicana OJ
Potato Chips
Peanut Butter
Chocolate Chip
Cookies
Product
Picture
Price
Size
$3.69
15 oz.
$4.09
16 oz.
$2.79
18 oz.
$3.69
28 oz.
$1.75
11 oz.
$2.99
12.5 oz.
$3.50
64 oz.
$6.19
96 oz.
$3.89
8.9 oz.
$4.19
14 oz.
Unit Price
Which is the
Better Deal?
PRODUCT LABELING
According to the Fair Packaging and Labeling Act:
 the order of ingredients on a food product label
indicates their weight as a percent of total
 net weight includes all ingredients of a package, but
not the packaging itself
 open dating on products helps stores determine how
long to display products for sale and helps the
consumer determine how long to keep/use a
product. Examples include: sell by January 10,
2007; best before May 21, 2007; exp 02/09
Using the product label shown at left, answer the following
questions:
1. What two ingredients make up the largest percentage of
the total weight of this product?
2. How many calories will you consume in a cup of this
product, including fat free milk?
3. How many servings are in this package?
4. What is the serving size?
5. How many servings are in 3 cups of this product?
6. Bonus: name this product!