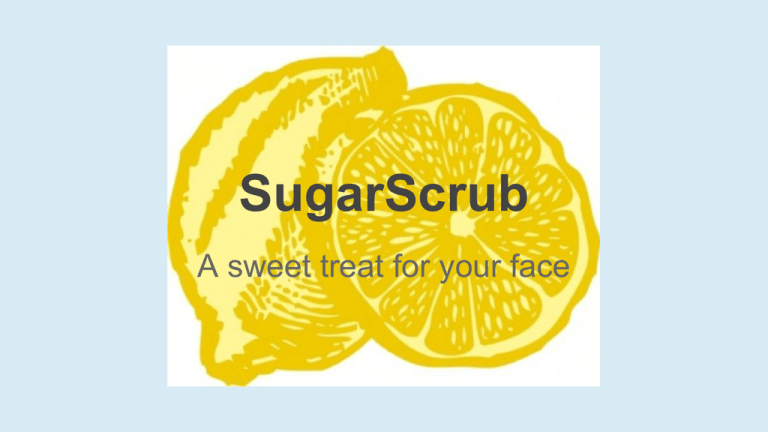 SugarScrub
A sweet treat for your face
Our Partnership
We are a team of five young ladies, who equally share and
contribute to the business.
The product was inspired by one of our members, and
we've worked together to make this product accessible to
young teens and women everywhere.
Our Partnership
Anna DePaepe - Chief Technology Officer
Chloe Hennessy - Chief Marketing Officer
Oksana Leontyuk - Chief Operating Officer
Rebeca Leusca - Chief Executive Officer
Alia Malik - Chief Financial Officer
Market Analysis
Monopolistic Competition
We will be entering in a competitive market. There are
many products that are in the market for facial scrubs.
What's unique about our product is that we have only 3 all
natural and organic ingredients, while other products
contain many ingredients, harmful chemicals and mystery
ingredients.
Competition
Our entering this
particular market
structure, presents us
with a lot of competition.
We will be competing
against dominant acne
treatment industries
such as Proactiv and
Neutrogena
Financing
We are looking for $50,000 to start our business for a 10% stake in our
company.
We plan to make a profit of $200,000 this year.
We would use the $50,000 to expand our business by opening up a
manufacturing warehouse where we can produce our product. We
would also put money towards getting advertisements in the
newspaper, on television and in magazines.
Future Plans
With the opening of a manufacturing warehouse, we will begin hiring
laborers to manage production
Our goal is to expand and eventually sell our product at New Seasons
and other retailers
We plan to introduce more organic skincare products if/when our
business starts to slow down
Some of our profits will go towards hiring social media market
promoters
Marketing
Facebook
Twitter - https://twitter.com/sugarscrubgirls
Instagram
ADs in magazine and radio
http://sugarscrubgirls.blogspot.com/
Marketing
Some of our profit will go towards hiring
○ Well known young women who are popular on social
media that will post about our product
○ Experienced people to help manufacture our product
○ People with a broad network and lot's of connections
Operation
○ Since we will be producing our product online, we will manufacture
it at a warehouse.
○ We will be hiring experienced workers to produce and package it to
be shipped to our clients.
○ We will be buying our products in bulk from affordable vendors.
○ Each month, there will be an inventory of our product, ingredients,
shipping, and how well the workers are doing.
Product
Our product is a
facial scrub that will
help women and
teenagers who
struggle with acne.
Product
It is made with all natural ingredients:
○ Sugar- good for gently exfoliating your skin and
removes dead skin that can clog pores.
○ Olive Oil- neutralizes the drying effects of the lemon and
moisturizes your skin.
○ Lemon- antibacterial, rich in vitamin C and citric acid.
Brightens and lightens skin.