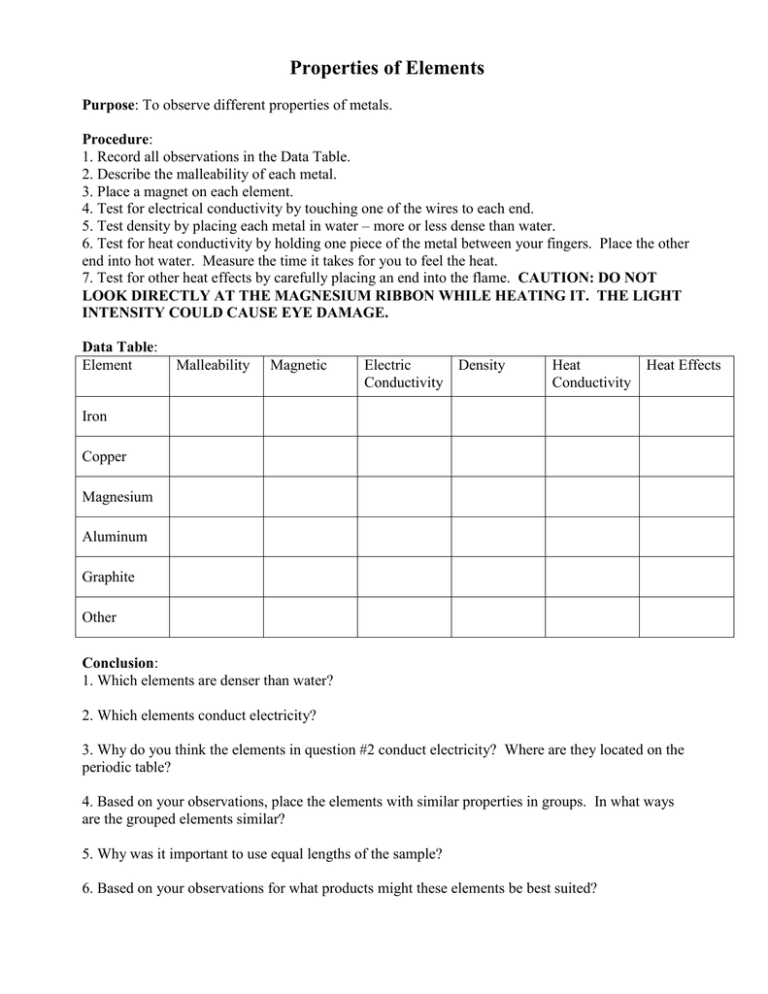 Properties of Elements
Purpose: To observe different properties of metals.
Procedure:
1. Record all observations in the Data Table.
2. Describe the malleability of each metal.
3. Place a magnet on each element.
4. Test for electrical conductivity by touching one of the wires to each end.
5. Test density by placing each metal in water – more or less dense than water.
6. Test for heat conductivity by holding one piece of the metal between your fingers. Place the other
end into hot water. Measure the time it takes for you to feel the heat.
7. Test for other heat effects by carefully placing an end into the flame. CAUTION: DO NOT
LOOK DIRECTLY AT THE MAGNESIUM RIBBON WHILE HEATING IT. THE LIGHT
INTENSITY COULD CAUSE EYE DAMAGE.
Data Table:
Element
Malleability
Magnetic
Electric
Conductivity
Density
Heat
Conductivity
Heat Effects
Iron
Copper
Magnesium
Aluminum
Graphite
Other
Conclusion:
1. Which elements are denser than water?
2. Which elements conduct electricity?
3. Why do you think the elements in question #2 conduct electricity? Where are they located on the
periodic table?
4. Based on your observations, place the elements with similar properties in groups. In what ways
are the grouped elements similar?
5. Why was it important to use equal lengths of the sample?
6. Based on your observations for what products might these elements be best suited?