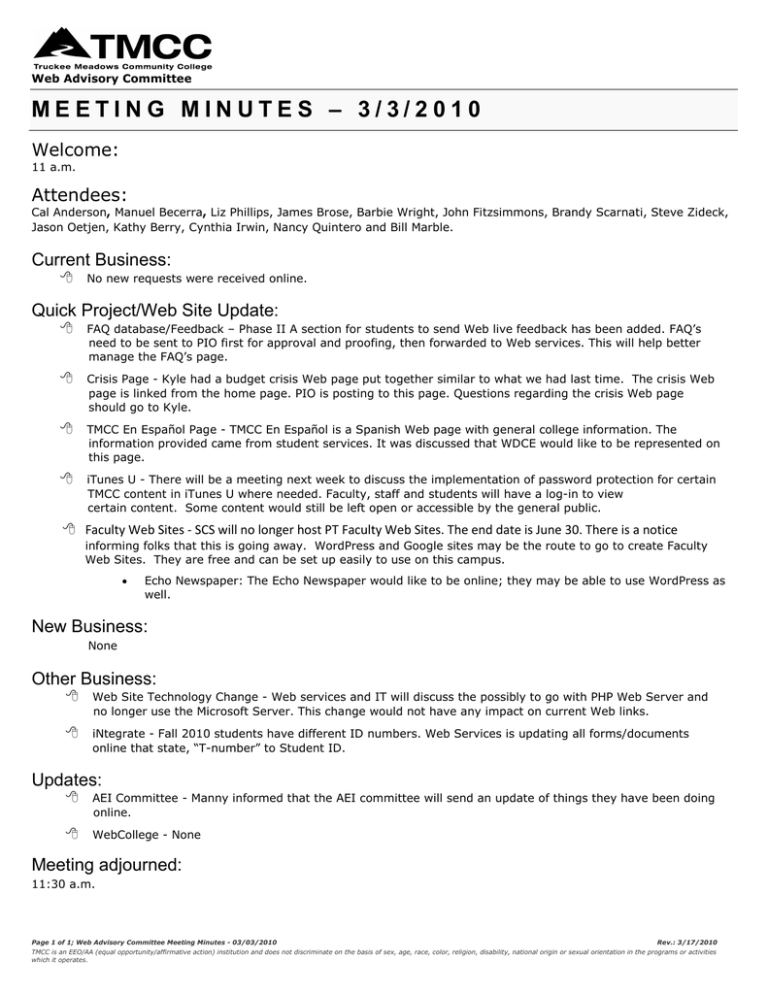 Web Advisory Committee
MEETING MINUTES – 3/3/2010
Welcome:
11 a.m.
Attendees:
Cal Anderson, Manuel Becerra, Liz Phillips, James Brose, Barbie Wright, John Fitzsimmons, Brandy Scarnati, Steve Zideck,
Jason Oetjen, Kathy Berry, Cynthia Irwin, Nancy Quintero and Bill Marble.
Current Business:
No new requests were received online.
Quick Project/Web Site Update:
FAQ database/Feedback – Phase II A section for students to send Web live feedback has been added. FAQ's
need to be sent to PIO first for approval and proofing, then forwarded to Web services. This will help better
manage the FAQ's page.
Crisis Page - Kyle had a budget crisis Web page put together similar to what we had last time. The crisis Web
page is linked from the home page. PIO is posting to this page. Questions regarding the crisis Web page
should go to Kyle.
TMCC En Español Page - TMCC En Español is a Spanish Web page with general college information. The
information provided came from student services. It was discussed that WDCE would like to be represented on
this page.
iTunes U - There will be a meeting next week to discuss the implementation of password protection for certain
TMCC content in iTunes U where needed. Faculty, staff and students will have a log-in to view
certain content. Some content would still be left open or accessible by the general public.
 Faculty Web Sites - SCS will no longer host PT Faculty Web Sites. The end date is June 30. There is a notice
informing folks that this is going away. WordPress and Google sites may be the route to go to create Faculty
Web Sites. They are free and can be set up easily to use on this campus.
•
Echo Newspaper: The Echo Newspaper would like to be online; they may be able to use WordPress as
well.
New Business:
None
Other Business:
Web Site Technology Change - Web services and IT will discuss the possibly to go with PHP Web Server and
no longer use the Microsoft Server. This change would not have any impact on current Web links. 
iNtegrate - Fall 2010 students have different ID numbers. Web Services is updating all forms/documents
online that state, "T-number" to Student ID. 
Updates:
AEI Committee - Manny informed that the AEI committee will send an update of things they have been doing
online.
WebCollege - None
Meeting adjourned:
11:30 a.m.
Page 1 of 1; Web Advisory Committee Meeting Minutes - 03/03/2010
Rev.: 3/17/2010
TMCC is an EEO/AA (equal opportunity/affirmative action) institution and does not discriminate on the basis of sex, age, race, color, religion, disability, national origin or sexual orientation in the programs or activities
which it operates.