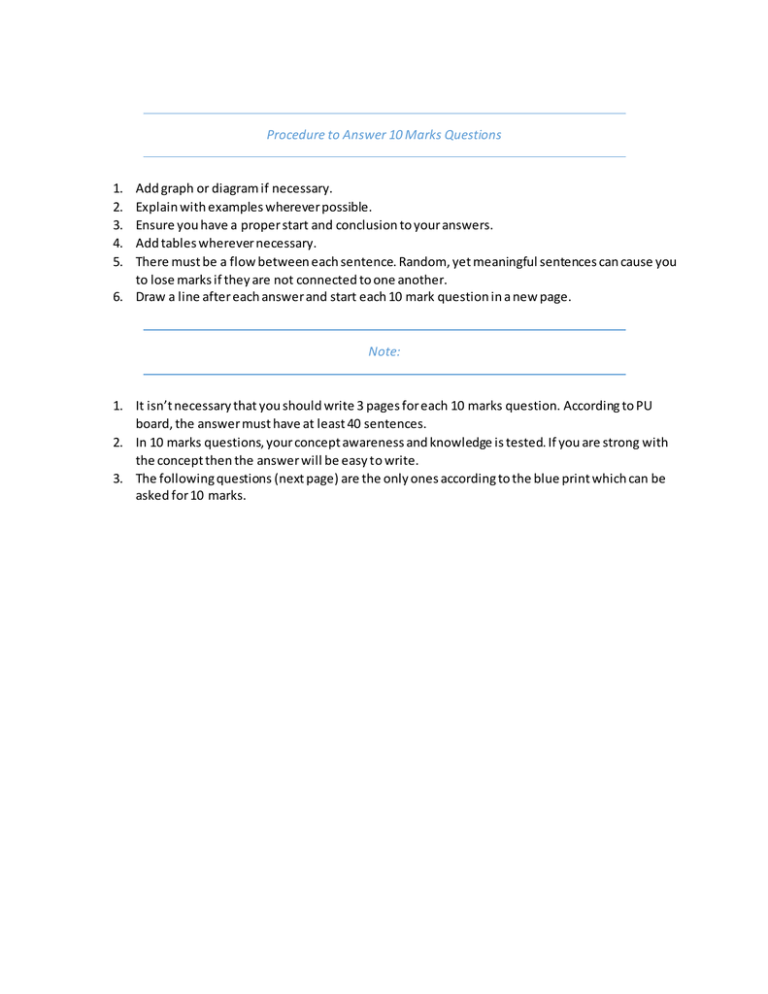 Procedure to Answer 10 Marks Questions
1.
2.
3.
4.
5.
Add graph or diagram if necessary.
Explain with examples wherever possible.
Ensure you have a proper start and conclusion to your answers.
Add tables wherever necessary.
There must be a flow between each sentence. Random, yet meaningful sentences can cause you
to lose marks if they are not connected to one another.
6. Draw a line after each answer and start each 10 mark question in a new page.
Note:
1. It isn't necessary that you should write 3 pages for each 10 marks question. According to PU
board, the answer must have at least 40 sentences.
2. In 10 marks questions, your concept awareness and knowledge is tested. If you are strong with
the concept then the answer will be easy to write.
3. The following questions (next page) are the only ones according to the blue print which can be
asked for 10 marks.
Micro-Economics
Theory of Consumer Behavior
1. Explain the law of diminishing marginal utility with a schedule and diagram.
2. Explain the indifference curve, indifference map with the help of schedule and diagrams.
3. Explain the optimal choice of consumer or consumer equilibrium using indifference curve
analysis.
Perfect Competition
1. Explain how the short-run and long-run supply curve of a firm derived under perfect
competition.
2. Show how the invisible hand guides the producers and consumers towards equilibrium in a
perfect competition.
Imperfect Competition
1. Discuss the short run equilibrium of monopoly when the cost of production is positive by total
revenue and total cost approach.
2. Explain diagrammatically the short run equilibrium of monopolistic firm.
Macro-Economics
Money and Banking
1.
2.
3.
4.
5.
What is money? Explain the functions of money.
Explain the 3 motives of demand of money.
Explain the functions of commercial banks.
Explain the functions of RBI.
Explain the instruments of monetary policy of RBI.