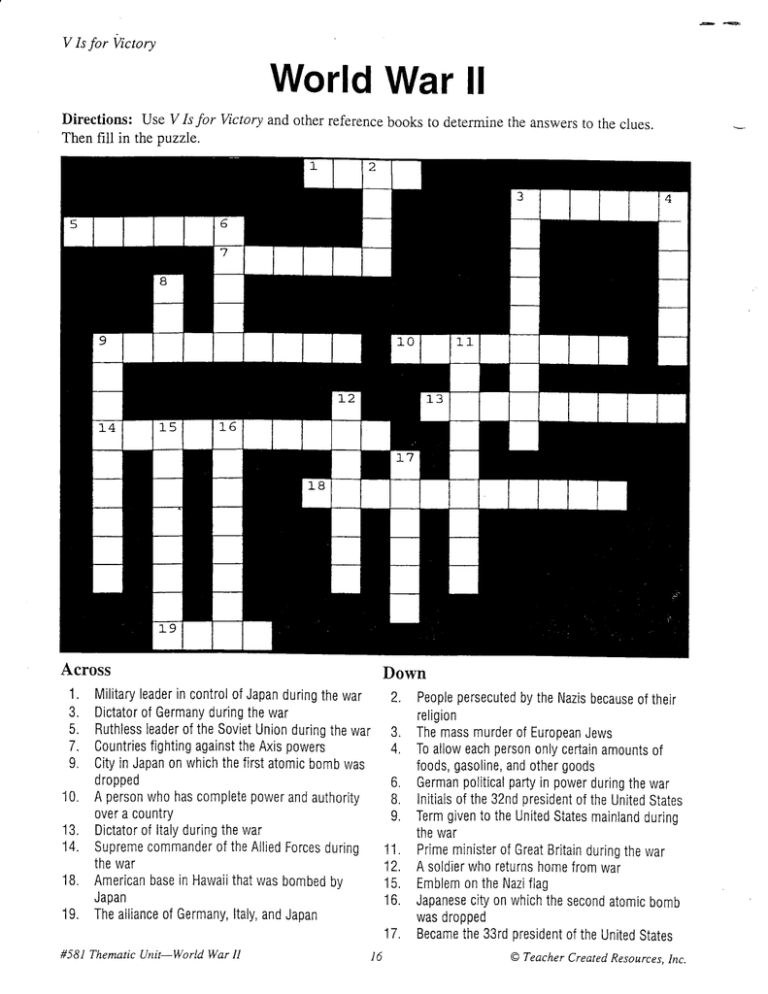 V Is
for Victory
World War ll
Directions: Use V Is for Victory and other reference books to determine the answers to the clues.
Then fill in the puzzle.
Across
Down
1. Military leader in control of Japan during the war 2. People persecuted by the Nazis because of their
3. Dictator of Germany during the war
ligio
5. Ruthless leader of the Soviet Union during the war
The mass murder of European Jews
7. Countries fighting against the Axis powers
T,
To allow each person only certain amounts of
on
which
the
first
9. City in Japan
atomic bomb was
foods, gasoline, and other goods
re
n
A
18.
dropped
A person who has complete p0wer and authority
over a country
Dictator of ltaly during the war
Supreme commander of the Allied Forces during
the war
American base in Hawaii that was bombed by
19.
Japan
The alliance of Germany, ltaiy, and Japan
'10.
13.
14.
6.
8.
9.
11.
12.
i5.
16.
17
#581 Thematic Unit-World War
II
ta
.
German political party in power during the war
Initials of the 32nd president of the United States
Term given to the United States mainland during
the war
Prime minister ol Great Britain during tne war
A soldier who returns home from war
Emblem on the Nazi flag
Japanese city on which the second atomic bomb
was dropped
Became the 33rd president of the United States
@ Teacher Created Resources. Inc.