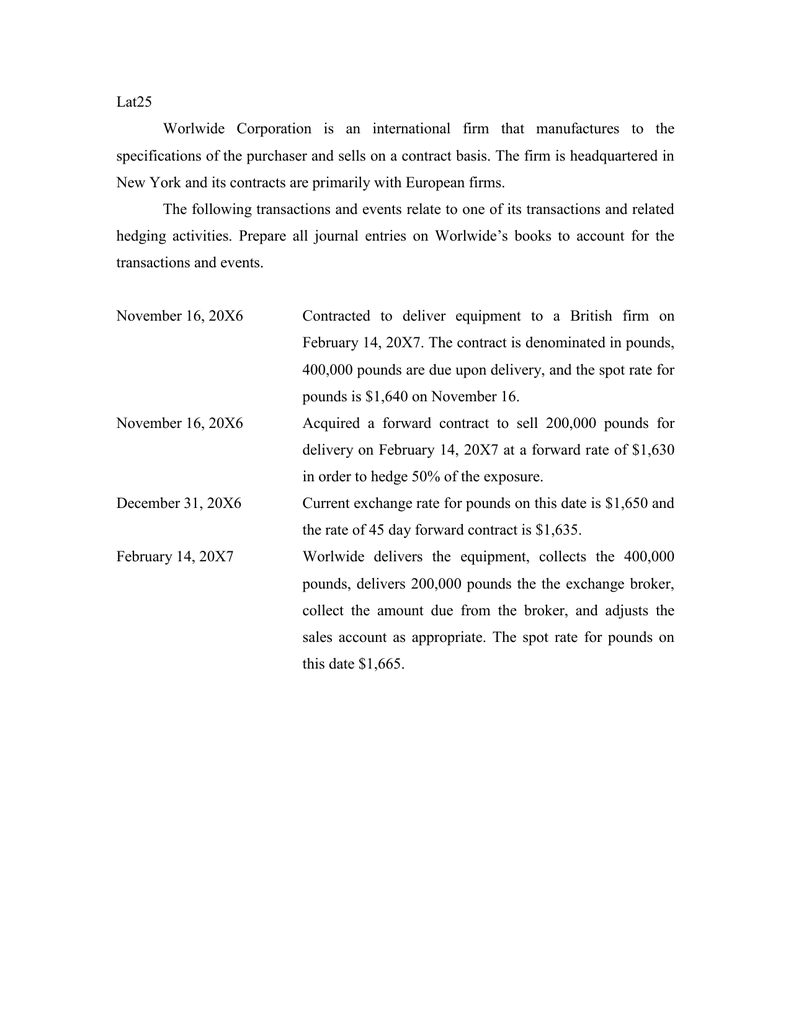 Lat25
Worlwide Corporation is an international firm that manufactures to the
specifications of the purchaser and sells on a contract basis. The firm is headquartered in
New York and its contracts are primarily with European firms.
The following transactions and events relate to one of its transactions and related
hedging activities. Prepare all journal entries on Worlwide's books to account for the
transactions and events.
November 16, 20X6
Contracted to deliver equipment to a British firm on
February 14, 20X7. The contract is denominated in pounds,
400,000 pounds are due upon delivery, and the spot rate for
pounds is $1,640 on November 16.
November 16, 20X6
Acquired a forward contract to sell 200,000 pounds for
delivery on February 14, 20X7 at a forward rate of $1,630
in order to hedge 50% of the exposure.
December 31, 20X6
Current exchange rate for pounds on this date is $1,650 and
the rate of 45 day forward contract is $1,635.
February 14, 20X7
Worlwide delivers the equipment, collects the 400,000
pounds, delivers 200,000 pounds the the exchange broker,
collect the amount due from the broker, and adjusts the
sales account as appropriate. The spot rate for pounds on
this date $1,665.