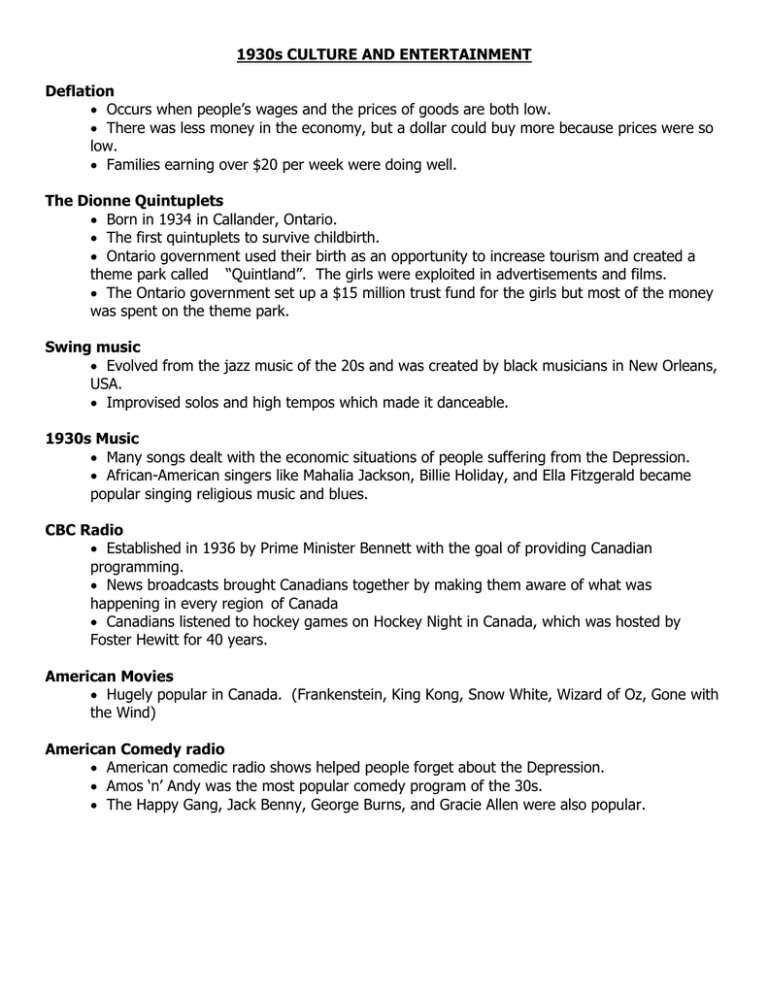 1930s CULTURE AND ENTERTAINMENT
Deflation
 Occurs when people's wages and the prices of goods are both low.
 There was less money in the economy, but a dollar could buy more because prices were so
low.
 Families earning over $20 per week were doing well.
The Dionne Quintuplets
 Born in 1934 in Callander, Ontario.
 The first quintuplets to survive childbirth.
 Ontario government used their birth as an opportunity to increase tourism and created a
theme park called "Quintland". The girls were exploited in advertisements and films.
 The Ontario government set up a $15 million trust fund for the girls but most of the money
was spent on the theme park.
Swing music
 Evolved from the jazz music of the 20s and was created by black musicians in New Orleans,
USA.
 Improvised solos and high tempos which made it danceable.
1930s Music
 Many songs dealt with the economic situations of people suffering from the Depression.
 African-American singers like Mahalia Jackson, Billie Holiday, and Ella Fitzgerald became
popular singing religious music and blues.
CBC Radio
 Established in 1936 by Prime Minister Bennett with the goal of providing Canadian
programming.
 News broadcasts brought Canadians together by making them aware of what was
happening in every region of Canada
 Canadians listened to hockey games on Hockey Night in Canada, which was hosted by
Foster Hewitt for 40 years.
American Movies
 Hugely popular in Canada. (Frankenstein, King Kong, Snow White, Wizard of Oz, Gone with
the Wind)
American Comedy radio
 American comedic radio shows helped people forget about the Depression.
 Amos 'n' Andy was the most popular comedy program of the 30s.
 The Happy Gang, Jack Benny, George Burns, and Gracie Allen were also popular.