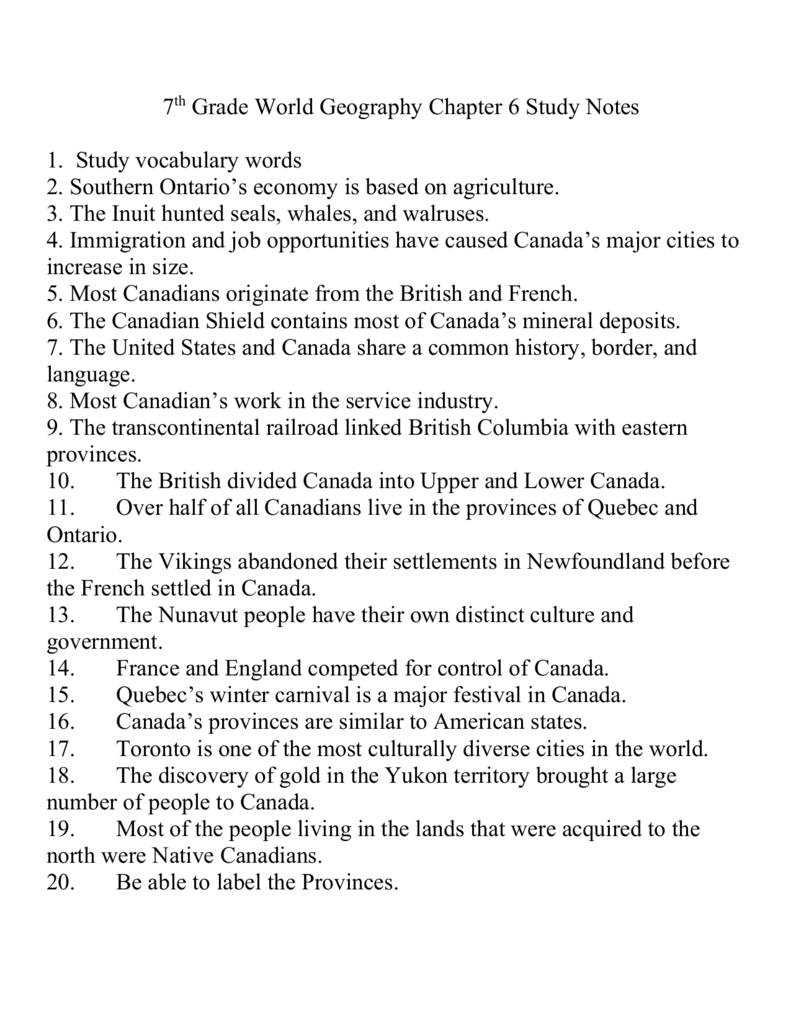 7th Grade World Geography Chapter 6 Study Notes
1. Study vocabulary words
2. Southern Ontario's economy is based on agriculture.
3. The Inuit hunted seals, whales, and walruses.
4. Immigration and job opportunities have caused Canada's major cities to
increase in size.
5. Most Canadians originate from the British and French.
6. The Canadian Shield contains most of Canada's mineral deposits.
7. The United States and Canada share a common history, border, and
language.
8. Most Canadian's work in the service industry.
9. The transcontinental railroad linked British Columbia with eastern
provinces.
10.
The British divided Canada into Upper and Lower Canada.
11.
Over half of all Canadians live in the provinces of Quebec and
Ontario.
12.
The Vikings abandoned their settlements in Newfoundland before
the French settled in Canada.
13.
The Nunavut people have their own distinct culture and
government.
14.
France and England competed for control of Canada.
15.
Quebec's winter carnival is a major festival in Canada.
16.
Canada's provinces are similar to American states.
17.
Toronto is one of the most culturally diverse cities in the world.
18.
The discovery of gold in the Yukon territory brought a large
number of people to Canada.
19.
Most of the people living in the lands that were acquired to the
north were Native Canadians.
20.
Be able to label the Provinces.