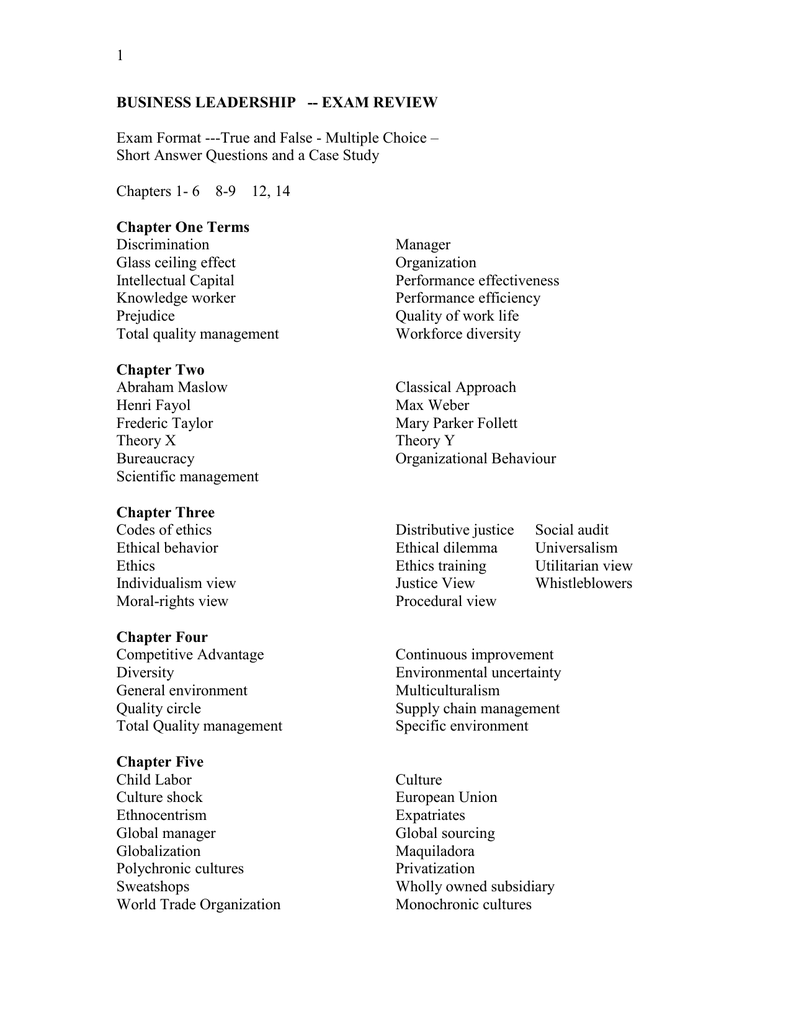 1
BUSINESS LEADERSHIP -- EXAM REVIEW
Exam Format ---True and False - Multiple Choice –
Short Answer Questions and a Case Study
Chapters 1- 6
8-9
12, 14
Chapter One Terms
Discrimination
Glass ceiling effect
Intellectual Capital
Knowledge worker
Prejudice
Total quality management
Chapter Two
Abraham Maslow
Henri Fayol
Frederic Taylor
Theory X
Bureaucracy
Scientific management
Manager
Organization
Performance effectiveness
Performance efficiency
Quality of work life
Workforce diversity
Classical Approach
Max Weber
Mary Parker Follett
Theory Y
Organizational Behaviour
Chapter Three
Codes of ethics
Ethical behavior
Ethics
Individualism view
Moral-rights view
Distributive justice
Ethical dilemma
Ethics training
Justice View
Procedural view
Chapter Four
Competitive Advantage
Diversity
General environment
Quality circle
Total Quality management
Continuous improvement
Environmental uncertainty
Multiculturalism
Supply chain management
Specific environment
Chapter Five
Child Labor
Culture shock
Ethnocentrism
Global manager
Globalization
Polychronic cultures
Sweatshops
World Trade Organization
Culture
European Union
Expatriates
Global sourcing
Maquiladora
Privatization
Wholly owned subsidiary
Monochronic cultures
Social audit
Universalism
Utilitarian view
Whistleblowers
2
Chapter Six
Angel investor
Entrepreneur
Franchise
Partnership
Business incubator
Equity financing
Intrapreneurship
Sole proprietorship
Chapter Eight
Benchmarking
Contingency planning
Feedforward control
Management by objectives
Plan
Strategic Plan
Budget
External control
Forecast
Objectives
Quality control
Zero-based budget
Chapter Nine
BCG matrix
Divestiture
Growth strategy
Stakeholders
Competitive advantage
E-business strategy
Product Life cycle
Strategic management
Chapter Twelve
Affirmative action
Bona fide occupational qualification
Flexible benefits
Human resource planning
Performance appraisal
Sexual harassment
Training
Chapter Fourteen
Lower-order needs
Satisfier factors
Extrinsic reward
Intrinsic reward
Business plan
Family business
Skunkworks
Venture capitalists
Concurrent control
Feedback control
Internal control
Operational plan
Scenario planning
Diversification
Functional strategy
Restructuring
SWOT analysis
Base compensation
Career planning
Human resource management
Job description
Recruitment
Socialization
Work-life balance
motivation
skilled-based pay
Higher-order needs
What are the characteristics of an entrepreneur and how are they different from other
individuals?
How is MBO integrated into Planning and Controlling?
How is the practice of MBO integrated in today's business operations?