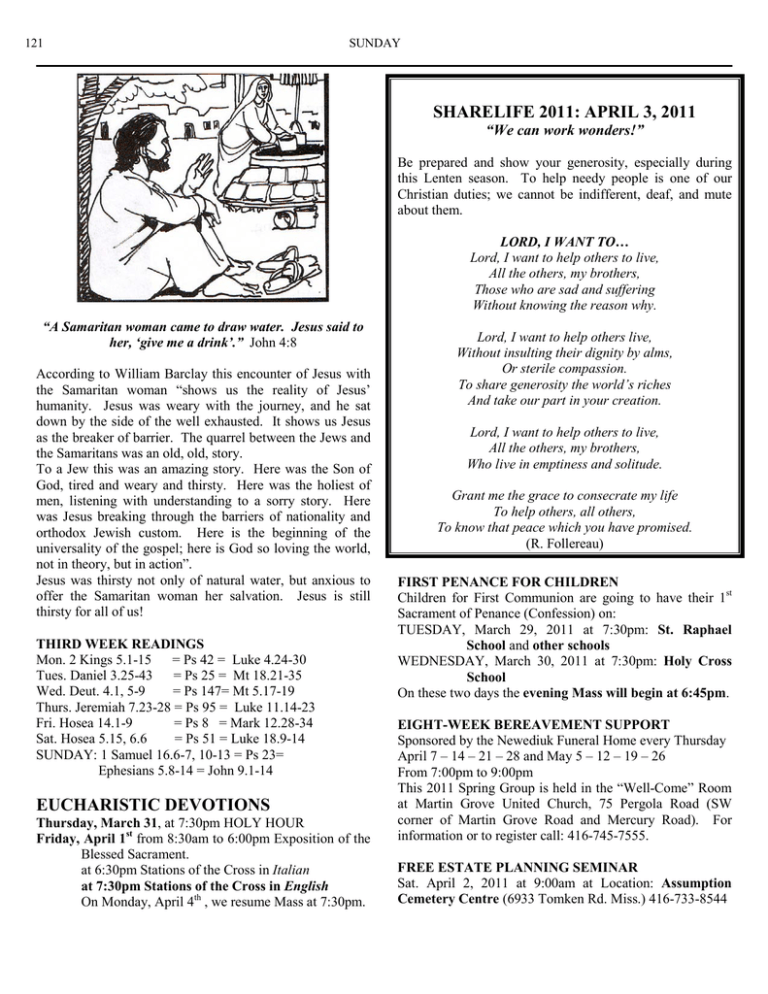 121
SUNDAY
SHARELIFE 2011: APRIL 3, 2011
"We can work wonders!"
Be prepared and show your generosity, especially during
this Lenten season. To help needy people is one of our
Christian duties; we cannot be indifferent, deaf, and mute
about them.
LORD, I WANT TO…
Lord, I want to help others to live,
All the others, my brothers,
Those who are sad and suffering
Without knowing the reason why.
"A Samaritan woman came to draw water. Jesus said to
her, 'give me a drink'." John 4:8
According to William Barclay this encounter of Jesus with
the Samaritan woman "shows us the reality of Jesus'
humanity. Jesus was weary with the journey, and he sat
down by the side of the well exhausted. It shows us Jesus
as the breaker of barrier. The quarrel between the Jews and
the Samaritans was an old, old, story.
To a Jew this was an amazing story. Here was the Son of
God, tired and weary and thirsty. Here was the holiest of
men, listening with understanding to a sorry story. Here
was Jesus breaking through the barriers of nationality and
orthodox Jewish custom. Here is the beginning of the
universality of the gospel; here is God so loving the world,
not in theory, but in action".
Jesus was thirsty not only of natural water, but anxious to
offer the Samaritan woman her salvation. Jesus is still
thirsty for all of us!
THIRD WEEK READINGS
Mon. 2 Kings 5.1-15 = Ps 42 = Luke 4.24-30
Tues. Daniel 3.25-43 = Ps 25 = Mt 18.21-35
Wed. Deut. 4.1, 5-9
= Ps 147= Mt 5.17-19
Thurs. Jeremiah 7.23-28 = Ps 95 = Luke 11.14-23
Fri. Hosea 14.1-9
= Ps 8 = Mark 12.28-34
Sat. Hosea 5.15, 6.6
= Ps 51 = Luke 18.9-14
SUNDAY: 1 Samuel 16.6-7, 10-13 = Ps 23=
Ephesians 5.8-14 = John 9.1-14
EUCHARISTIC DEVOTIONS
Thursday, March 31, at 7:30pm HOLY HOUR
Friday, April 1st from 8:30am to 6:00pm Exposition of the
Blessed Sacrament.
at 6:30pm Stations of the Cross in Italian
at 7:30pm Stations of the Cross in English
On Monday, April 4th , we resume Mass at 7:30pm.
Lord, I want to help others live,
Without insulting their dignity by alms,
Or sterile compassion.
To share generosity the world's riches
And take our part in your creation.
Lord, I want to help others to live,
All the others, my brothers,
Who live in emptiness and solitude.
Grant me the grace to consecrate my life
To help others, all others,
To know that peace which you have promised.
(R. Follereau)
FIRST PENANCE FOR CHILDREN
Children for First Communion are going to have their 1st
Sacrament of Penance (Confession) on:
TUESDAY, March 29, 2011 at 7:30pm: St. Raphael
School and other schools
WEDNESDAY, March 30, 2011 at 7:30pm: Holy Cross
School
On these two days the evening Mass will begin at 6:45pm.
EIGHT-WEEK BEREAVEMENT SUPPORT
Sponsored by the Newediuk Funeral Home every Thursday
April 7 – 14 – 21 – 28 and May 5 – 12 – 19 – 26
From 7:00pm to 9:00pm
This 2011 Spring Group is held in the "Well-Come" Room
at Martin Grove United Church, 75 Pergola Road (SW
corner of Martin Grove Road and Mercury Road). For
information or to register call: 416-745-7555.
FREE ESTATE PLANNING SEMINAR
Sat. April 2, 2011 at 9:00am at Location: Assumption
Cemetery Centre (6933 Tomken Rd. Miss.) 416-733-8544
121
DATE
DURANTE LA QUARESIMA
LENTEN MISSION
When: April 11 to 14, 2011
Time: 7:00pm Rosary followed by Mass with Sermon
Preacher: Fr. Shane Varghese, Redemptorist
Fr. Shane will be preaching at all the Masses of April 9 &
10.
Pass this information around and reserve these days for your
spiritual benefit.
DURING LENT
Jesus urges all of us to fast, pray and to do good deeds
(corporal and spiritual works). Read a good book. Set a
time, at least once a week for your family. Shut off all the
"noisy gadgets". Pray together. Come to Mass even every
day. Say the Rosary and participate in the Stations of the
Cross: bring your children along. Stop in church for a little
prayer. Pray, one every day, the following Penitential
Psalms: 6 – 32 – 38 - 50 – 102 – 130 – 143.
CONCERT PRO SUDAN
Our parish is hosting a Concert Pro-Sudan on Saturday,
May 14, 2011 at 7:00pm with the participation of great
artists: Director and pianist Sabatino Vacca – St. Marco
Chorus and its Director Daniele Colla – Soprano Rachel
Answorth – Tenor Ermanno Mauro – Baritone Jeffrey Carl.
Begin to reserve that evening and spread the news around.
Free admission.
EASTER TREAT
1.) EASTER "COLOMBE" (dove)
These are special Italian "cakes" just for Easter time. They
are great for an Easter gift to friends.
These "colombe" will be sold in our parish on April 3 & 4,
2011.
2.) BELGIAN CHOCOLATE EASTER EGGS
On April 8 & 9, 2011 chocolate Easter eggs will be sold in
our parish by the Marguerite Bourgeoys Family Centre.
They are $3.00 each or $5.00 for two.
Pensare seriamente alla nostra anima, come diventare "piu'
santi" e come eliminare il peccato. A tutti viene consigliato
il "digiuno", ma il digiuno dal peccato e' la cosa piu'
importante, cioe' eliminare il peccato, grave o veniale, dalla
nostra vita.
Il peccato e' sempre un'offesa a Dio, e' sempre un
allontanarsi dal suo amore; e' mettere Dio da parte. Tanti
sono i peccati dalla superbia all'egoismo, dall'invidia alla
gelosia e percio' dobbiamo stare molto ma molto attenti ad
eliminarli, altrimenti la vita spirituale, a poco a poco si
affievolisce.
S. Teresa ha detto: "Quando non si sente piu' dispiacere di
un difetto che si commette, allora temete sempre, perche' il
peccato, pur veniale vi deve compenetrare di dolore fino al
profondo dell'anima."
MISSIONE QUARESIMALE
Da domenica 3 aprile a giovedi 7 aprile. Da lunedi a
giovedi alle 7:00pm; Santo Rosario, seguita dalla Santa
Messa e predica tenuta da P. Gabriele Cingolani,
passionista. Siamo fortunati di avere lui e ringraziamone il
Signore. Avvisate e incoraggiate altri a venire. Ci sara'
tempo per le confessioni.
SHARELIFE: 3 APRILE 2011
Possiamo fare meraviglie soltanto se apriamo i nostri cuori
alla generosita'. Ricordiamoci che il Signore e' sempre piu'
generoso di noi e ci ripaghera' con il centuplo quello che
abbiamo dato per suo amore. Non stanchiamoci di dare
perche' S. Francesco ci dice che si riceve quando si dona.
CONCERTO PRO SUDAN
Sara' il prossimo 14 maggio alle 7:00pm nella nostra chiesa.
Ingresso libero. Ci sara' il Coro S. Marco con il direttore
Daniele Colla – il Maestro e pianista Sabatino Vacca – il
Tenore Ermanno Mauro, il Sopranno Rachel Answorth e il
Baritono Jeffrey Carl. Riservate quella sera e informate
altri.
RITIRI SPIRITUALI
1)Ritiro per i Gruppi di Padre Pio: il 9 aprile al Seminario
Ardorino (200 Pine Grove) dalle 9:30am alle.3:00pm
Terra' il Ritiro P. Portella Ermolao, Sup. Gen. Dei
Missionari Ardorini.
2)La commissione Pastorale Italiana:
organizza un ritiro per i laici il 9 aprile p.v. dalle 10:00am
alle 3:00pm nella Chiesa di S. Jane Frances.
VENDITA DI COLOMBE PASQUALI
Sabato 3 aprile e domenica 4 aprile: e' un bel regalo per
Pasqua.