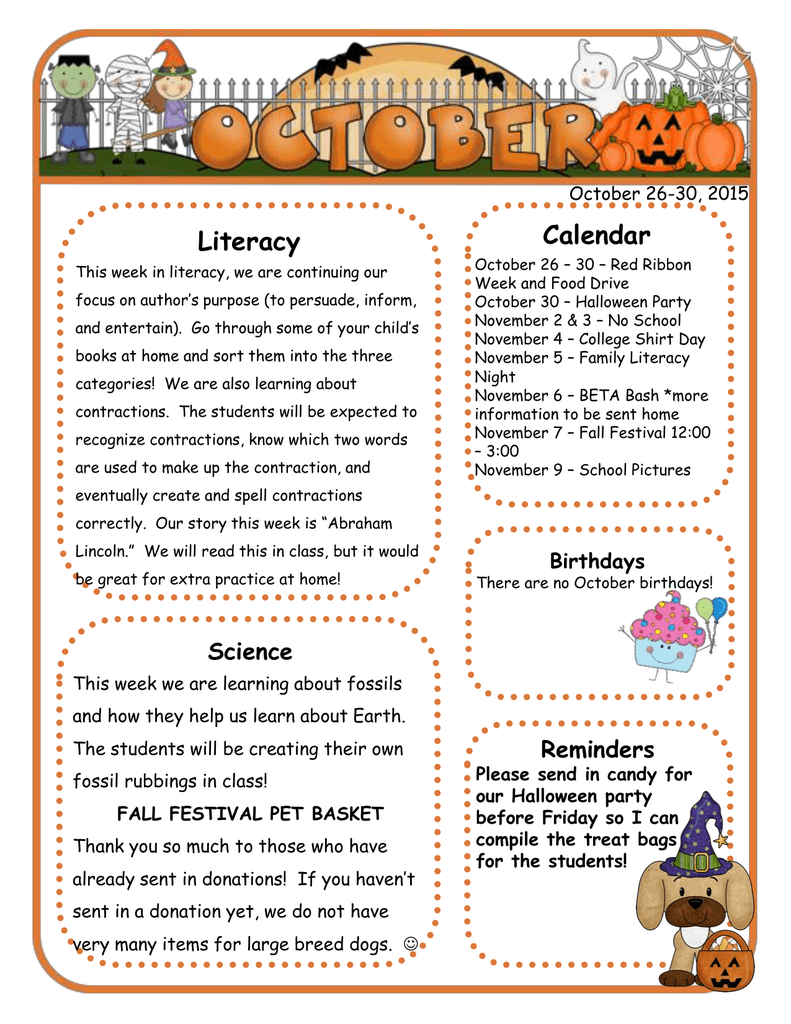 October 26-30, 2015
Literacy
This week in literacy, we are continuing our
focus on author's purpose (to persuade, inform,
and entertain). Go through some of your child's
books at home and sort them into the three
categories! We are also learning about
contractions. The students will be expected to
recognize contractions, know which two words
are used to make up the contraction, and
Calendar
October 26 – 30 – Red Ribbon
Week and Food Drive
October 30 – Halloween Party
November 2 & 3 – No School
November 4 – College Shirt Day
November 5 – Family Literacy
Night
November 6 – BETA Bash *more
information to be sent home
November 7 – Fall Festival 12:00
– 3:00
November 9 – School Pictures
eventually create and spell contractions
correctly. Our story this week is "Abraham
Lincoln." We will read this in class, but it would
be great for extra practice at home!
Birthdays
There are no October birthdays!
Science
This week we are learning about fossils
and how they help us learn about Earth.
The students will be creating their own
fossil rubbings in class!
FALL FESTIVAL PET BASKET
Thank you so much to those who have
already sent in donations! If you haven't
sent in a donation yet, we do not have
very many items for large breed dogs. 
Reminders
Please send in candy for
our Halloween party
before Friday so I can
compile the treat bags
for the students!