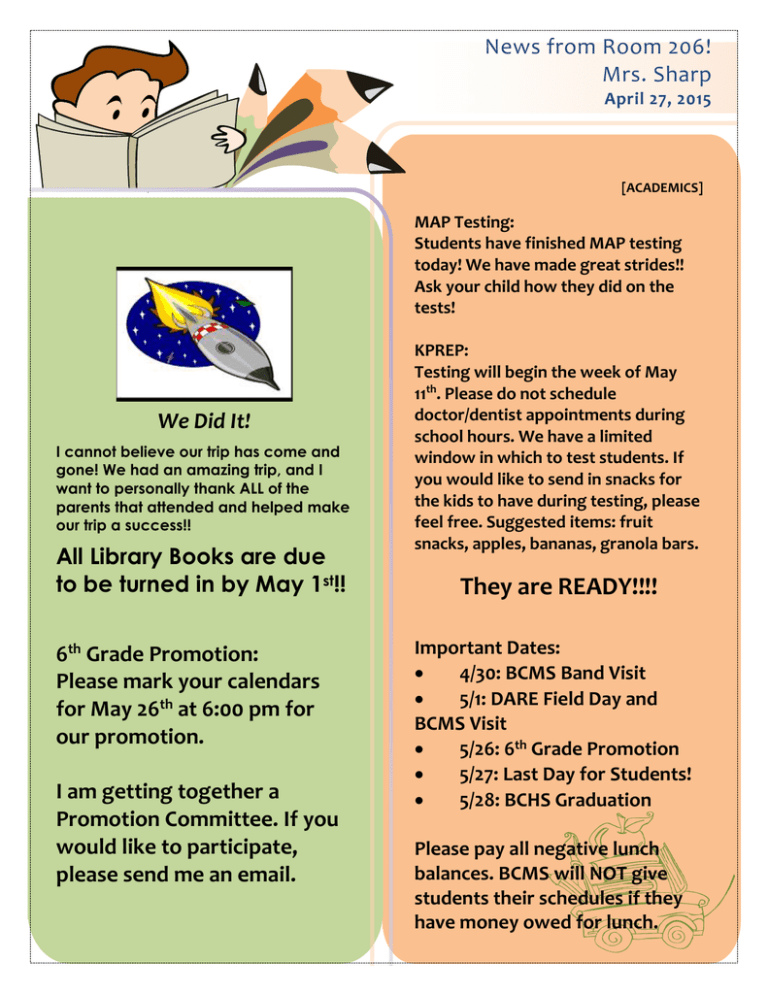 News from Room 206!
Mrs. Sharp
April 27, 2015
[ACADEMICS]
MAP Testing:
Students have finished MAP testing
today! We have made great strides!!
Ask your child how they did on the
tests!
We Did It!
I cannot believe our trip has come and
gone! We had an amazing trip, and I
want to personally thank ALL of the
parents that attended and helped make
our trip a success!!
All Library Books are due
to be turned in by May 1st!!
6th Grade Promotion:
Please mark your calendars
for May 26th at 6:00 pm for
our promotion.
I am getting together a
Promotion Committee. If you
would like to participate,
please send me an email.
KPREP:
Testing will begin the week of May
11th. Please do not schedule
doctor/dentist appointments during
school hours. We have a limited
window in which to test students. If
you would like to send in snacks for
the kids to have during testing, please
feel free. Suggested items: fruit
snacks, apples, bananas, granola bars.
They are READY!!!!
Important Dates:

4/30: BCMS Band Visit

5/1: DARE Field Day and
BCMS Visit

5/26: 6th Grade Promotion

5/27: Last Day for Students!

5/28: BCHS Graduation
Please pay all negative lunch
balances. BCMS will NOT give
students their schedules if they
have money owed for lunch.