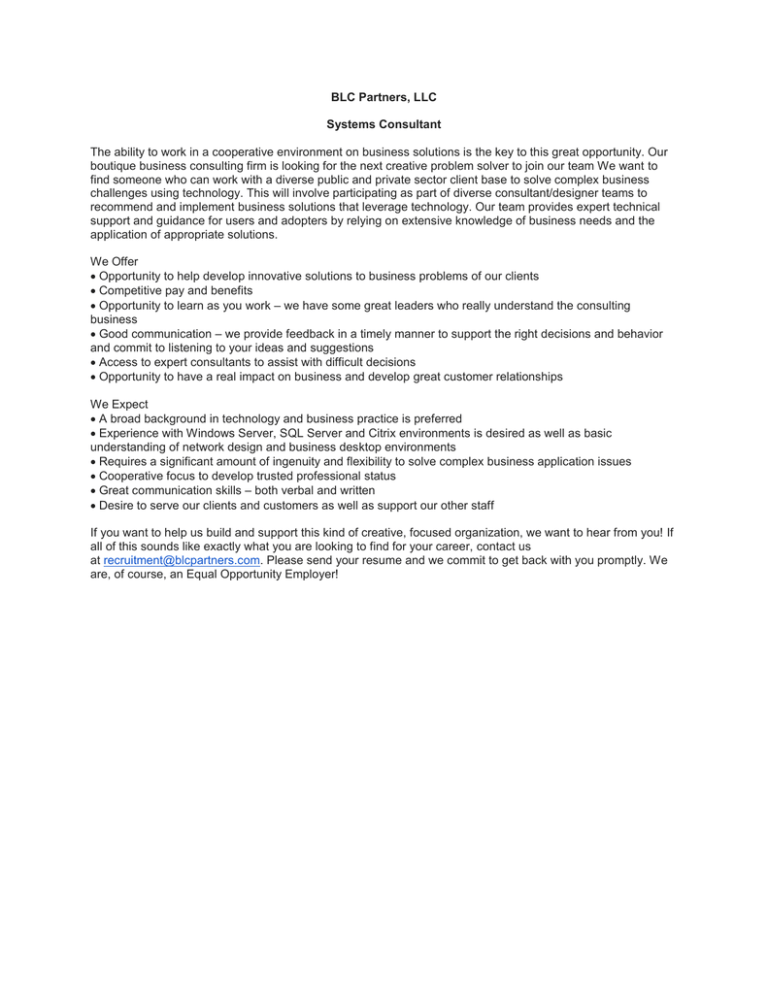 BLC Partners, LLC
Systems Consultant
The ability to work in a cooperative environment on business solutions is the key to this great opportunity. Our
boutique business consulting firm is looking for the next creative problem solver to join our team We want to
find someone who can work with a diverse public and private sector client base to solve complex business
challenges using technology. This will involve participating as part of diverse consultant/designer teams to
recommend and implement business solutions that leverage technology. Our team provides expert technical
support and guidance for users and adopters by relying on extensive knowledge of business needs and the
application of appropriate solutions.
We Offer
 Opportunity to help develop innovative solutions to business problems of our clients
 Competitive pay and benefits
 Opportunity to learn as you work – we have some great leaders who really understand the consulting
business
 Good communication – we provide feedback in a timely manner to support the right decisions and behavior
and commit to listening to your ideas and suggestions
 Access to expert consultants to assist with difficult decisions
 Opportunity to have a real impact on business and develop great customer relationships
We Expect
 A broad background in technology and business practice is preferred
 Experience with Windows Server, SQL Server and Citrix environments is desired as well as basic
understanding of network design and business desktop environments
 Requires a significant amount of ingenuity and flexibility to solve complex business application issues
 Cooperative focus to develop trusted professional status
 Great communication skills – both verbal and written
 Desire to serve our clients and customers as well as support our other staff
If you want to help us build and support this kind of creative, focused organization, we want to hear from you! If
all of this sounds like exactly what you are looking to find for your career, contact us
at [email protected] Please send your resume and we commit to get back with you promptly. We
are, of course, an Equal Opportunity Employer!