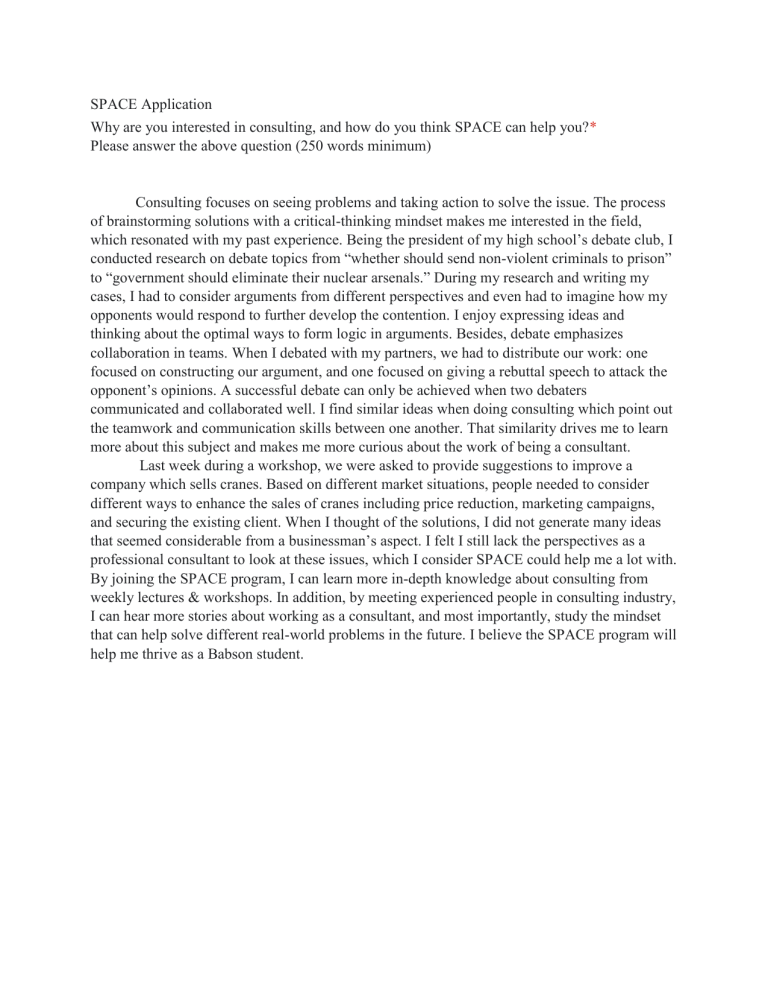 SPACE Application
Why are you interested in consulting, and how do you think SPACE can help you?*
Please answer the above question (250 words minimum)
Consulting focuses on seeing problems and taking action to solve the issue. The process
of brainstorming solutions with a critical-thinking mindset makes me interested in the field,
which resonated with my past experience. Being the president of my high school's debate club, I
conducted research on debate topics from "whether should send non-violent criminals to prison"
to "government should eliminate their nuclear arsenals." During my research and writing my
cases, I had to consider arguments from different perspectives and even had to imagine how my
opponents would respond to further develop the contention. I enjoy expressing ideas and
thinking about the optimal ways to form logic in arguments. Besides, debate emphasizes
collaboration in teams. When I debated with my partners, we had to distribute our work: one
focused on constructing our argument, and one focused on giving a rebuttal speech to attack the
opponent's opinions. A successful debate can only be achieved when two debaters
communicated and collaborated well. I find similar ideas when doing consulting which point out
the teamwork and communication skills between one another. That similarity drives me to learn
more about this subject and makes me more curious about the work of being a consultant.
Last week during a workshop, we were asked to provide suggestions to improve a
company which sells cranes. Based on different market situations, people needed to consider
different ways to enhance the sales of cranes including price reduction, marketing campaigns,
and securing the existing client. When I thought of the solutions, I did not generate many ideas
that seemed considerable from a businessman's aspect. I felt I still lack the perspectives as a
professional consultant to look at these issues, which I consider SPACE could help me a lot with.
By joining the SPACE program, I can learn more in-depth knowledge about consulting from
weekly lectures & workshops. In addition, by meeting experienced people in consulting industry,
I can hear more stories about working as a consultant, and most importantly, study the mindset
that can help solve different real-world problems in the future. I believe the SPACE program will
help me thrive as a Babson student.