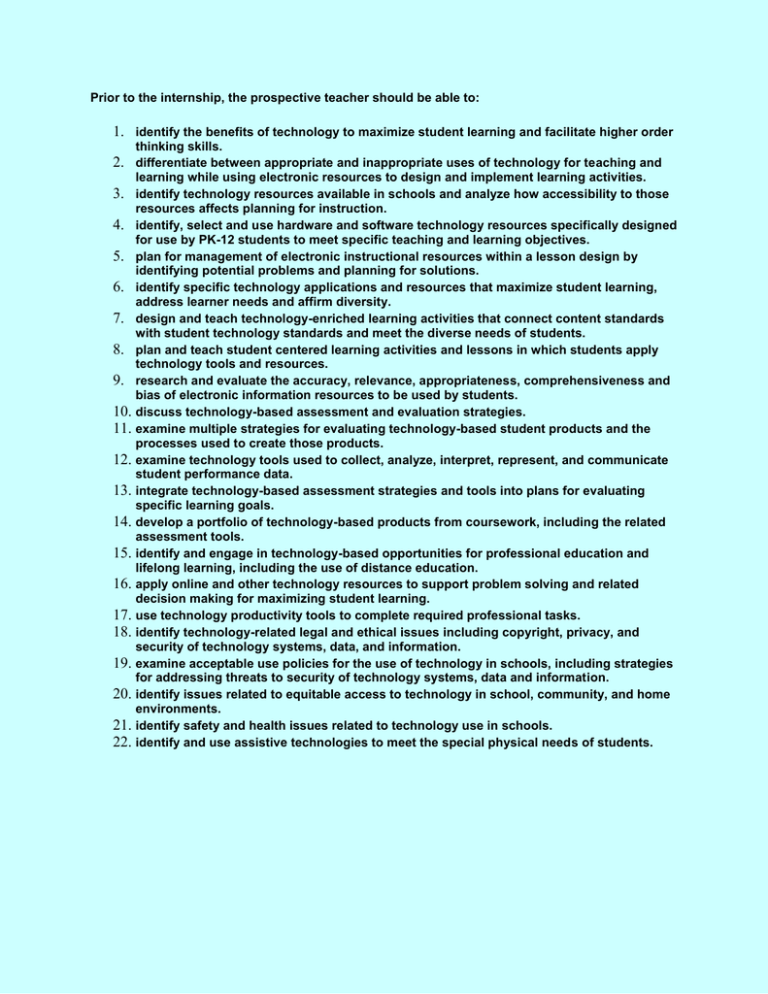 Prior to the internship, the prospective teacher should be able to:
1. identify the benefits of technology to maximize student learning and facilitate higher order
thinking skills.
2. differentiate between appropriate and inappropriate uses of technology for teaching and
learning while using electronic resources to design and implement learning activities.
3. identify technology resources available in schools and analyze how accessibility to those
resources affects planning for instruction.
4. identify, select and use hardware and software technology resources specifically designed
for use by PK-12 students to meet specific teaching and learning objectives.
5. plan for management of electronic instructional resources within a lesson design by
6.
7.
8.
9.
10.
11.
12.
13.
14.
15.
16.
17.
18.
19.
20.
21.
22.
identifying potential problems and planning for solutions.
identify specific technology applications and resources that maximize student learning,
address learner needs and affirm diversity.
design and teach technology-enriched learning activities that connect content standards
with student technology standards and meet the diverse needs of students.
plan and teach student centered learning activities and lessons in which students apply
technology tools and resources.
research and evaluate the accuracy, relevance, appropriateness, comprehensiveness and
bias of electronic information resources to be used by students.
discuss technology-based assessment and evaluation strategies.
examine multiple strategies for evaluating technology-based student products and the
processes used to create those products.
examine technology tools used to collect, analyze, interpret, represent, and communicate
student performance data.
integrate technology-based assessment strategies and tools into plans for evaluating
specific learning goals.
develop a portfolio of technology-based products from coursework, including the related
assessment tools.
identify and engage in technology-based opportunities for professional education and
lifelong learning, including the use of distance education.
apply online and other technology resources to support problem solving and related
decision making for maximizing student learning.
use technology productivity tools to complete required professional tasks.
identify technology-related legal and ethical issues including copyright, privacy, and
security of technology systems, data, and information.
examine acceptable use policies for the use of technology in schools, including strategies
for addressing threats to security of technology systems, data and information.
identify issues related to equitable access to technology in school, community, and home
environments.
identify safety and health issues related to technology use in schools.
identify and use assistive technologies to meet the special physical needs of students.