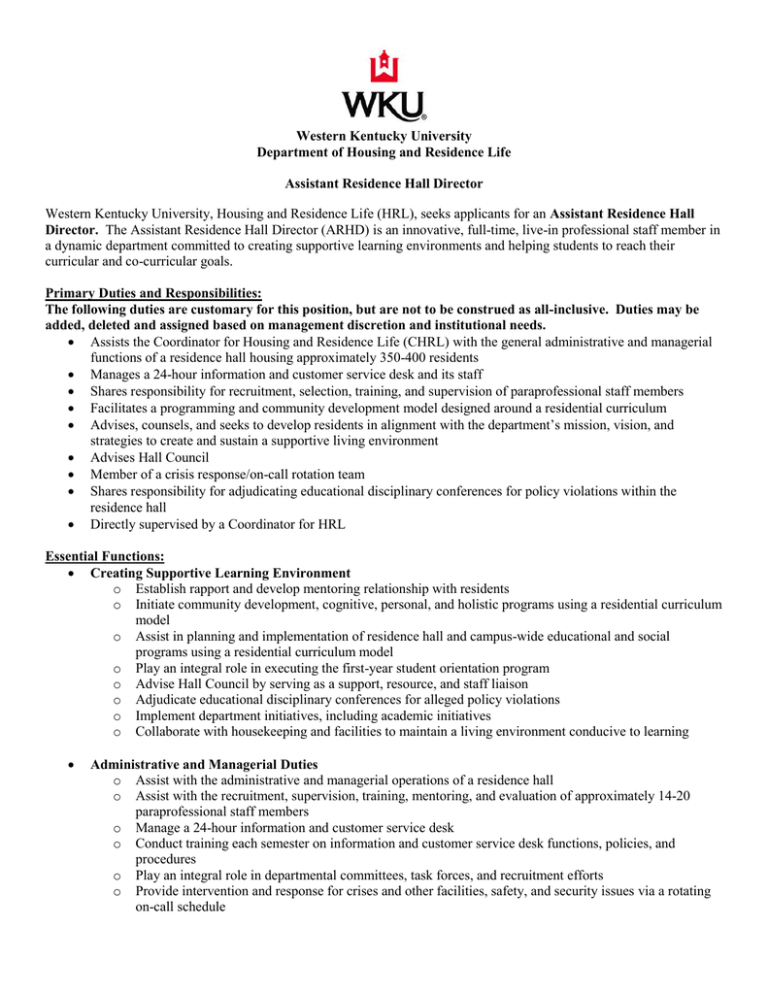 Western Kentucky University
Department of Housing and Residence Life
Assistant Residence Hall Director
Western Kentucky University, Housing and Residence Life (HRL), seeks applicants for an Assistant Residence Hall
Director. The Assistant Residence Hall Director (ARHD) is an innovative, full-time, live-in professional staff member in
a dynamic department committed to creating supportive learning environments and helping students to reach their
curricular and co-curricular goals.
Primary Duties and Responsibilities:
The following duties are customary for this position, but are not to be construed as all-inclusive. Duties may be
added, deleted and assigned based on management discretion and institutional needs.
 Assists the Coordinator for Housing and Residence Life (CHRL) with the general administrative and managerial
functions of a residence hall housing approximately 350-400 residents
 Manages a 24-hour information and customer service desk and its staff
 Shares responsibility for recruitment, selection, training, and supervision of paraprofessional staff members
 Facilitates a programming and community development model designed around a residential curriculum
 Advises, counsels, and seeks to develop residents in alignment with the department's mission, vision, and
strategies to create and sustain a supportive living environment
 Advises Hall Council
 Member of a crisis response/on-call rotation team
 Shares responsibility for adjudicating educational disciplinary conferences for policy violations within the
residence hall
 Directly supervised by a Coordinator for HRL
Essential Functions:
 Creating Supportive Learning Environment
o Establish rapport and develop mentoring relationship with residents
o Initiate community development, cognitive, personal, and holistic programs using a residential curriculum
model
o Assist in planning and implementation of residence hall and campus-wide educational and social
programs using a residential curriculum model
o Play an integral role in executing the first-year student orientation program
o Advise Hall Council by serving as a support, resource, and staff liaison
o Adjudicate educational disciplinary conferences for alleged policy violations
o Implement department initiatives, including academic initiatives
o Collaborate with housekeeping and facilities to maintain a living environment conducive to learning

Administrative and Managerial Duties
o Assist with the administrative and managerial operations of a residence hall
o Assist with the recruitment, supervision, training, mentoring, and evaluation of approximately 14-20
paraprofessional staff members
o Manage a 24-hour information and customer service desk
o Conduct training each semester on information and customer service desk functions, policies, and
procedures
o Play an integral role in departmental committees, task forces, and recruitment efforts
o Provide intervention and response for crises and other facilities, safety, and security issues via a rotating
on-call schedule
Knowledge & Skills Essential for Success:
 Must possess the ability to maintain an effective, cooperative working relationship with supervisors and coworkers in keeping with the values and mission of the Department and the University
 Must possess above average oral, written, and computer communication skills
 Must possess above average problem-solving, multi-tasking, and organizational skills
 Must possess the ability to practice sound, ethical decision making
 Demonstrated ability to serve as a role model for residential students, paraprofessional staff members, and coworkers in work ethic, attitude, and approach to work
 Demonstrated ability to role model acceptance and advocacy of diverse student populations by fostering an
environment committed to valuing diversity and social justice
 Demonstrated ability to assume additional responsibilities within the department as needed
 Although the majority of the position will function as described, some aspects are subject to change due to
evolving departmental needs
Required Qualifications:
 Successful applicant must possess a Bachelor's degree prior to start date
 Successful applicant must be willing to submit to a state and national criminal history background check
 Successful applicant must gain admission to the Graduate College and begin coursework within the first year of
employment
 At least one (1) year of previous experience as a Resident Assistant, Community Advisor, or other
housing/residence life leadership experience is required
Compensation and Benefits:
 10-month contract paid over a 12 month period
 Partially furnished pet friendly apartment with cable, internet service, utilities, local phone service (fair market
value of approximately $10,000 a year). Apartment use is restricted to the employee, employee's legal spouse,
and employee's dependent children
 Furnished office space
 Reserved parking space with purchase of required parking permit
 Professional development and extensive training opportunities within the Department, the Student Affairs
Division, and the University at-large
 Salary of $15,024 to $15,600 with excellent benefits package including: medical insurance, dental insurance, life
insurance, retirement plan, partial tuition waiver, University Bookstore discount, and reduced membership to the
University's health and fitness facility
All applications and resumes must be submitted through this online electronic talent management system. Only
those individuals who submit all required materials will be considered as eligible applicants. A cover letter which
describes your interest and fit for this position is required. You will receive email notification confirming your
application materials have been received. Please refer to the following website to
apply: http://wku.interviewexchange.com. Review of application materials will generally begin as applications are
submitted. Position will remain open until filled. The expected start date is July 15, 2015. For further assistance
contact Western Kentucky University, Department of Housing and Residence Life at 270-745-2037.
Notice: Kentucky state law requires all public institutions of postsecondary education to conduct pre-employment
criminal background checks to determine suitability for employment.
Western Kentucky University does not discriminate on the basis of race, color, national origin, sex, sexual
orientation, gender identity, disability, age, religion, veteran status, or marital status in admission to career and
technical education programs and/or activities, or employment practices in accordance with Title VI and VII of the
Civil Rights Act of 1964, Title IX of the Educational Amendments of 1972, Section 504 of the Rehabilitation Act of
1973, Revised 1992, and the Americans with Disabilities Act of 1990.
Persons with disabilities, who need reasonable accommodations to participate in the application and/or selection
process, should notify The Office of Equal Opportunity/Affirmative Action/University ADA Services at (270) 7455121, a minimum of five working days in advance.