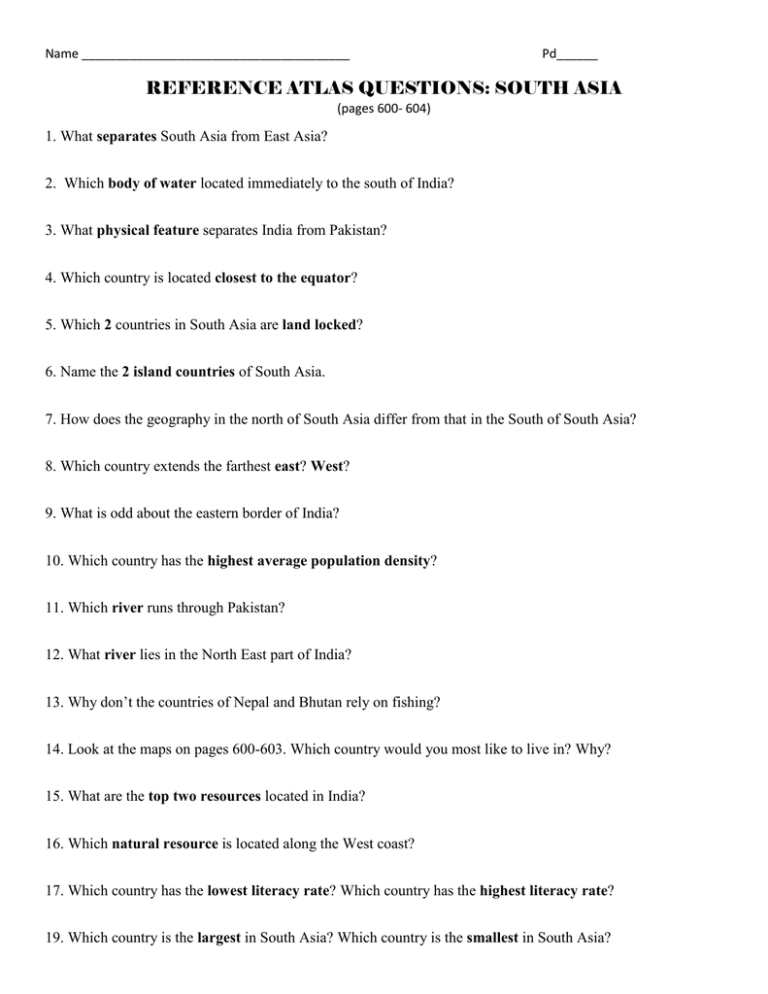 Name _______________________________________
Pd______
REFERENCE ATLAS QUESTIONS: SOUTH ASIA
(pages 600- 604)
1. What separates South Asia from East Asia?
2. Which body of water located immediately to the south of India?
3. What physical feature separates India from Pakistan?
4. Which country is located closest to the equator?
5. Which 2 countries in South Asia are land locked?
6. Name the 2 island countries of South Asia.
7. How does the geography in the north of South Asia differ from that in the South of South Asia?
8. Which country extends the farthest east? West?
9. What is odd about the eastern border of India?
10. Which country has the highest average population density?
11. Which river runs through Pakistan?
12. What river lies in the North East part of India?
13. Why don't the countries of Nepal and Bhutan rely on fishing?
14. Look at the maps on pages 600-603. Which country would you most like to live in? Why?
15. What are the top two resources located in India?
16. Which natural resource is located along the West coast?
17. Which country has the lowest literacy rate? Which country has the highest literacy rate?
19. Which country is the largest in South Asia? Which country is the smallest in South Asia?