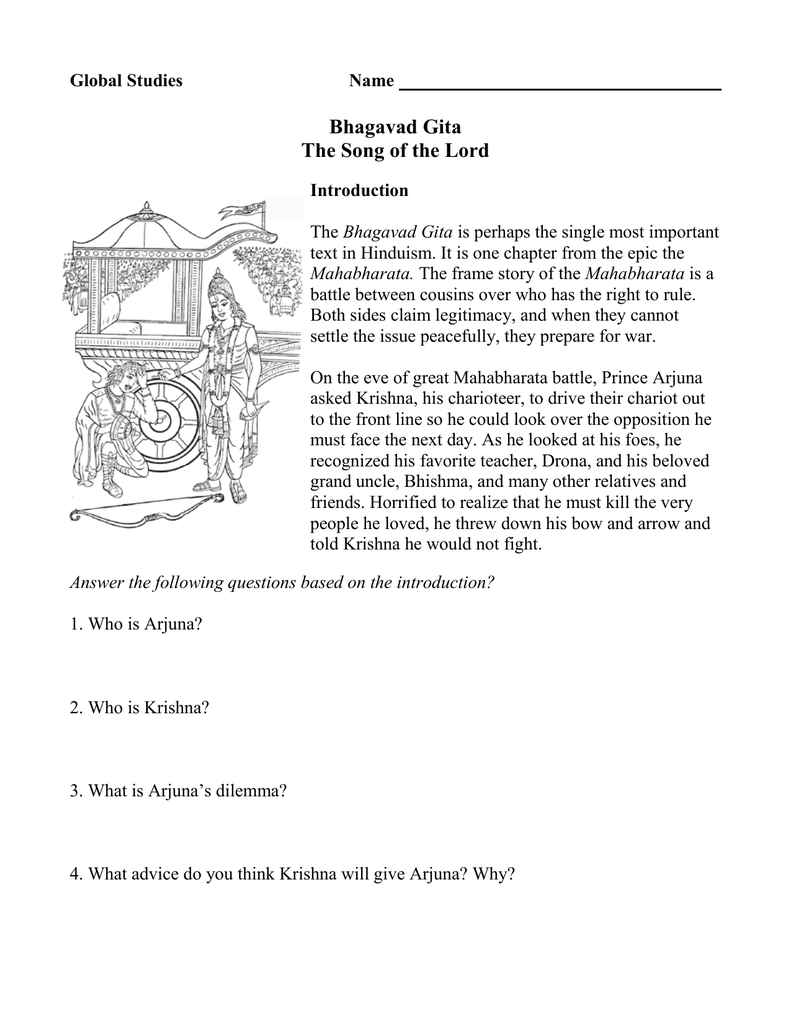 Global Studies
Name
Bhagavad Gita
The Song of the Lord
Introduction
The Bhagavad Gita is perhaps the single most important
text in Hinduism. It is one chapter from the epic the
Mahabharata. The frame story of the Mahabharata is a
battle between cousins over who has the right to rule.
Both sides claim legitimacy, and when they cannot
settle the issue peacefully, they prepare for war.
On the eve of great Mahabharata battle, Prince Arjuna
asked Krishna, his charioteer, to drive their chariot out
to the front line so he could look over the opposition he
must face the next day. As he looked at his foes, he
recognized his favorite teacher, Drona, and his beloved
grand uncle, Bhishma, and many other relatives and
friends. Horrified to realize that he must kill the very
people he loved, he threw down his bow and arrow and
told Krishna he would not fight.
Answer the following questions based on the introduction?
1. Who is Arjuna?
2. Who is Krishna?
3. What is Arjuna's dilemma?
4. What advice do you think Krishna will give Arjuna? Why?
Complete the following after reading the excerpt from the Bhagavad Gita. Use your textbook notes to define the terms.
Concept
Definition
Quote that Illustrates Concept
Atman
Brahman
Caste
Dharma
Karma
Reincarnation
Moksha
What advice did Krishna give Arjuna? How did Krishna justify this advice?