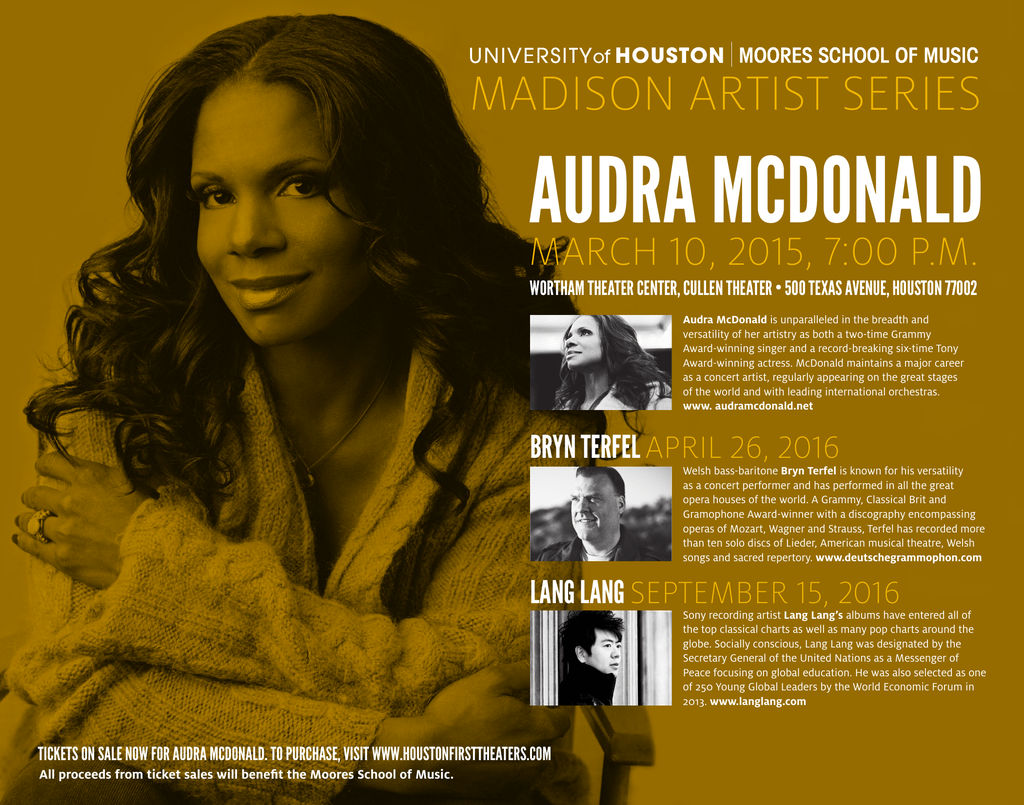 MADISON ARTIST SERIES
AUDRA
MCDONALD
MARCH 10, 2015, 7:00 P.M.
WORTHAM THEATER CENTER, CULLEN THEATER • 500 TEXAS AVENUE, HOUSTON 77002
Audra McDonald is unparalleled in the breadth and
versatility of her artistry as both a two-time Grammy
Award-winning singer and a record-breaking six-time Tony
Award-winning actress. McDonald maintains a major career
as a concert artist, regularly appearing on the great stages
of the world and with leading international orchestras.
www. audramcdonald.net
BRYN TERFEL APRIL 26, 2016
Welsh bass-baritone Bryn Terfel is known for his versatility
as a concert performer and has performed in all the great
opera houses of the world. A Grammy, Classical Brit and
Gramophone Award-winner with a discography encompassing
operas of Mozart, Wagner and Strauss, Terfel has recorded more
than ten solo discs of Lieder, American musical theatre, Welsh
songs and sacred repertory. www.deutschegrammophon.com
LANG LANG SEPTEMBER 15, 2016
Sony recording artist Lang Lang's albums have entered all of
the top classical charts as well as many pop charts around the
globe. Socially conscious, Lang Lang was designated by the
Secretary General of the United Nations as a Messenger of
Peace focusing on global education. He was also selected as one
of 250 Young Global Leaders by the World Economic Forum in
2013. www.langlang.com
TICKETS ON SALE NOW FOR AUDRA MCDONALD. TO PURCHASE, VISIT WWW.HOUSTONFIRSTTHEATERS.COM
All proceeds from ticket sales will benefit the Moores School of Music.