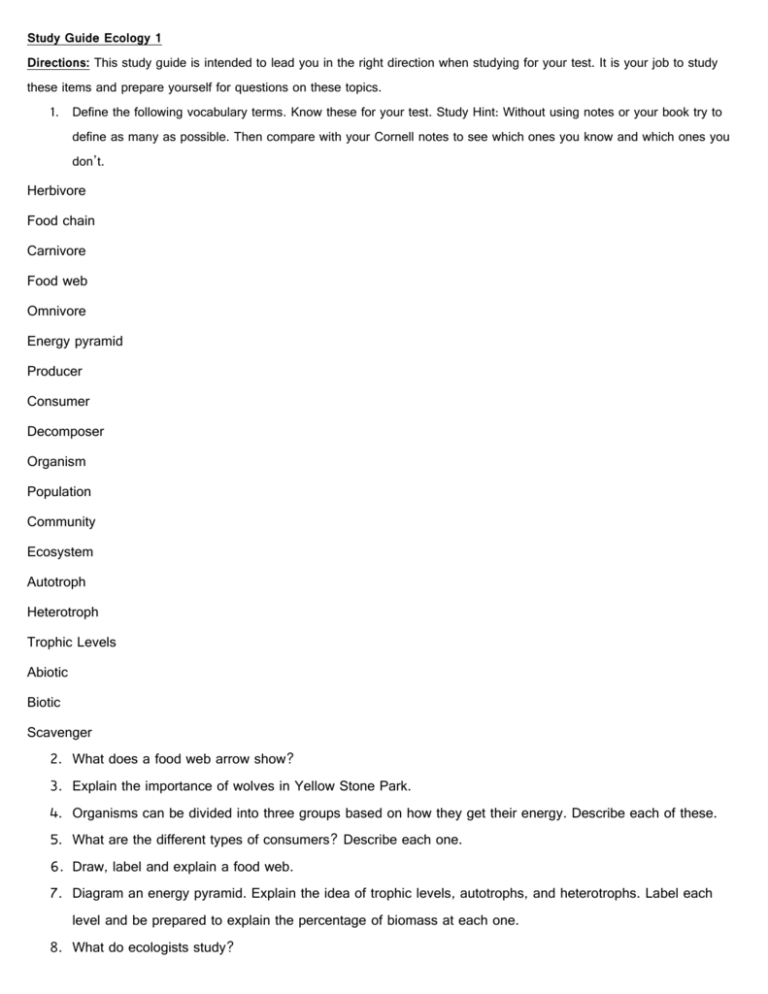 Study Guide Ecology 1
Directions: This study guide is intended to lead you in the right direction when studying for your test. It is your job to study
these items and prepare yourself for questions on these topics.
1. Define the following vocabulary terms. Know these for your test. Study Hint: Without using notes or your book try to
define as many as possible. Then compare with your Cornell notes to see which ones you know and which ones you
don't.
Herbivore
Food chain
Carnivore
Food web
Omnivore
Energy pyramid
Producer
Consumer
Decomposer
Organism
Population
Community
Ecosystem
Autotroph
Heterotroph
Trophic Levels
Abiotic
Biotic
Scavenger
2. What does a food web arrow show?
3. Explain the importance of wolves in Yellow Stone Park.
4. Organisms can be divided into three groups based on how they get their energy. Describe each of these.
5. What are the different types of consumers? Describe each one.
6. Draw, label and explain a food web.
7. Diagram an energy pyramid. Explain the idea of trophic levels, autotrophs, and heterotrophs. Label each
level and be prepared to explain the percentage of biomass at each one.
8. What do ecologists study?