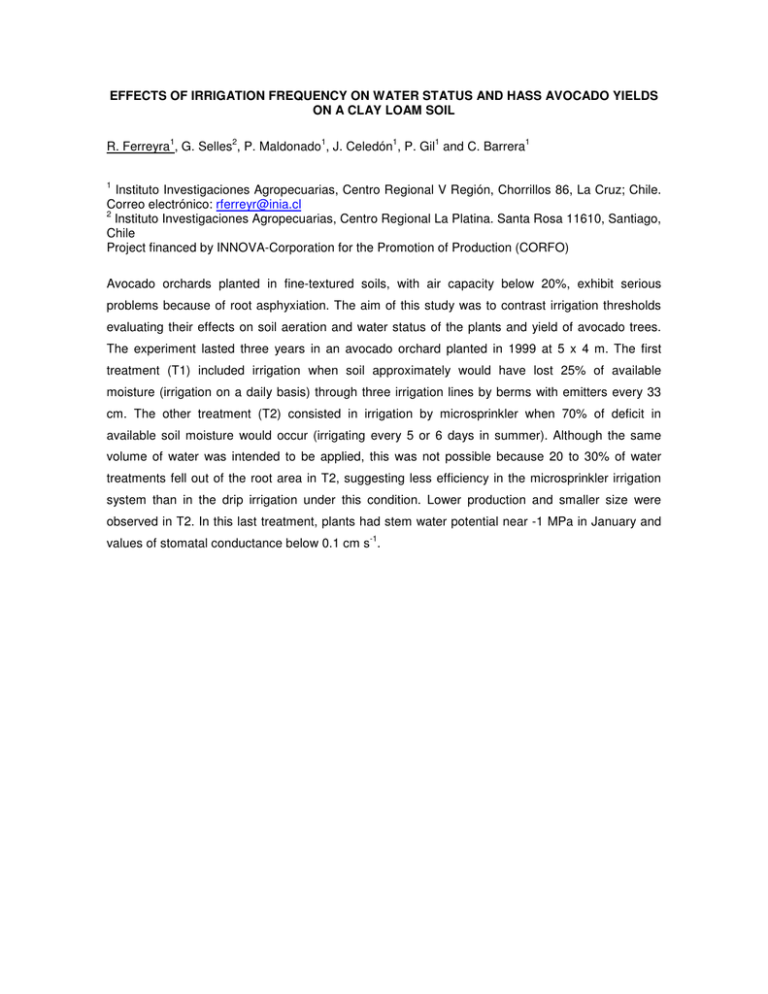 EFFECTS OF IRRIGATION FREQUENCY ON WATER STATUS AND HASS AVOCADO YIELDS
ON A CLAY LOAM SOIL
1
2
1
1
1
1
R. Ferreyra , G. Selles , P. Maldonado , J. Celedón , P. Gil and C. Barrera
1
Instituto Investigaciones Agropecuarias, Centro Regional V Región, Chorrillos 86, La Cruz; Chile.
Correo electrónico: rferreyr@inia.cl
2
Instituto Investigaciones Agropecuarias, Centro Regional La Platina. Santa Rosa 11610, Santiago,
Chile
Project financed by INNOVA-Corporation for the Promotion of Production (CORFO)
Avocado orchards planted in fine-textured soils, with air capacity below 20%, exhibit serious
problems because of root asphyxiation. The aim of this study was to contrast irrigation thresholds
evaluating their effects on soil aeration and water status of the plants and yield of avocado trees.
The experiment lasted three years in an avocado orchard planted in 1999 at 5 x 4 m. The first
treatment (T1) included irrigation when soil approximately would have lost 25% of available
moisture (irrigation on a daily basis) through three irrigation lines by berms with emitters every 33
cm. The other treatment (T2) consisted in irrigation by microsprinkler when 70% of deficit in
available soil moisture would occur (irrigating every 5 or 6 days in summer). Although the same
volume of water was intended to be applied, this was not possible because 20 to 30% of water
treatments fell out of the root area in T2, suggesting less efficiency in the microsprinkler irrigation
system than in the drip irrigation under this condition. Lower production and smaller size were
observed in T2. In this last treatment, plants had stem water potential near -1 MPa in January and
-1
values of stomatal conductance below 0.1 cm s .