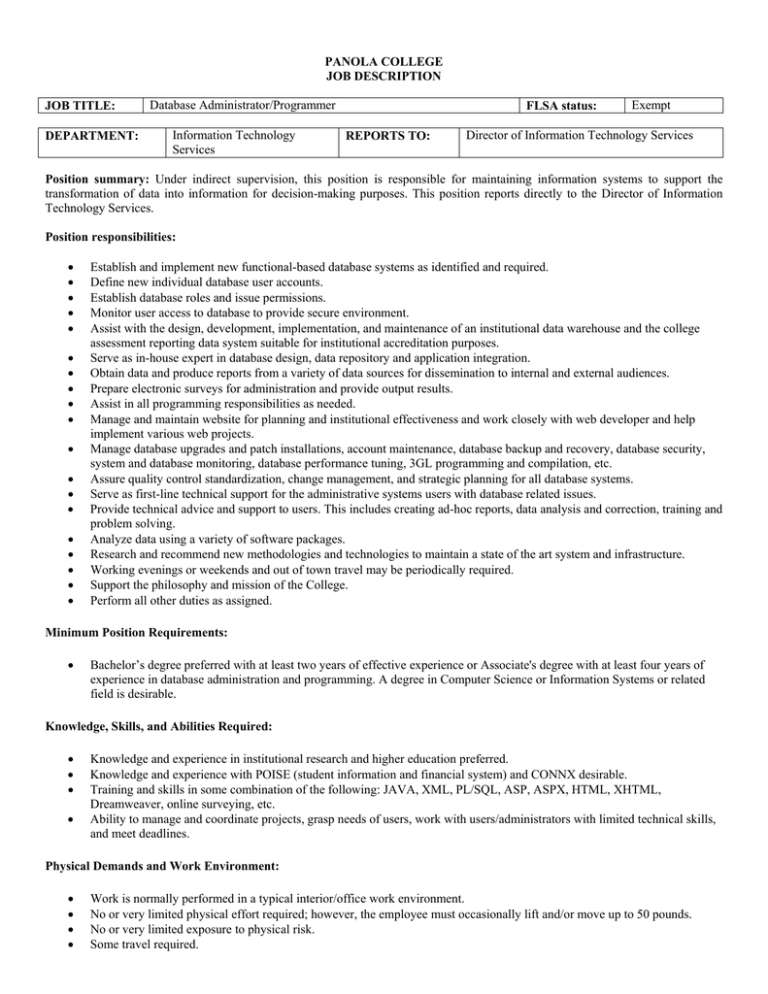 PANOLA COLLEGE
JOB DESCRIPTION
JOB TITLE:
DEPARTMENT:
Database Administrator/Programmer
Information Technology
Services
FLSA status:
REPORTS TO:
Exempt
Director of Information Technology Services
Position summary: Under indirect supervision, this position is responsible for maintaining information systems to support the
transformation of data into information for decision-making purposes. This position reports directly to the Director of Information
Technology Services.
Position responsibilities:
•
•
•
•
•
•
•
•
•
•
•
•
•
•
•
•
•
•
•
Establish and implement new functional-based database systems as identified and required.
Define new individual database user accounts.
Establish database roles and issue permissions.
Monitor user access to database to provide secure environment.
Assist with the design, development, implementation, and maintenance of an institutional data warehouse and the college
assessment reporting data system suitable for institutional accreditation purposes.
Serve as in-house expert in database design, data repository and application integration.
Obtain data and produce reports from a variety of data sources for dissemination to internal and external audiences.
Prepare electronic surveys for administration and provide output results.
Assist in all programming responsibilities as needed.
Manage and maintain website for planning and institutional effectiveness and work closely with web developer and help
implement various web projects.
Manage database upgrades and patch installations, account maintenance, database backup and recovery, database security,
system and database monitoring, database performance tuning, 3GL programming and compilation, etc.
Assure quality control standardization, change management, and strategic planning for all database systems.
Serve as first-line technical support for the administrative systems users with database related issues.
Provide technical advice and support to users. This includes creating ad-hoc reports, data analysis and correction, training and
problem solving.
Analyze data using a variety of software packages.
Research and recommend new methodologies and technologies to maintain a state of the art system and infrastructure.
Working evenings or weekends and out of town travel may be periodically required.
Support the philosophy and mission of the College.
Perform all other duties as assigned.
Minimum Position Requirements:
•
Bachelor's degree preferred with at least two years of effective experience or Associate's degree with at least four years of
experience in database administration and programming. A degree in Computer Science or Information Systems or related
field is desirable.
Knowledge, Skills, and Abilities Required:
•
•
•
•
Knowledge and experience in institutional research and higher education preferred.
Knowledge and experience with POISE (student information and financial system) and CONNX desirable.
Training and skills in some combination of the following: JAVA, XML, PL/SQL, ASP, ASPX, HTML, XHTML,
Dreamweaver, online surveying, etc.
Ability to manage and coordinate projects, grasp needs of users, work with users/administrators with limited technical skills,
and meet deadlines.
Physical Demands and Work Environment:
•
•
•
•
Work is normally performed in a typical interior/office work environment.
No or very limited physical effort required; however, the employee must occasionally lift and/or move up to 50 pounds.
No or very limited exposure to physical risk.
Some travel required.