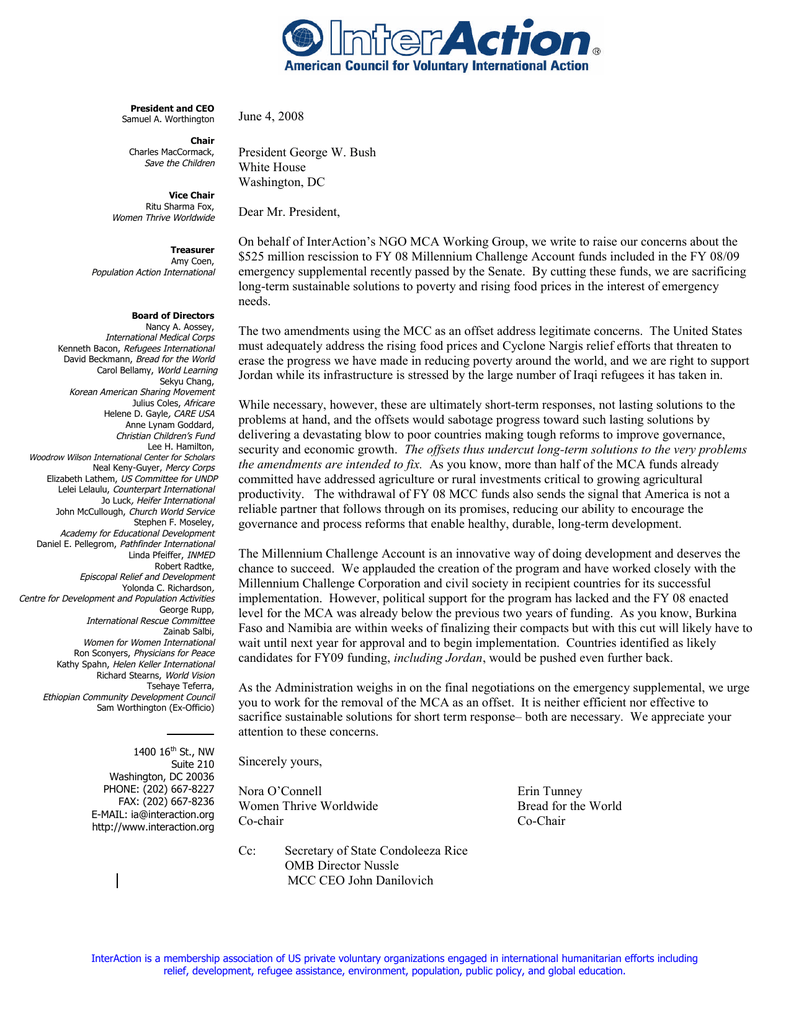 President and CEO
Samuel A. Worthington
Chair
Charles MacCormack,
Save the Children
Vice Chair
Ritu Sharma Fox,
Women Thrive Worldwide
Treasurer
Amy Coen,
Population Action International
Board of Directors
Nancy A. Aossey,
International Medical Corps
Kenneth Bacon, Refugees International
David Beckmann, Bread for the World
Carol Bellamy, World Learning
Sekyu Chang,
Korean American Sharing Movement
Julius Coles, Africare
Helene D. Gayle, CARE USA
Anne Lynam Goddard,
Christian Children's Fund
Lee H. Hamilton,
Woodrow Wilson International Center for Scholars
Neal Keny-Guyer, Mercy Corps
Elizabeth Lathem, US Committee for UNDP
Lelei Lelaulu, Counterpart International
Jo Luck, Heifer International
John McCullough, Church World Service
Stephen F. Moseley,
Academy for Educational Development
Daniel E. Pellegrom, Pathfinder International
Linda Pfeiffer, INMED
Robert Radtke,
Episcopal Relief and Development
Yolonda C. Richardson,
Centre for Development and Population Activities
George Rupp,
International Rescue Committee
Zainab Salbi,
Women for Women International
Ron Sconyers, Physicians for Peace
Kathy Spahn, Helen Keller International
Richard Stearns, World Vision
Tsehaye Teferra,
Ethiopian Community Development Council
Sam Worthington (Ex-Officio)
1400 16th St., NW
Suite 210
Washington, DC 20036
PHONE: (202) 667-8227
FAX: (202) 667-8236
E-MAIL: [email protected]
http://www.interaction.org
June 4, 2008
President George W. Bush
White House
Washington, DC
Dear Mr. President,
On behalf of InterAction's NGO MCA Working Group, we write to raise our concerns about the
$525 million rescission to FY 08 Millennium Challenge Account funds included in the FY 08/09
emergency supplemental recently passed by the Senate. By cutting these funds, we are sacrificing
long-term sustainable solutions to poverty and rising food prices in the interest of emergency
needs.
The two amendments using the MCC as an offset address legitimate concerns. The United States
must adequately address the rising food prices and Cyclone Nargis relief efforts that threaten to
erase the progress we have made in reducing poverty around the world, and we are right to support
Jordan while its infrastructure is stressed by the large number of Iraqi refugees it has taken in.
While necessary, however, these are ultimately short-term responses, not lasting solutions to the
problems at hand, and the offsets would sabotage progress toward such lasting solutions by
delivering a devastating blow to poor countries making tough reforms to improve governance,
security and economic growth. The offsets thus undercut long-term solutions to the very problems
the amendments are intended to fix. As you know, more than half of the MCA funds already
committed have addressed agriculture or rural investments critical to growing agricultural
productivity. The withdrawal of FY 08 MCC funds also sends the signal that America is not a
reliable partner that follows through on its promises, reducing our ability to encourage the
governance and process reforms that enable healthy, durable, long-term development.
The Millennium Challenge Account is an innovative way of doing development and deserves the
chance to succeed. We applauded the creation of the program and have worked closely with the
Millennium Challenge Corporation and civil society in recipient countries for its successful
implementation. However, political support for the program has lacked and the FY 08 enacted
level for the MCA was already below the previous two years of funding. As you know, Burkina
Faso and Namibia are within weeks of finalizing their compacts but with this cut will likely have to
wait until next year for approval and to begin implementation. Countries identified as likely
candidates for FY09 funding, including Jordan, would be pushed even further back.
As the Administration weighs in on the final negotiations on the emergency supplemental, we urge
you to work for the removal of the MCA as an offset. It is neither efficient nor effective to
sacrifice sustainable solutions for short term response– both are necessary. We appreciate your
attention to these concerns.
Sincerely yours,
Nora O'Connell
Women Thrive Worldwide
Co-chair
Cc:
Erin Tunney
Bread for the World
Co-Chair
Secretary of State Condoleeza Rice
OMB Director Nussle
MCC CEO John Danilovich
InterAction is a membership association of US private voluntary organizations engaged in international humanitarian efforts including
relief, development, refugee assistance, environment, population, public policy, and global education.