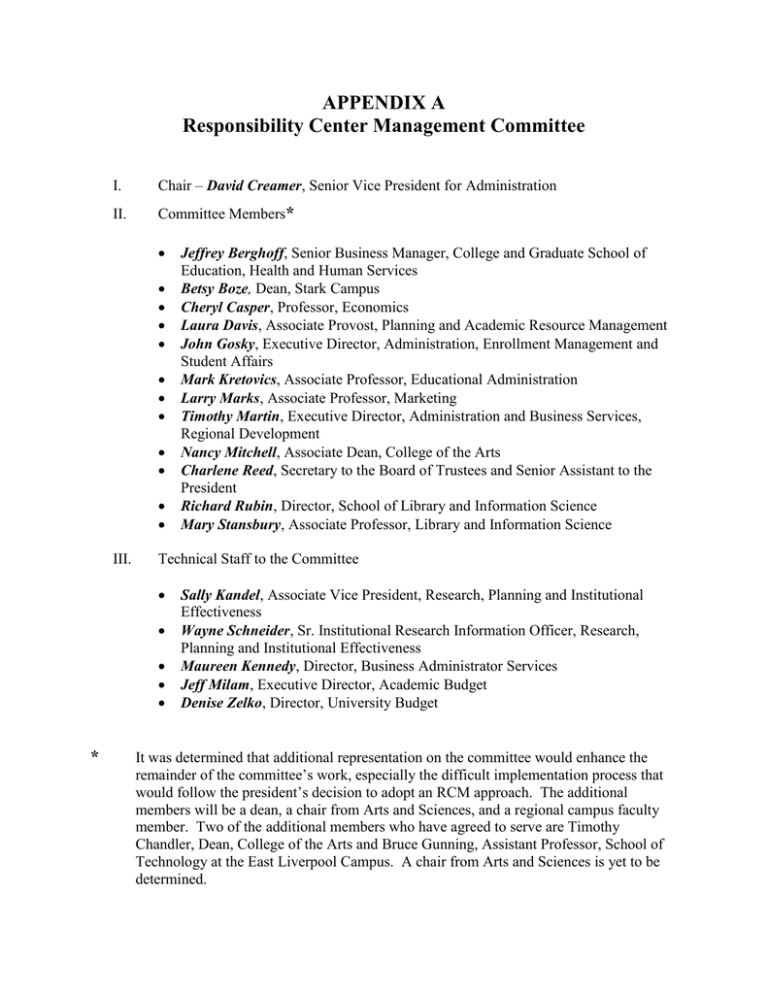 APPENDIX A
Responsibility Center Management Committee
I.
Chair – David Creamer, Senior Vice President for Administration
II.
Committee Members*












III.
Technical Staff to the Committee





*
Jeffrey Berghoff, Senior Business Manager, College and Graduate School of
Education, Health and Human Services
Betsy Boze, Dean, Stark Campus
Cheryl Casper, Professor, Economics
Laura Davis, Associate Provost, Planning and Academic Resource Management
John Gosky, Executive Director, Administration, Enrollment Management and
Student Affairs
Mark Kretovics, Associate Professor, Educational Administration
Larry Marks, Associate Professor, Marketing
Timothy Martin, Executive Director, Administration and Business Services,
Regional Development
Nancy Mitchell, Associate Dean, College of the Arts
Charlene Reed, Secretary to the Board of Trustees and Senior Assistant to the
President
Richard Rubin, Director, School of Library and Information Science
Mary Stansbury, Associate Professor, Library and Information Science
Sally Kandel, Associate Vice President, Research, Planning and Institutional
Effectiveness
Wayne Schneider, Sr. Institutional Research Information Officer, Research,
Planning and Institutional Effectiveness
Maureen Kennedy, Director, Business Administrator Services
Jeff Milam, Executive Director, Academic Budget
Denise Zelko, Director, University Budget
It was determined that additional representation on the committee would enhance the
remainder of the committee's work, especially the difficult implementation process that
would follow the president's decision to adopt an RCM approach. The additional
members will be a dean, a chair from Arts and Sciences, and a regional campus faculty
member. Two of the additional members who have agreed to serve are Timothy
Chandler, Dean, College of the Arts and Bruce Gunning, Assistant Professor, School of
Technology at the East Liverpool Campus. A chair from Arts and Sciences is yet to be
determined.