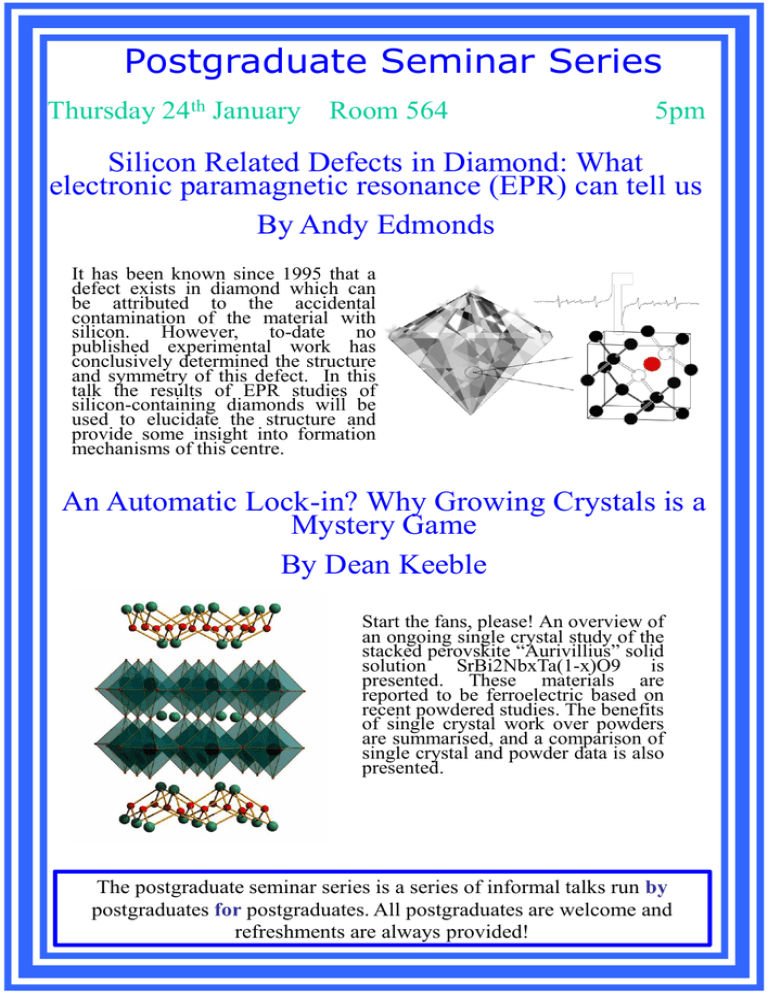 Postgraduate Seminar Series
Thursday 24th January Room 564
5pm
Silicon Related Defects in Diamond: What
electronic paramagnetic resonance (EPR) can tell us
By Andy Edmonds
It has been known since 1995 that a
defect exists in diamond which can
be attributed to the accidental
contamination of the material with
silicon.
However,
to-date
no
published experimental work has
conclusively determined the structure
and symmetry of this defect. In this
talk the results of EPR studies of
silicon-containing diamonds will be
used to elucidate the structure and
provide some insight into formation
mechanisms of this centre.
An Automatic Lock-in? Why Growing Crystals is a
Mystery Game
By Dean Keeble
Start the fans, please! An overview of
an ongoing single crystal study of the
stacked perovskite "Aurivillius" solid
solution
SrBi2NbxTa(1-x)O9
is
presented. These materials are
reported to be ferroelectric based on
recent powdered studies. The benefits
of single crystal work over powders
are summarised, and a comparison of
single crystal and powder data is also
presented.
The postgraduate seminar series is a series of informal talks run by
postgraduates for postgraduates. All postgraduates are welcome and
refreshments are always provided!