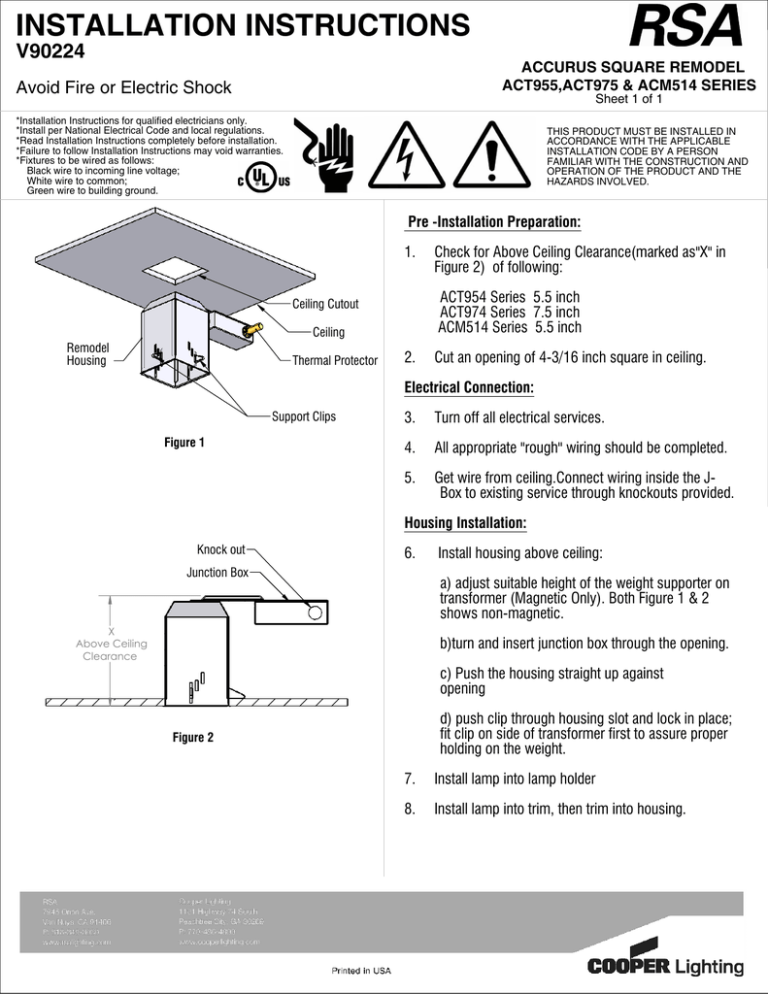 INSTALLATION INSTRUCTIONS
V90224
ACCURUS SQUARE REMODEL
ACT955,ACT975 & ACM514 SERIES
Avoid Fire or Electric Shock
Sheet 1 of 1
*Installation Instructions for qualified electricians only.
*Install per National Electrical Code and local regulations.
*Read Installation Instructions completely before installation.
*Failure to follow Installation Instructions may void warranties.
*Fixtures to be wired as follows:
Black wire to incoming line voltage;
White wire to common;
Green wire to building ground.
THIS PRODUCT MUST BE INSTALLED IN
ACCORDANCE WITH THE APPLICABLE
INSTALLATION CODE BY A PERSON
FAMILIAR WITH THE CONSTRUCTION AND
OPERATION OF THE PRODUCT AND THE
HAZARDS INVOLVED.
Pre -Installation Preparation:
1.
ACT954 Series 5.5 inch
ACT974 Series 7.5 inch
ACM514 Series 5.5 inch
Ceiling Cutout
Ceiling
Remodel
Housing
Thermal Protector
Check for Above Ceiling Clearance(marked as"X" in
Figure 2) of following:
2.
Cut an opening of 4-3/16 inch square in ceiling.
Electrical Connection:
Support Clips
Figure 1
3.
Turn off all electrical services.
4.
All appropriate "rough" wiring should be completed.
5.
Get wire from ceiling.Connect wiring inside the JBox to existing service through knockouts provided.
Housing Installation:
Knock out
6.
Junction Box
Install housing above ceiling:
a) adjust suitable height of the weight supporter on
transformer (Magnetic Only). Both Figure 1 & 2
shows non-magnetic.
X
Above Ceiling
Clearance
b)turn and insert junction box through the opening.
c) Push the housing straight up against
opening
d) push clip through housing slot and lock in place;
fit clip on side of transformer first to assure proper
holding on the weight.
Figure 2
7.
Install lamp into lamp holder
8.
Install lamp into trim, then trim into housing.