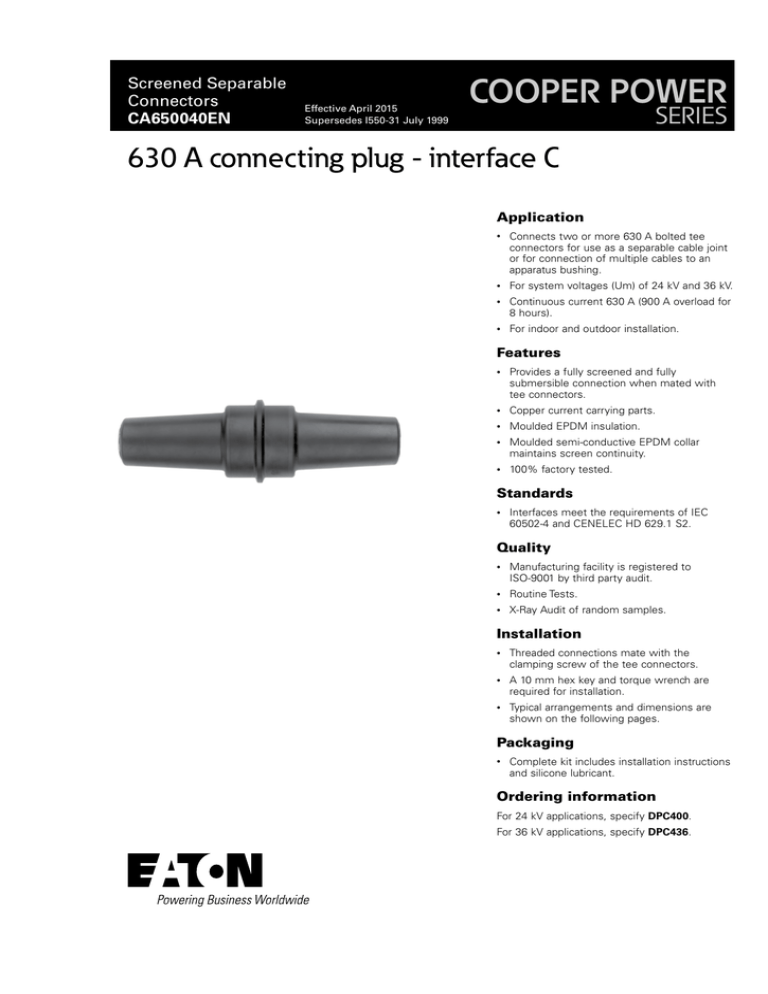 Screened Separable
Connectors
CA650040EN
Effective April 2015
Supersedes I550-31 July 1999
COOPER POWER
SERIES
630 A connecting plug - interface C
Application
•
Connects two or more 630 A bolted tee
connectors for use as a separable cable joint
or for connection of multiple cables to an
apparatus bushing.
•
For system voltages (Um) of 24 kV and 36 kV.
•
Continuous current 630 A (900 A overload for
8 hours).
•
For indoor and outdoor installation.
Features
•
Provides a fully screened and fully
submersible connection when mated with
tee connectors.
•
Copper current carrying parts.
•
Moulded EPDM insulation.
•
Moulded semi-conductive EPDM collar
maintains screen continuity.
•
100% factory tested.
Standards
•
Interfaces meet the requirements of IEC
60502-4 and CENELEC HD 629.1 S2.
Quality
•
Manufacturing facility is registered to
ISO-9001 by third party audit.
•
Routine Tests.
•
X-Ray Audit of random samples.
Installation
•
Threaded connections mate with the
clamping screw of the tee connectors.
•
A 10 mm hex key and torque wrench are
required for installation.
•
Typical arrangements and dimensions are
shown on the following pages.
Packaging
•
Complete kit includes installation instructions
and silicone lubricant.
Ordering information
For 24 kV applications, specify DPC400.
For 36 kV applications, specify DPC436.
Catalog Data CA650040EN
630 A connecting plug - interface C
Effective April 2015
Table 1. Electrical Ratings
Catalog Number
DPC400
DPC436
Maximum System Voltage (Um)
24 kV
36 kV
Partial Discharge Extinction (<3 pC)*
20 kV
30 kV
Impulse Withstand
125 kV
170 kV
AC Withstand*
54 kV
81 kV
Continuous Current
630 A
630 A
Overload (8 hrs.)
900 A
900 A
Short Circuit Withstand, 1 sec (rms sym)
35 kA
35 kA
* Denotes routine tests on 100% of production.
Eaton
1000 Eaton Boulevard
Cleveland, OH 44122
United States
Eaton.com
Eaton's Cooper Power Systems Division
2300 Badger Drive
Waukesha, WI 53188
Eaton.com/cooperpowerseries
© 2015 Eaton
All Rights Reserved
Printed in USA
Publication No. CA650040EN
Eaton and Cooper Power are valuable
trademarks of Eaton in the U.S. and other
countries. You are not permitted to use
these trademarks without the prior written
consent of Eaton.