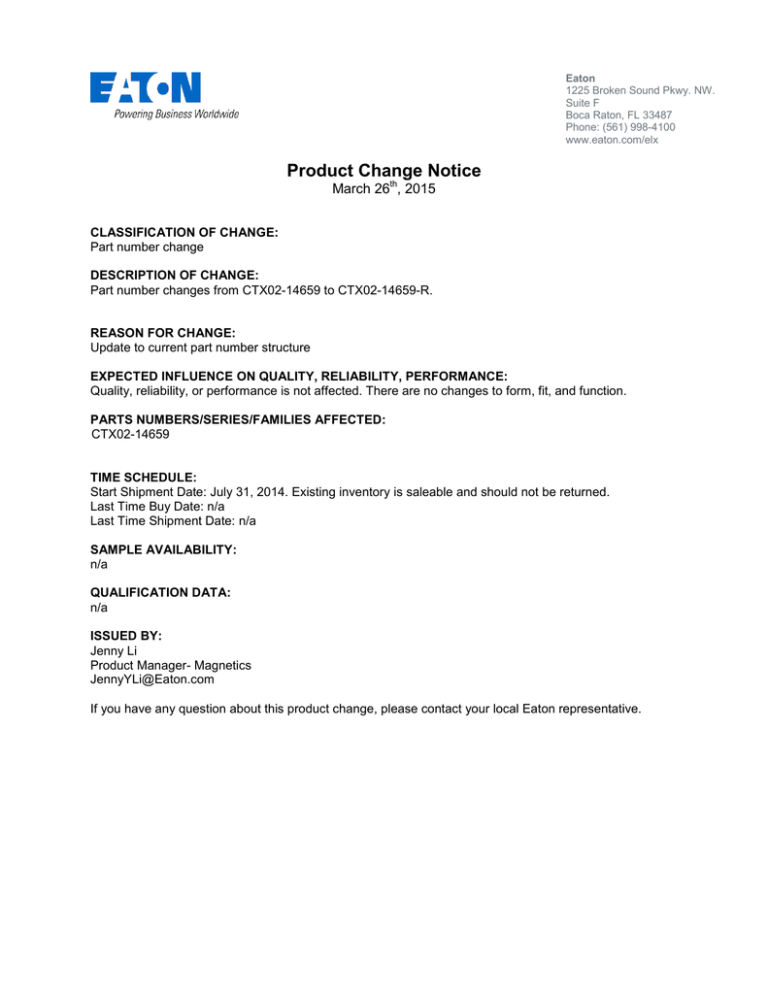 Eaton
1225 Broken Sound Pkwy. NW.
Suite F
Boca Raton, FL 33487
Phone: (561) 998-4100
www.eaton.com/elx
Product Change Notice
March 26th, 2015
CLASSIFICATION OF CHANGE:
Part number change
DESCRIPTION OF CHANGE:
Part number changes from CTX02-14659 to CTX02-14659-R.
REASON FOR CHANGE:
Update to current part number structure
EXPECTED INFLUENCE ON QUALITY, RELIABILITY, PERFORMANCE:
Quality, reliability, or performance is not affected. There are no changes to form, fit, and function.
PARTS NUMBERS/SERIES/FAMILIES AFFECTED:
CTX02-14659
TIME SCHEDULE:
Start Shipment Date: July 31, 2014. Existing inventory is saleable and should not be returned.
Last Time Buy Date: n/a
Last Time Shipment Date: n/a
SAMPLE AVAILABILITY:
n/a
QUALIFICATION DATA:
n/a
ISSUED BY:
Jenny Li
Product Manager- Magnetics
JennyYLi@Eaton.com
If you have any question about this product change, please contact your local Eaton representative.