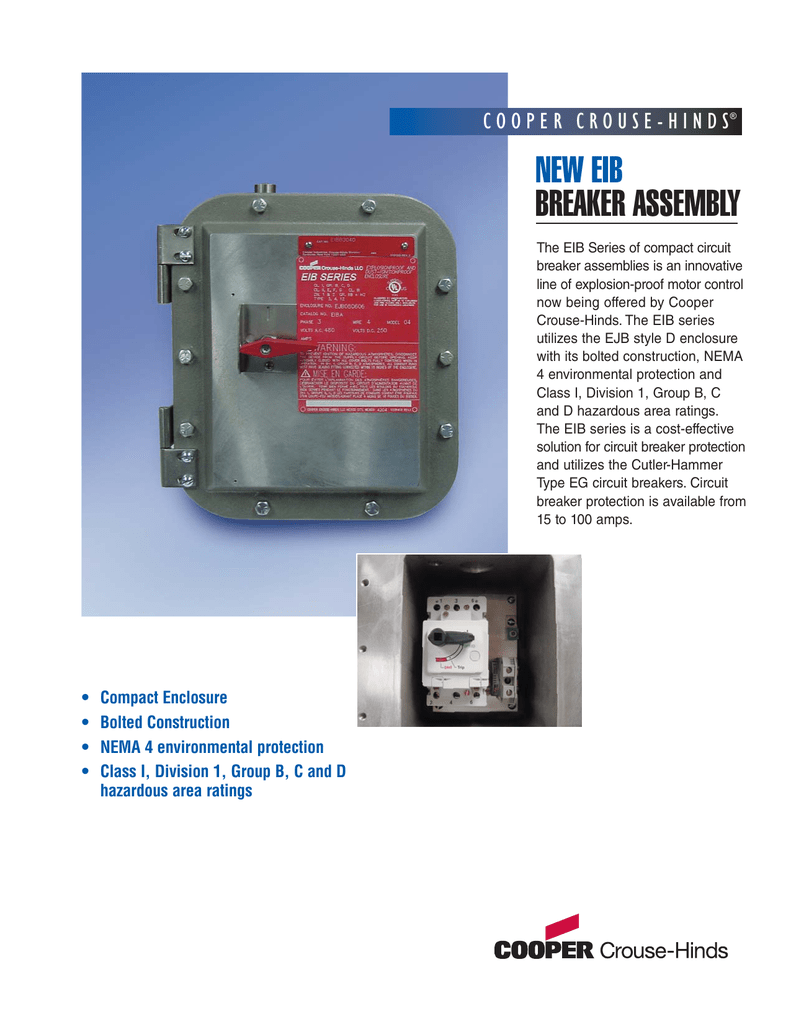 COOPER CROUSE-HINDS
®
NEW EIB
BREAKER ASSEMBLY
The EIB Series of compact circuit
breaker assemblies is an innovative
line of explosion-proof motor control
now being offered by Cooper
Crouse-Hinds. The EIB series
utilizes the EJB style D enclosure
with its bolted construction, NEMA
4 environmental protection and
Class I, Division 1, Group B, C
and D hazardous area ratings.
The EIB series is a cost-effective
solution for circuit breaker protection
and utilizes the Cutler-Hammer
Type EG circuit breakers. Circuit
breaker protection is available from
15 to 100 amps.
•
•
•
•
Compact Enclosure
Bolted Construction
NEMA 4 environmental protection
Class I, Division 1, Group B, C and D
hazardous area ratings
NEW EIB BREAKER ASSEMBLY
FEATURES
BENEFITS
CERTIFICATIONS
• Small compact footprint
• Less mounting space required and
reduced enclosure cost
• Definite on, off and trip positions
•
•
•
•
•
• Rotary handle operator mounted
on cover assembly
• No internal fork operator
• Trip position easily identified
• Neoprene cover gasket
• Detachable mounting feet
•
•
•
•
• Stainless steel hinges
• (2) 11⁄2 " NPT conduit entries, one on
top and one on bottom
• (2) 1⁄2 " NPT conduit entries, one on
top and one on bottom
Will not damage breaker toggle
Can identify from a distance
Provides UL Type 4 (hosetight) environmental rating
Provides flexible mounting alternatives, no need
to replace the entire enclosure if a mounting foot
is broken
• Easy access to inside enclosure for wiring and
maintenance
• For easy top or bottom feed of conductors
Class I, Divisions 1 & 2, Groups B, C & D
Class I, Zones 1 & 2
Class II, Division 1, Groups E, F and G
Class III
Enclosure type 3, 3R, and 4,*
7BCD, 9EFG
• NEMA 3, 3R, 4, 7BCD, 9EFG
• UL Standard 886
• cUL to CSA C22.2 No. 30
*Not applicable when ordered with the S756V option
ELECTRICAL RATINGS
• For field addition of breather and/or drain;
holes come plugged
• 480 volts
• 3 poles
• 10,000 AIC max.
STANDARD MATERIALS
FINISHES
WEIGHTS
• Body and Cover — Copper-free
aluminum
• Gasket — Neoprene
• Cover Bolts — Steel
• Hinges — Stainless Steel
• Mounting Plate Sheet — Aluminum
• Copper-free Aluminum — natural
• Steel — Electro-galvanized
EIBA 39 lbs
EIBB 58 lbs
DIMENSIONS
bb
ORDERING INFORMATION
Circuit Breaker
Rating (amps)
Enclosure
Only
Enclosure with
Circuit Breaker
15
20
25
30
35
40
45
50
60
70
80
90
100
EIBA
EIBA
EIBA
EIBA
EIBA
EIBB
EIBB
EIBB
EIBB
EIBB
EIBB
EIBB
EIBB
EIBA3015
EIBA3020
EIBA3025
EIBA3030
EIBA3035
EIBB3040
EIBB3045
EIBB3050
EIBB3060
EIBB3070
EIBB3080
EIBB3090
EIBB3100
OPTIONS
xx
aa
aa
bb
xx
yy
zz
Mounting
Holes
add suffix
Insulated Neutral Lug
Grounded Neutral Lug kit w/connectors for 50, 100 & 225 amps
External Ground Stud
Breather and drain
Epoxy Powder Coat Finish (exterior only)
Epoxy Powder Coat Finish (exterior and interior)
yy
zz
S146
S178
S214
S756V
S752
S753
Size A
Size B
10.47"
12.47"
11.13"
5.0"
9.6"
12.53"
16.53"
15.13"
7.0"
11.66"
7
/16"
For more information:
In the U.S.:
In Canada:
Contact an authorized
Cooper Crouse-Hinds
Distributor, Sales Office or
Customer Service Department:
Cooper Crouse-Hinds
P.O. Box 4999
Syracuse, NY 13221
(315) 477-5531
FAX: (315) 477-5179
[email protected]
Cooper Crouse-Hinds Canada
(905) 507-4187
FAX: (905) 568-7048
7
/16"
For office locations outside of North America
or for additional product information, visit our
website at: www.crouse-hinds.com
Mexico • Latin America/Caribbean • Germany • Australia • Asia • Dubai • India
Solutions.Worldwide.
TM
4848-0605
Crouse-Hinds is a registered trademark of Cooper Industries, Inc.
© 2005 Cooper Industries, Inc.
Printed in U.S.A.