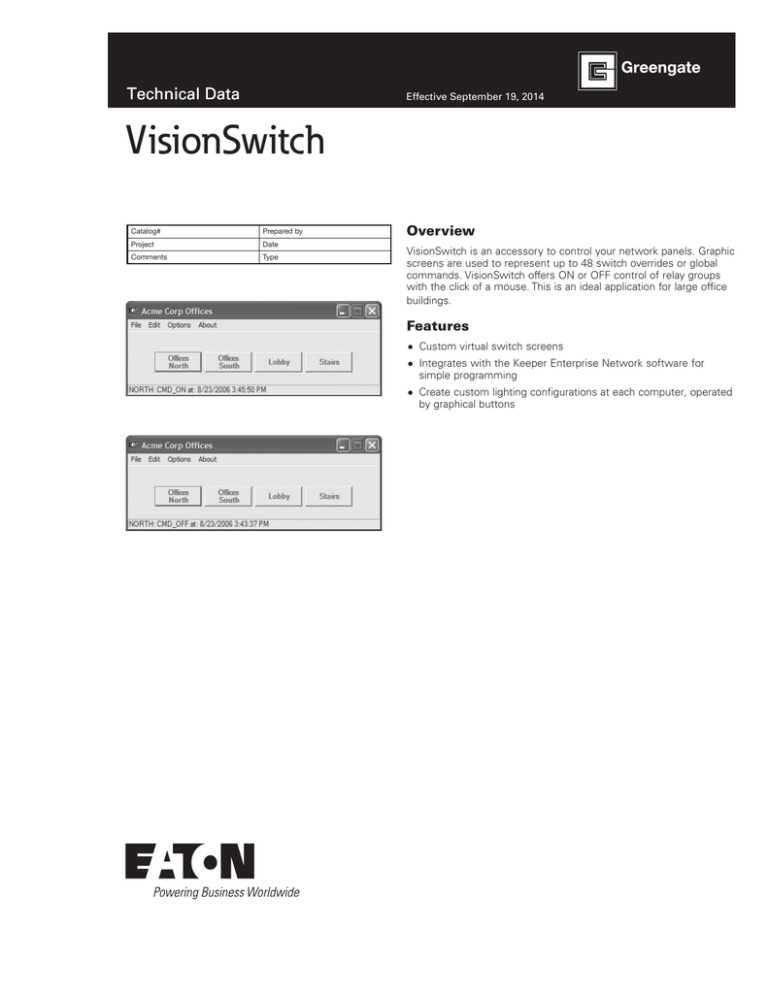 Technical Data
Effective September 19, 2014
VisionSwitch
Catalog#
Prepared by
Project
Date
Comments
Type
Overview
VisionSwitch is an accessory to control your network panels. Graphic
screens are used to represent up to 48 switch overrides or global
commands. VisionSwitch offers ON or OFF control of relay groups
with the click of a mouse. This is an ideal application for large office
buildings.
Features
Custom virtual switch screens
Integrates with the Keeper Enterprise Network software for
simple programming
Create custom lighting configurations at each computer, operated
by graphical buttons
Technical Data 
VisionSwitch


September 2014
Specifications
Ordering
Requirements
Keeper Enterprise Software Database Access
Ethernet Interface Module
Computer
Specifications
Operating System
Windows 2000 and XP Windows 7 32 bit
512 MB RAM
20GB Hard Drive
CD-ROM
10/100 MB Network Card
This is an accessory for the Greengate Lighting Control Systems.
VisionSwitch requires that the Keeper Enterprise software database
be accessible and the Ethernet Interface Module (EIM) be ordered.
Catalog #
Description
SOFT-VS
VisionSwitch
Description/Operation
VisionSwitch software allows for user defined screen configurations.
Each screen will support up to 48 virtual switches which can control
any relay or group of relays on the lighting control network. The
VisionSwitch software and manual arrives on a CD for installation
onto your computer. VisionSwitch communicates via TCP/IP and
requires the Ethernet Interface Module. TCP/IP communications may
require your qualified Network Administrator for setup.
Eaton
1000 Eaton Boulevard
Cleveland, OH 44122
United States
Eaton.com
Eaton's Cooper Controls Business
203 Cooper Circle
Peachtree City, GA 30269
coopercontrol.com
© 2014 Eaton
All Rights Reserved
Printed in USA
Publication No. ACC131629
September 19, 2014
Eaton is a registered trademark.
All other trademarks are property
of their respective owners.