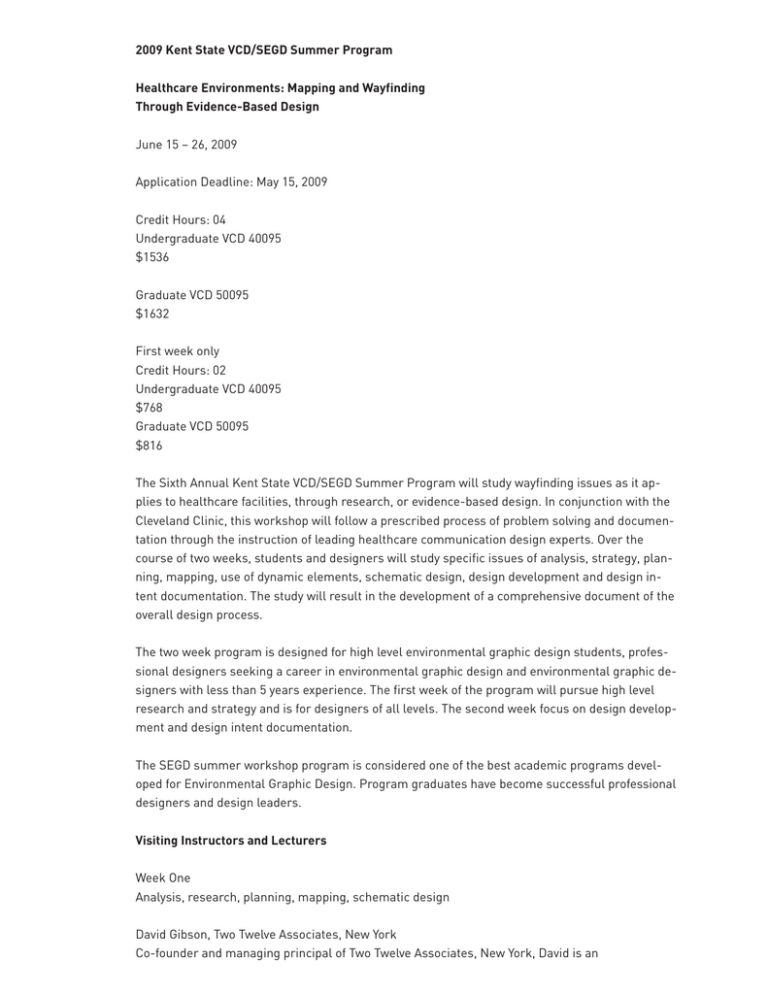 2009 Kent State VCD/SEGD Summer Program
Healthcare Environments: Mapping and Wayfinding
Through Evidence-Based Design
June 15 – 26, 2009
Application Deadline: May 15, 2009
Credit Hours: 04
Undergraduate VCD 40095
$1536
Graduate VCD 50095
$1632
First week only
Credit Hours: 02
Undergraduate VCD 40095
$768
Graduate VCD 50095
$816
The Sixth Annual Kent State VCD/SEGD Summer Program will study wayfinding issues as it applies to healthcare facilities, through research, or evidence-based design. In conjunction with the
Cleveland Clinic, this workshop will follow a prescribed process of problem solving and documentation through the instruction of leading healthcare communication design experts. Over the
course of two weeks, students and designers will study specific issues of analysis, strategy, planning, mapping, use of dynamic elements, schematic design, design development and design intent documentation. The study will result in the development of a comprehensive document of the
overall design process.
The two week program is designed for high level environmental graphic design students, professional designers seeking a career in environmental graphic design and environmental graphic designers with less than 5 years experience. The first week of the program will pursue high level
research and strategy and is for designers of all levels. The second week focus on design development and design intent documentation.
The SEGD summer workshop program is considered one of the best academic programs developed for Environmental Graphic Design. Program graduates have become successful professional
designers and design leaders.
Visiting Instructors and Lecturers
Week One
Analysis, research, planning, mapping, schematic design
David Gibson, Two Twelve Associates, New York
Co-founder and managing principal of Two Twelve Associates, New York, David is an
internationally recognized designer and a pioneer in the field of public information design. He recently authored "The Wayfinding Handbook," published by Princeton Architectural Press.
Laura Varacchi, Two Twelve Associates, New York
Laura is a Creative Director at Two Twelve Associates.
Benjamin Goodman, Karlsberger Company, Columbus
Ben is a Senior Designer in Environmental Graphic Design at Karlsberger, which is
recognized as a pioneer in the planning and design of healthcare facilities.
Craig Berger, Society for Environmental Graphic Design
Craig is Director of Education and Professional Development for the Society for Environmental
Graphic Design.
Week Two
Design development, issues of dynamic media, fabrication, and design intent documentation
George Lim, Carter & Burgess, Denver
George is Creative Director of the Environmental Graphics Group of Carter & Burgess, a nationally
recognized architecture, engineering, design and planning firm.
Gary Stemler, Nordquist, Minneapolis
Gary is the vice president of manufacturing at Nordquist, an industry leader of custom
fabricated signage programs.
Other visiting instructors and lecturers for each week to be announced.
David Middleton, Associate Professor VCD, Kent State University, is Resident Faculty.
Additional instructors and lecturers will be announced, and are subject to change.
This workshop is open to all students and professionals with three or more years of graphic
design, industrial design, interior design, architecture or urban planning background. It has been
developed specifically for working professionals and students at the graduate and advanced
undergraduate level. Costs for each workshop includes 04 semester credit hours at the undergraduate or graduate level and some supplies and materials. Food, transportation and housing
are not included. This workshop may be taken for the first week only for 02 credit hours.
The credit hours earned in this workshop may be substituted for 03 hours VCD 5/43006
Environmental Graphic Design (3D Concentration), 02 hours of VCD 40192 Internship 2, used as
Upper Division Design Electives or Graduate Studio credit. Tuition subject to change.
For more information about environmental graphic design, visit www.segd.org.