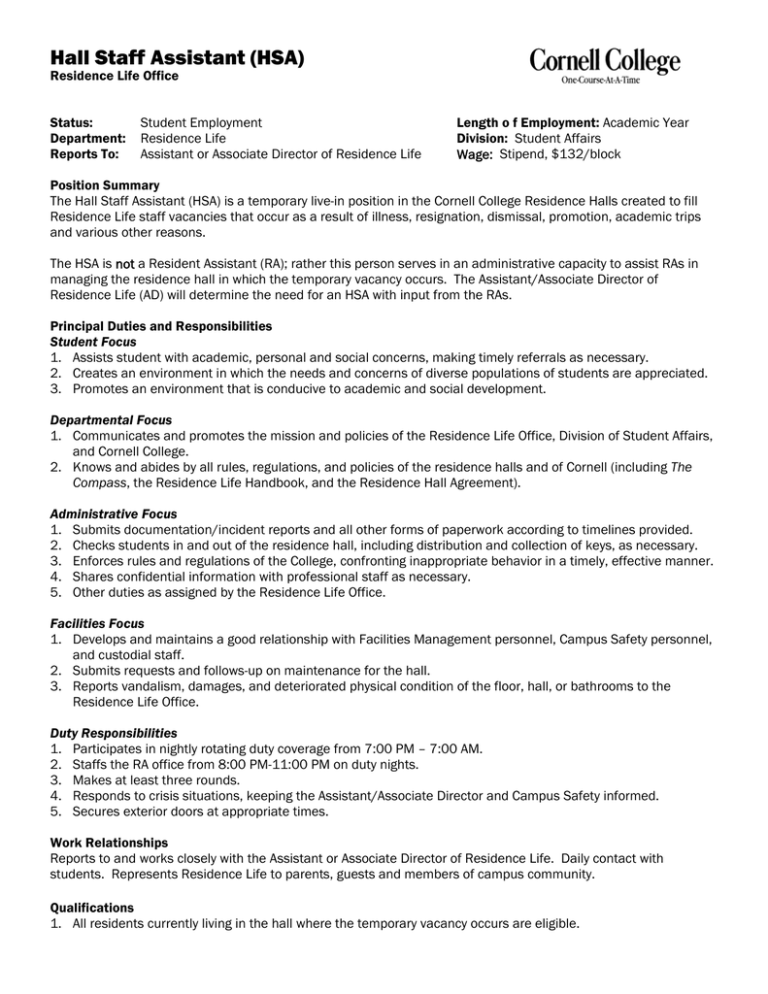 Hall Staff Assistant (HSA)
Residence Life Office
Status:
Department:
Reports To:
Student Employment
Residence Life
Assistant or Associate Director of Residence Life
Length o f Employment: Academic Year
Division: Student Affairs
Wage: Stipend, $132/block
Position Summary
The Hall Staff Assistant (HSA) is a temporary live-in position in the Cornell College Residence Halls created to fill
Residence Life staff vacancies that occur as a result of illness, resignation, dismissal, promotion, academic trips
and various other reasons.
The HSA is not a Resident Assistant (RA); rather this person serves in an administrative capacity to assist RAs in
managing the residence hall in which the temporary vacancy occurs. The Assistant/Associate Director of
Residence Life (AD) will determine the need for an HSA with input from the RAs.
Principal Duties and Responsibilities
Student Focus
1. Assists student with academic, personal and social concerns, making timely referrals as necessary.
2. Creates an environment in which the needs and concerns of diverse populations of students are appreciated.
3. Promotes an environment that is conducive to academic and social development.
Departmental Focus
1. Communicates and promotes the mission and policies of the Residence Life Office, Division of Student Affairs,
and Cornell College.
2. Knows and abides by all rules, regulations, and policies of the residence halls and of Cornell (including The
Compass, the Residence Life Handbook, and the Residence Hall Agreement).
Administrative Focus
1. Submits documentation/incident reports and all other forms of paperwork according to timelines provided.
2. Checks students in and out of the residence hall, including distribution and collection of keys, as necessary.
3. Enforces rules and regulations of the College, confronting inappropriate behavior in a timely, effective manner.
4. Shares confidential information with professional staff as necessary.
5. Other duties as assigned by the Residence Life Office.
Facilities Focus
1. Develops and maintains a good relationship with Facilities Management personnel, Campus Safety personnel,
and custodial staff.
2. Submits requests and follows-up on maintenance for the hall.
3. Reports vandalism, damages, and deteriorated physical condition of the floor, hall, or bathrooms to the
Residence Life Office.
Duty Responsibilities
1. Participates in nightly rotating duty coverage from 7:00 PM – 7:00 AM.
2. Staffs the RA office from 8:00 PM-11:00 PM on duty nights.
3. Makes at least three rounds.
4. Responds to crisis situations, keeping the Assistant/Associate Director and Campus Safety informed.
5. Secures exterior doors at appropriate times.
Work Relationships
Reports to and works closely with the Assistant or Associate Director of Residence Life. Daily contact with
students. Represents Residence Life to parents, guests and members of campus community.
Qualifications
1. All residents currently living in the hall where the temporary vacancy occurs are eligible.
Hall Staff Assistant
Page 2
Skills, Knowledge and Abilities
Good judgment, knowledge of self, problem solving skills, understanding of residents, time management, flexibility,
good communications skills and a sense of humor. Ability to communicate effectively with students, faculty, staff
and parents.
Remuneration
The position provides a significant learning experience for students. HSAs also receive a monetary award of
$132.00 per block. In most cases the HSA will remain in the room in which he/she currently lives in the hall.
Failure to carry out the responsibilities or meet the expectations of the position may result in dismissal and/or
reduction of remuneration.