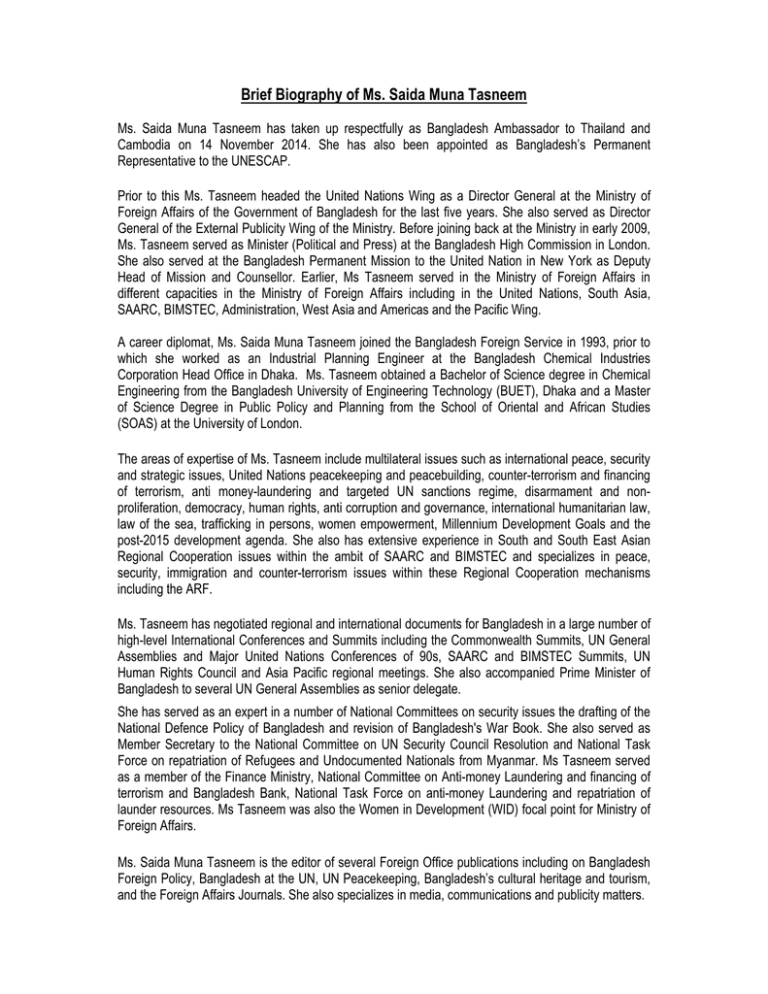 Brief Biography of Ms. Saida Muna Tasneem
Ms. Saida Muna Tasneem has taken up respectfully as Bangladesh Ambassador to Thailand and
Cambodia on 14 November 2014. She has also been appointed as Bangladesh's Permanent
Representative to the UNESCAP.
Prior to this Ms. Tasneem headed the United Nations Wing as a Director General at the Ministry of
Foreign Affairs of the Government of Bangladesh for the last five years. She also served as Director
General of the External Publicity Wing of the Ministry. Before joining back at the Ministry in early 2009,
Ms. Tasneem served as Minister (Political and Press) at the Bangladesh High Commission in London.
She also served at the Bangladesh Permanent Mission to the United Nation in New York as Deputy
Head of Mission and Counsellor. Earlier, Ms Tasneem served in the Ministry of Foreign Affairs in
different capacities in the Ministry of Foreign Affairs including in the United Nations, South Asia,
SAARC, BIMSTEC, Administration, West Asia and Americas and the Pacific Wing.
A career diplomat, Ms. Saida Muna Tasneem joined the Bangladesh Foreign Service in 1993, prior to
which she worked as an Industrial Planning Engineer at the Bangladesh Chemical Industries
Corporation Head Office in Dhaka. Ms. Tasneem obtained a Bachelor of Science degree in Chemical
Engineering from the Bangladesh University of Engineering Technology (BUET), Dhaka and a Master
of Science Degree in Public Policy and Planning from the School of Oriental and African Studies
(SOAS) at the University of London.
The areas of expertise of Ms. Tasneem include multilateral issues such as international peace, security
and strategic issues, United Nations peacekeeping and peacebuilding, counter-terrorism and financing
of terrorism, anti money-laundering and targeted UN sanctions regime, disarmament and nonproliferation, democracy, human rights, anti corruption and governance, international humanitarian law,
law of the sea, trafficking in persons, women empowerment, Millennium Development Goals and the
post-2015 development agenda. She also has extensive experience in South and South East Asian
Regional Cooperation issues within the ambit of SAARC and BIMSTEC and specializes in peace,
security, immigration and counter-terrorism issues within these Regional Cooperation mechanisms
including the ARF.
Ms. Tasneem has negotiated regional and international documents for Bangladesh in a large number of
high-level International Conferences and Summits including the Commonwealth Summits, UN General
Assemblies and Major United Nations Conferences of 90s, SAARC and BIMSTEC Summits, UN
Human Rights Council and Asia Pacific regional meetings. She also accompanied Prime Minister of
Bangladesh to several UN General Assemblies as senior delegate.
She has served as an expert in a number of National Committees on security issues the drafting of the
National Defence Policy of Bangladesh and revision of Bangladesh's War Book. She also served as
Member Secretary to the National Committee on UN Security Council Resolution and National Task
Force on repatriation of Refugees and Undocumented Nationals from Myanmar. Ms Tasneem served
as a member of the Finance Ministry, National Committee on Anti-money Laundering and financing of
terrorism and Bangladesh Bank, National Task Force on anti-money Laundering and repatriation of
launder resources. Ms Tasneem was also the Women in Development (WID) focal point for Ministry of
Foreign Affairs.
Ms. Saida Muna Tasneem is the editor of several Foreign Office publications including on Bangladesh
Foreign Policy, Bangladesh at the UN, UN Peacekeeping, Bangladesh's cultural heritage and tourism,
and the Foreign Affairs Journals. She also specializes in media, communications and publicity matters.