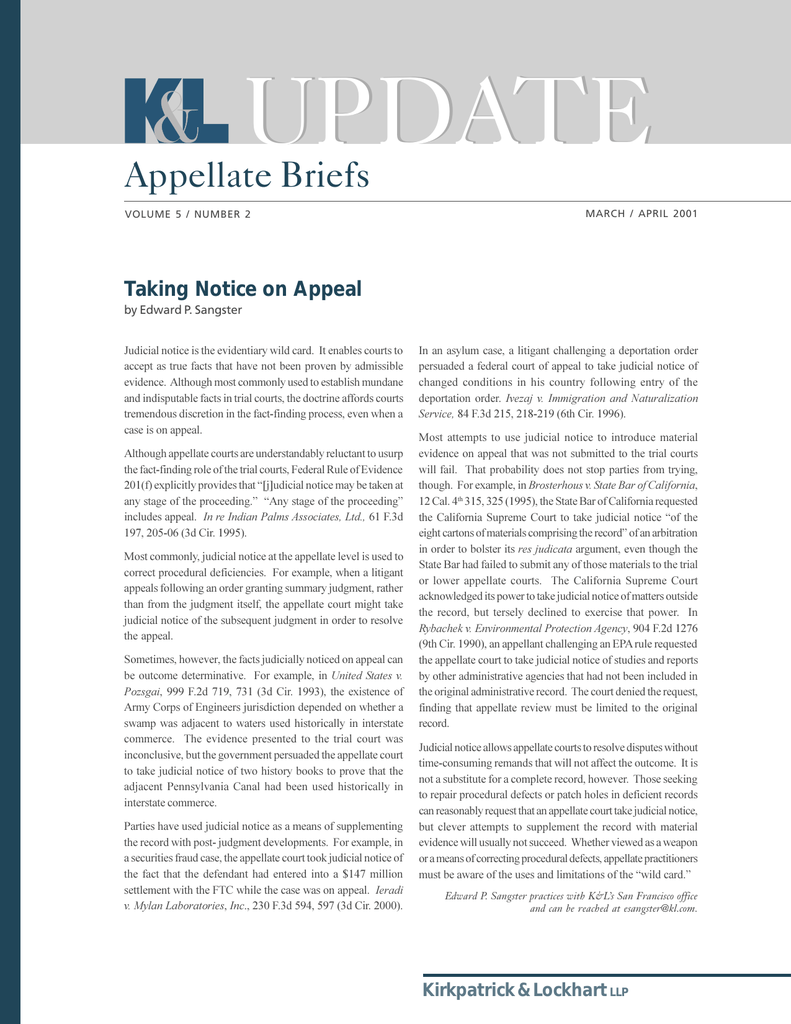 UPDATE
Appellate Briefs
VOLUME 5 / NUMBER 2
MARCH / APRIL 2001
Taking Notice on Appeal
by Edward P. Sangster
Judicial notice is the evidentiary wild card. It enables courts to
accept as true facts that have not been proven by admissible
evidence. Although most commonly used to establish mundane
and indisputable facts in trial courts, the doctrine affords courts
tremendous discretion in the fact-finding process, even when a
case is on appeal.
Although appellate courts are understandably reluctant to usurp
the fact-finding role of the trial courts, Federal Rule of Evidence
201(f) explicitly provides that "[j]udicial notice may be taken at
any stage of the proceeding." "Any stage of the proceeding"
includes appeal. In re Indian Palms Associates, Ltd., 61 F.3d
197, 205-06 (3d Cir. 1995).
Most commonly, judicial notice at the appellate level is used to
correct procedural deficiencies. For example, when a litigant
appeals following an order granting summary judgment, rather
than from the judgment itself, the appellate court might take
judicial notice of the subsequent judgment in order to resolve
the appeal.
Sometimes, however, the facts judicially noticed on appeal can
be outcome determinative. For example, in United States v.
Pozsgai, 999 F.2d 719, 731 (3d Cir. 1993), the existence of
Army Corps of Engineers jurisdiction depended on whether a
swamp was adjacent to waters used historically in interstate
commerce. The evidence presented to the trial court was
inconclusive, but the government persuaded the appellate court
to take judicial notice of two history books to prove that the
adjacent Pennsylvania Canal had been used historically in
interstate commerce.
Parties have used judicial notice as a means of supplementing
the record with post- judgment developments. For example, in
a securities fraud case, the appellate court took judicial notice of
the fact that the defendant had entered into a $147 million
settlement with the FTC while the case was on appeal. Ieradi
v. Mylan Laboratories, Inc., 230 F.3d 594, 597 (3d Cir. 2000).
In an asylum case, a litigant challenging a deportation order
persuaded a federal court of appeal to take judicial notice of
changed conditions in his country following entry of the
deportation order. Ivezaj v. Immigration and Naturalization
Service, 84 F.3d 215, 218-219 (6th Cir. 1996).
Most attempts to use judicial notice to introduce material
evidence on appeal that was not submitted to the trial courts
will fail. That probability does not stop parties from trying,
though. For example, in Brosterhous v. State Bar of California,
12 Cal. 4th 315, 325 (1995), the State Bar of California requested
the California Supreme Court to take judicial notice "of the
eight cartons of materials comprising the record" of an arbitration
in order to bolster its res judicata argument, even though the
State Bar had failed to submit any of those materials to the trial
or lower appellate courts. The California Supreme Court
acknowledged its power to take judicial notice of matters outside
the record, but tersely declined to exercise that power. In
Rybachek v. Environmental Protection Agency, 904 F.2d 1276
(9th Cir. 1990), an appellant challenging an EPA rule requested
the appellate court to take judicial notice of studies and reports
by other administrative agencies that had not been included in
the original administrative record. The court denied the request,
finding that appellate review must be limited to the original
record.
Judicial notice allows appellate courts to resolve disputes without
time-consuming remands that will not affect the outcome. It is
not a substitute for a complete record, however. Those seeking
to repair procedural defects or patch holes in deficient records
can reasonably request that an appellate court take judicial notice,
but clever attempts to supplement the record with material
evidence will usually not succeed. Whether viewed as a weapon
or a means of correcting procedural defects, appellate practitioners
must be aware of the uses and limitations of the "wild card."
Edward P. Sangster practices with K&L's San Francisco office
and can be reached at [email protected]
Kirkpatrick & Lockhart LLP
NOTA BENE
Berke v. Bloch, 242 F.3d 131 (3d Cir. 2001), demonstrates once again the harsh
consequences that arise from the failure to understand the application of the
30-day appeal period under Federal Rule of Appellate Procedure 4. Plaintiffs
had sued three defendants for their involvement in an allegedly fraudulent
investment solicitation scheme. On December 14, 1999, the district court
entered summary judgment for one defendant, and plaintiffs appealed. Because,
however, the case was still active as to the remaining two defendants, plaintiffs
voluntarily withdrew their appeal, purporting to reserve a right to refile.
Thereafter, on March 1, 2000, the district court dismissed the action with
respect to the remaining defendants and "closed" the case without prejudice to
reopening if settlement were not reached with the remaining defendants within
60 days (i.e., May 1, 2000). Subsequent to May 1, plaintiffs, having reached
a settlement, filed stipulations of dismissal as to the remaining two defendants,
and on June 21, 2000, plaintiffs again appealed from the order of December
14, 1999.
The Third Circuit, in dismissing the appeal as untimely, held that while the
conditional March 1 order giving the parties a deadline to conclude settlement
was not final under 28 U.S.C. § 1291, it ripened into a final order when the
deadline expired. Because the district court had affirmatively closed the case
in its March 1 order, and because the judicial process "works best when orders
mean what they say," the panel deemed the stipulations of dismissal superfluous
and rejected plaintiffs' plea that communications with the district court had
lead them to believe that the March 1 order would not be final until stipulated
dismissals were entered.
ON THE DOCKET
In Wagner v. Professional Engineers in California Government, 2001 WL
96374 (9th Cir. February 5, 2001)(unpublished), the Ninth Circuit applied
new Rule 23(f) of the Federal Rules of Civil Procedure, which gives appellate
courts discretion to take interlocutory appeals of orders granting or denying
class certification. Plaintiffs, non-union California state employees required
to pay fees to the union representing their bargaining unit, brought suit against
the union, alleging that the union failed adequately to notify them of their
rights and responsibilities regarding the fee, in violation of the First Amendment.
The district court denied their motion to certify a unit-wide plaintiff class.
The court relied on dicta in a Seventh Circuit opinion authored by Judge
Posner, in which Posner opined that there is an inherent conflict of interests
between non-union employees who want to "free ride" on dues-paying members
and others who actively hate unions and seek to destroy them. This inherent
conflict made class treatment inappropriate. In an unpublished opinion, after
granting the employees' motion to take an interlocutory appeal, the Ninth
Circuit reversed, reasoning that although Posner's dicta may have merit, the
district court must make findings that there actually are free riders and union
haters in the proposed class, and may not simply speculate that they exist.
The successful plaintiffs were represented by Dylan Carp of K&L's San
Francisco office.
This Update is a bi-monthly
publication of the Appellate Practice
Group of Kirkpatrick & Lockhart LLP.
EDITOR
Andrew H. Cline
CONTRIBUTING EDITOR
Julia M. Glencer
For more information,
contact us at [email protected]
or at any of our offices:
BOSTON
75 State Street
Boston, Massachusetts 02109
617.261.3100
Rory FitzPatrick, [email protected]
DALLAS
3100 Bank One Center
1717 Main Street
Dallas, Texas 75201
214.939.4900
Frederick Linton Medlin, [email protected]
HARRISBURG
Payne Shoemaker Building
240 North Third Street
Harrisburg, Pennsylvania 17101
717.231.4500
Andrew H. Cline, [email protected]
LOS ANGELES
10100 Santa Monica Boulevard
Seventh Floor
Los Angeles, California 90067
310.552.5000
Robert E. Feyder, [email protected]
MIAMI
201 South Biscayne Blvd.
Suite 2000
Miami, Florida 33131
305.539.3300
Carlos M. Sires, [email protected]
NEWARK
The Legal Center
One Riverfront Plaza, Seventh Floor
Newark, New Jersey 07102
973.848.4000
Anthony P. La Rocco, [email protected]
NEW YORK
1251 Avenue of the Americas
New York, New York 10020
212.536.3900
David Simon, [email protected]
PITTSBURGH
Henry W. Oliver Building
535 Smithfield Street
Pittsburgh, Pennsylvania 15222
412.355.6500
Robert L. Byer, [email protected]
SAN FRANCISCO
100 Pine Street, Suite 3200
San Francisco, California 94111
415.249.1000
Edward P. Sangster, [email protected]
WASHINGTON
1800 Massachusetts Avenue, N.W.
Second Floor
Washington, DC 20036
202.778.9000
Dick Thornburgh, [email protected]
www.kl.com
Kirkpatrick & Lockhart LLP
Challenge us.
© 2001 KIRKPATRICK & LOCKHART LLP
This publication is for informational purposes and does not contain or convey legal advice. The information should
not be used or relied upon in regard to any particular facts or circumstances without first consulting with a lawyer.