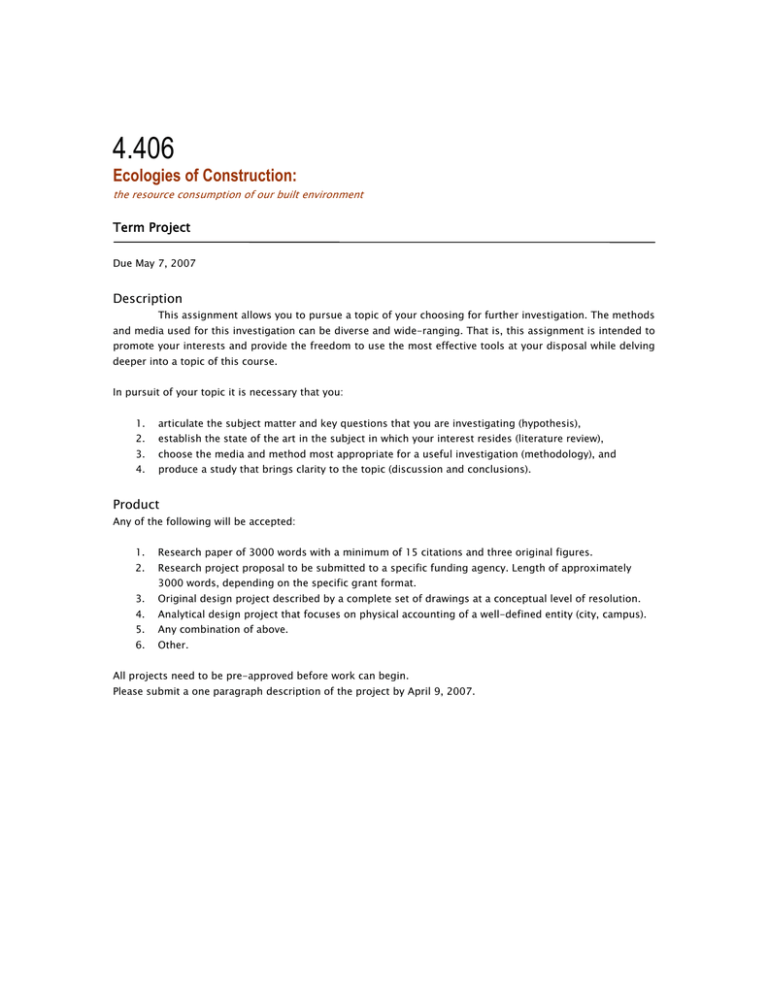 4.406
Ecologies of Construction:
the resource consumption of our built environment
Term Project
Due May 7, 2007
Description
This assignment allows you to pursue a topic of your choosing for further investigation. The methods
and media used for this investigation can be diverse and wide-ranging. That is, this assignment is intended to
promote your interests and provide the freedom to use the most effective tools at your disposal while delving
deeper into a topic of this course.
In pursuit of your topic it is necessary that you:
1.
articulate the subject matter and key questions that you are investigating (hypothesis),
2.
establish the state of the art in the subject in which your interest resides (literature review),
3.
choose the media and method most appropriate for a useful investigation (methodology), and
4.
produce a study that brings clarity to the topic (discussion and conclusions).
Product
Any of the following will be accepted:
1.
2.
Research paper of 3000 words with a minimum of 15 citations and three original figures.
Research project proposal to be submitted to a specific funding agency. Length of approximately
3000 words, depending on the specific grant format.
3.
Original design project described by a complete set of drawings at a conceptual level of resolution.
4.
Analytical design project that focuses on physical accounting of a well-defined entity (city, campus).
5.
Any combination of above.
6.
Other.
All projects need to be pre-approved before work can begin.
Please submit a one paragraph description of the project by April 9, 2007.