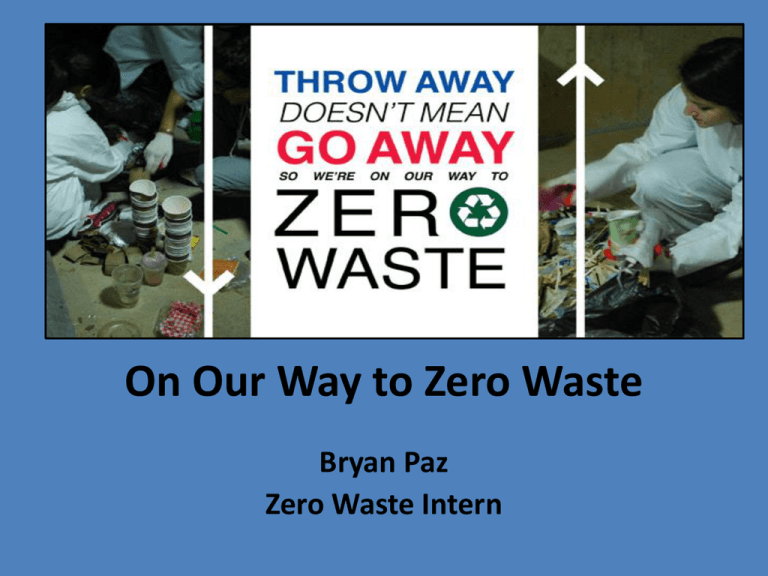 On Our Way to Zero Waste
Bryan Paz
Zero Waste Intern
What is Zero Waste?
"Zero Waste is a goal that is ethical, economical, efficient and
visionary, to guide people in changing their lifestyles and
practices to emulate sustainable natural cycles, where all
discarded materials are designed to become resources for
others to use." - Zero Waste Alliance International
American University's Commitment
"The university shall strive to
reach zero waste to landfill and
incineration by 2020."
President Neil Kerwin signed the Zero Waste Policy
in January 2010.
Organics
• Chopsticks
• Coffee Grounds
• Food Waste
• Napkins
• Paper Towels
• Soiled Cardboard
• Tea Bags
• Wet paper
Recyclables
• Metals
• Plastics
• Glass
45% = Compostable
45% Recyclable
• Mixed Paper
• Dry Cardboard
• Paperboard
Trash
10% Landfill
 Chip Bags  Candy wrappers
 Styrofoam
Majority of waste is compostable/recyclable. Very little
has to go to landfill/incinerators.
Bins for Landfill Diversion
In addition to recycling, we compost
What's Our BIGGEST Problem
In Trying To Reach our
Zero Waste Goal?
Organic Waste Contamination is
Rampant and Students aren't properly
using bins
Solutions
• Campus-Wide Education
• Community Engagement
Education
Education via Resident Assistants in the Housing
Department at Floor Meetings
Education
Social Media
Education/ Engagement
Orientation Programming
Very important to have education of the bins and how to properly
use them during your University's Orientation Program.
This will reach the largest audiences and establish a culture of
recycling and composting from the very beginning.
Education/ Engagement
Programming
Education
Signage over the bins is important. When trying to change
behavior, convenience is key. Put signs over the bins, at eye
level, so it's clear what waste goes in what bin.
Education/ Engagement
Ask students from your university with a strong
social media presence to promote Zero Waste.
Engagement
Ask school media (newspaper, television station,
radio station, etc.) to promote Zero Waste.
Education/ Engagement
Consider running a campaign to get students to care WHY
recycling/composting is important: landfills contribute to
climate change & pollution. There are also other reasons.
#WhyWeRecycleAU #WhyWeCompostAU
Education/ Engagement
Opportunity to talk about Zero Waste & social justice. Communities of
color and low-income areas are disproportionately affected by climate
change and pollutants surrounded by landfills & incinerators.