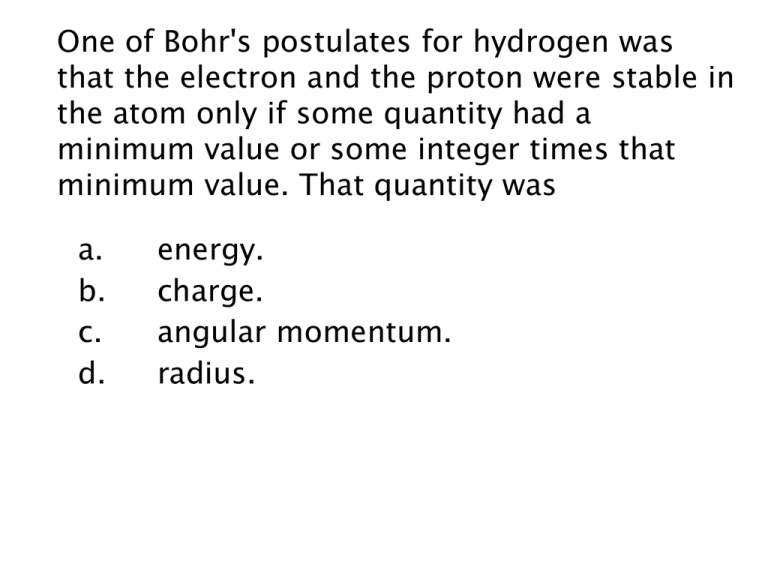 One of Bohr's postulates for hydrogen was
that the electron and the proton were stable in
the atom only if some quantity had a
minimum value or some integer times that
minimum value. That quantity was
a.
b.
c.
d.
energy.
charge.
angular momentum.
radius.
• If an electron in a hydrogen atom makes a
transition from some state to a lower state do
the following increase or decrease
– Kinetic energy
– Potential energy
– Orbital angular momentum
The approximate energy of the lowest Bohr orbit in the
hydrogen atom is
a. 0.1 eV
b. 1.0 eV
c. 10.0 eV
d. 100 eV
e. -100 eV
f. -10.0 eV
g. -1.0 eV
h. -0.1 eV
• What energy is required to ionize a hydrogen
atom with an electron in the first excited
state? (remove the electron from the atom?)
Light: Particles or Waves?
•
•
•
•
•
•
Newton (1675) Particle (travels in straight lines)
Young (1801)
Wave (Double Slit Experiment)
Hertz (1880)
Wave (Radio)
Einstein (1905)
Particle (Photoelectric effect)
Laue (1911)
Wave (X-Ray diffraction from crystals)
Compton (1920) Particle (X-Ray scattering)
Question: Who's right?
Less Filling?
Tastes Great?
Consider Young's Double Slit Experiment
Experiment.
What would you change to make this
experiment more profound?
The famous Auto-Slit Experiment!