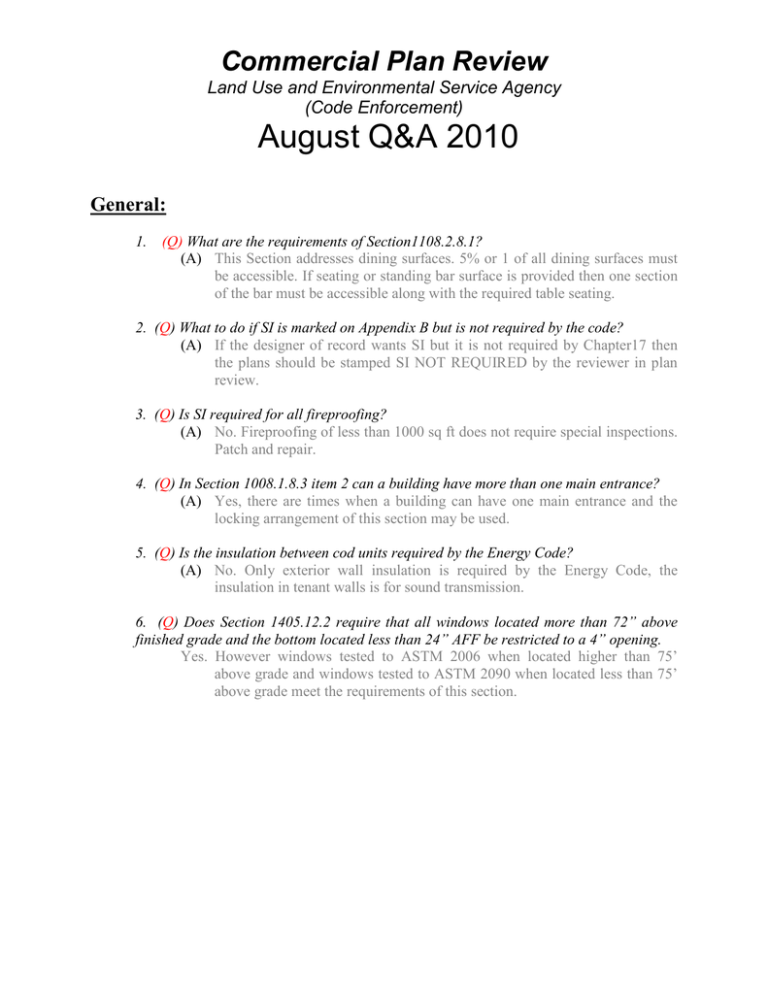 Commercial Plan Review
Land Use and Environmental Service Agency
(Code Enforcement)
August Q&A 2010
General:
1.
(Q) What are the requirements of Section1108.2.8.1?
(A) This Section addresses dining surfaces. 5% or 1 of all dining surfaces must
be accessible. If seating or standing bar surface is provided then one section
of the bar must be accessible along with the required table seating.
2. (Q) What to do if SI is marked on Appendix B but is not required by the code?
(A) If the designer of record wants SI but it is not required by Chapter17 then
the plans should be stamped SI NOT REQUIRED by the reviewer in plan
review.
3. (Q) Is SI required for all fireproofing?
(A) No. Fireproofing of less than 1000 sq ft does not require special inspections.
Patch and repair.
4. (Q) In Section 1008.1.8.3 item 2 can a building have more than one main entrance?
(A) Yes, there are times when a building can have one main entrance and the
locking arrangement of this section may be used.
5. (Q) Is the insulation between cod units required by the Energy Code?
(A) No. Only exterior wall insulation is required by the Energy Code, the
insulation in tenant walls is for sound transmission.
6. (Q) Does Section 1405.12.2 require that all windows located more than 72" above
finished grade and the bottom located less than 24" AFF be restricted to a 4" opening.
Yes. However windows tested to ASTM 2006 when located higher than 75'
above grade and windows tested to ASTM 2090 when located less than 75'
above grade meet the requirements of this section.