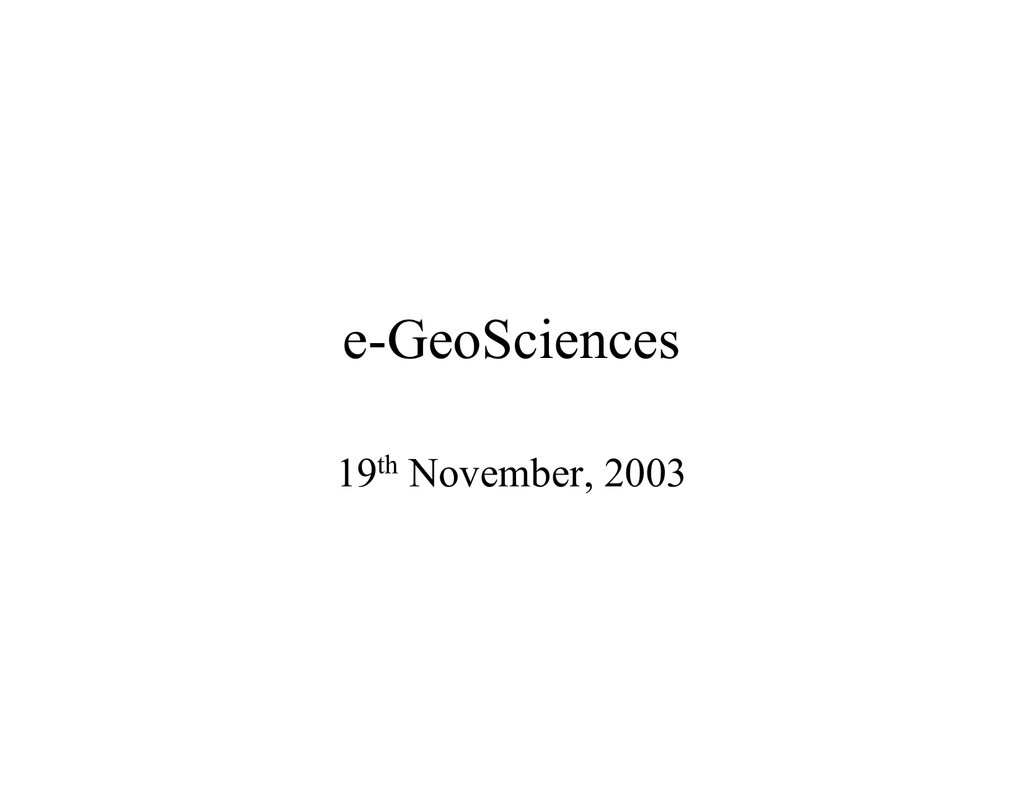 e-GeoSciences
19th November, 2003
Goals for Today
• Orientation & education - what is e-Science?
• Stimulate & develop ideas for projects
– Make contacts
• Propose e-GeoScience centre/institute/project?
• Discuss funding strategy
Opportunities
• Unique collection of participants:
– Geography/Geology/Geophysics – GeoSciences; BGS;
NeSC; School of Informatics (later)
• Possibly a unique opportunity
• Talk over coffee and in the pub
Overview Agenda
• Intro to e-Science
– Dave Berry NeSC, Geoffrey Boulton GS, Terry Sloan
• GeoScience opportunities
– Mike Mineter, Iain Woodhouse, Mat Williams
Break – 20 minutes
• Resources available for e-Science bids
– Dave Berry, Rob Baxter, Stuart Anderson Informatics
• Discussion, 30 minutes
– Enthusiasm? Project Ideas? Funding strategy
Pub – Bannermans?
Just before coffee…
• In the discussion we would like to gauge
both enthusiasm and the range of specific
project ideas
– Please use coffee to think of and discuss
potential projects!
Discussion
• Is there interest in e-GeoSciences?
• Is there a range of possible projects?
• How do we obtain (possibly bulk) funding?