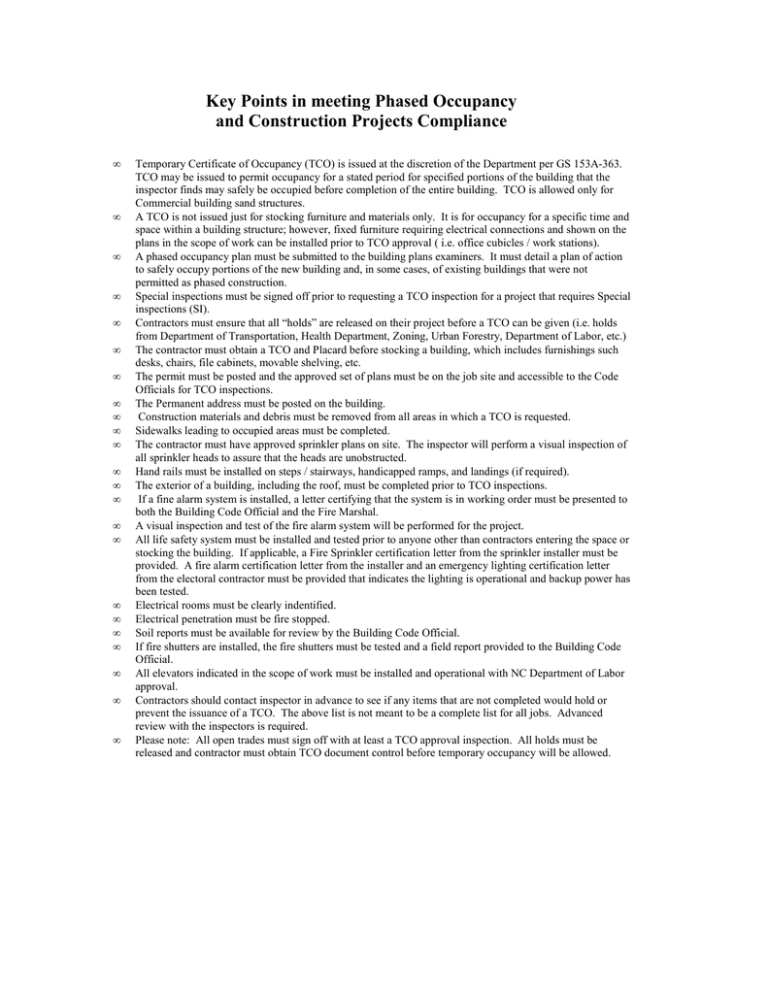 Key Points in meeting Phased Occupancy
and Construction Projects Compliance
•
•
•
•
•
•
•
•
•
•
•
•
•
•
•
•
•
•
•
•
•
•
•
Temporary Certificate of Occupancy (TCO) is issued at the discretion of the Department per GS 153A-363.
TCO may be issued to permit occupancy for a stated period for specified portions of the building that the
inspector finds may safely be occupied before completion of the entire building. TCO is allowed only for
Commercial building sand structures.
A TCO is not issued just for stocking furniture and materials only. It is for occupancy for a specific time and
space within a building structure; however, fixed furniture requiring electrical connections and shown on the
plans in the scope of work can be installed prior to TCO approval ( i.e. office cubicles / work stations).
A phased occupancy plan must be submitted to the building plans examiners. It must detail a plan of action
to safely occupy portions of the new building and, in some cases, of existing buildings that were not
permitted as phased construction.
Special inspections must be signed off prior to requesting a TCO inspection for a project that requires Special
inspections (SI).
Contractors must ensure that all "holds" are released on their project before a TCO can be given (i.e. holds
from Department of Transportation, Health Department, Zoning, Urban Forestry, Department of Labor, etc.)
The contractor must obtain a TCO and Placard before stocking a building, which includes furnishings such
desks, chairs, file cabinets, movable shelving, etc.
The permit must be posted and the approved set of plans must be on the job site and accessible to the Code
Officials for TCO inspections.
The Permanent address must be posted on the building.
Construction materials and debris must be removed from all areas in which a TCO is requested.
Sidewalks leading to occupied areas must be completed.
The contractor must have approved sprinkler plans on site. The inspector will perform a visual inspection of
all sprinkler heads to assure that the heads are unobstructed.
Hand rails must be installed on steps / stairways, handicapped ramps, and landings (if required).
The exterior of a building, including the roof, must be completed prior to TCO inspections.
If a fine alarm system is installed, a letter certifying that the system is in working order must be presented to
both the Building Code Official and the Fire Marshal.
A visual inspection and test of the fire alarm system will be performed for the project.
All life safety system must be installed and tested prior to anyone other than contractors entering the space or
stocking the building. If applicable, a Fire Sprinkler certification letter from the sprinkler installer must be
provided. A fire alarm certification letter from the installer and an emergency lighting certification letter
from the electoral contractor must be provided that indicates the lighting is operational and backup power has
been tested.
Electrical rooms must be clearly indentified.
Electrical penetration must be fire stopped.
Soil reports must be available for review by the Building Code Official.
If fire shutters are installed, the fire shutters must be tested and a field report provided to the Building Code
Official.
All elevators indicated in the scope of work must be installed and operational with NC Department of Labor
approval.
Contractors should contact inspector in advance to see if any items that are not completed would hold or
prevent the issuance of a TCO. The above list is not meant to be a complete list for all jobs. Advanced
review with the inspectors is required.
Please note: All open trades must sign off with at least a TCO approval inspection. All holds must be
released and contractor must obtain TCO document control before temporary occupancy will be allowed.